Your Daily Fashion Scoop
Some Dark, Seductive & Astonishingly Beautiful Espresso News…
Rodarte's Ballet
The Designer Duo Create The Exquisite Black Swan Costumes
The costumes for Black Swan, a dark and seductive Ballet thriller starring Natalie Portman, have been created by the dynamic design duo Rodarte. Laura and Kate Mulleavy, the sisters behind Rodarte, became involved in the project after Portman introduced them to the film's Director, Darren Aronofsky.
Of the collaboration, Laura Mulleavy said: "I think our aesthetic naturally fits into the film."
Portman is a fan of the Rodarte label, wearing their stunning pieces on numerous occasions. Rodarte also dressed the star in this red evening gown (pictured right) for the Black Swan premiere – a breathtaking red carpet moment in itself.
Black Swan movie posters have also been released (pictured above right). Designed by La Boca the posters have a dramatic 1920's theatre feel. Dynamic colours and a striking mix of images and shapes, create such a unique advertising spin to the usual movie adverts. Elegant, dark and daring! Black Swan opens in February 2011 and promises to be a very intense yet beautiful film.
A little bit about Rodarte…
Starting the brand in 2005, the Mulleavy sisters have received a number of industry awards. Known for their beautiful detailing and other worldly creations; Rodarte have a keen celebrity following including; Tilda Swinton, Emma Watson, Chloë Sevigny, Cate Blanchett, Keira Knightley and Natalie Portman.
Their very first collection consisted of just 10 pieces that received great acclaim – getting them the cover of Women's Wear Daily and gaining a meeting with US Vogue Editor-In-Chief Anna Wintour. Rodarte have also collaborated with Gap, and most recently Target, on limited edition pieces.
Their Spring / Summer 2011 collection took inspiration from their childhood backyard – "every shade of brown you can imagine, seventies suburbia, wood panelling, gold, off colours like chartreuse—basically, a combination of all the things that represent the area to us."
Rodarte = Love!
Side photos from glamour.com | imdb.com
My New York Favourite Pieces…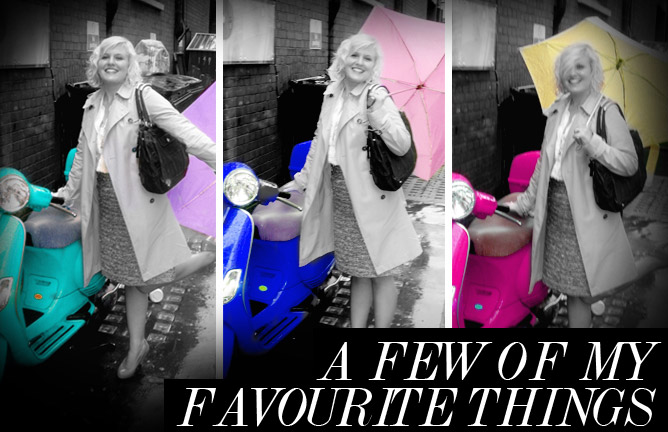 Now that the Spring/Summer Collections have been shown, I have chosen my favourite 12 looks from the New York!
From my choices below, it appears that I will be wearing lots of yellow and orange (citrus colours) and gorgeous white! I adore the yellow shift dress by Michael Kors and the bell skirt shape by Victoria Beckham. Both dresses are such flattering shapes, which are oh-so-chic, feminine and fun.
The high waisted trousers and white bow blouse by Jason Wu makes a streamlined, signature statement. Tory Burch's preppy upper-east side aesthetic in vibrant orange is stunning. I adore the Proenza Schoulder's collection – fresh yet undeniably cool with a fresh take on youthful ladylike elegance. The detailing at Rodarte was simply incredible and I loved their distinct shapes and proportions.
Top 12 New York Spring/Summer 2011 Looks:
Overall I think my choices, coincide with what I believe my style primarily is: colourful, preppy and classic.
How would you describe your style in 3words? xx
My Top 12 London Fashion Week Pieces coming soon…
Spring/Summer 2011 Collection
Meet Boy Meets Girl®
Easily recognisable by the iconic branding, Boy Meets Girl® is a New York based fashion label that exemplifies urban, edgy and unmistakable cool.  
Boy Meets Girl® creates stylish, wearable pieces that are casual yet classic. Having struck a chord with countless fashionable celebrities: Eva Mendes, Rachel Bilson, Rosario Dawson, Michelle Williams, Hillary Duff and Zooey Deschanel, to name but a few, have all been spotted wearing Boy Meets Girl®. You may have also seen pieces on Gossip Girl, The City, Vampire Diaries, The Real Housewives of New Jersey and more. Boy Meets Girl® is definitely a label to watch! 
Boy Meets Girl®: Spring/Summer 2011 Collection
"We have only this one life so we must live it fully, without fear or regret. Our experiences create our identity and individualism, so the more experiences we have the richer we become. This collection has that richness of experience on display."
– Boy Meets Girl® 
Inspired by the intrepid traveller, the Boy Meets Girl® Spring/Summer 2011 collection is full of gorgeous separates that can be easily interchanged. The muse: an energetic, free-spirited girl who will be travelling all summer with a wardrobe that can take her anywhere she wants to go; from New York to Paris, day to evening.   
In a neutral colour palette of black, grey and khaki with hints of light blue; the Boy Meets Girl® collection is full of interesting separates and unexpected detailing. Cut-outs, zips and shapes; reveal different areas of the body with subtly and sophistication. When models turned on the catwalk, the back of their looks were also equally surprising. Many pieces had been cut into strips or transformed into seemingly different tops- yet all fell perfectly around the models bodies. Striped Boy Meets Girl® gloves and knee high socks added the finishing touches to this cool collection. 
The collection covered all bases and included: trousers, shorts, dresses, skirts, t-shirts, tops and jackets. Pieces were created in comfortable, luxe materials that also flatter female curves. Overall the collection exuded the effortless chic vibe of the brand. 
Uptown Twirl Must-haves:
I love the white off the shoulder tee with the Boy Meets Girl® logo full of coffee beans! My other favourite look is the khaki shift dress with front zip. Both so wearable, yet fun and unique. 
Uptown Twirl Met: Boy Meets Girl®
While on a whirlwind trip to London, I met with Stacy Igel, Founder / Creative Director of Boy Meets Girl®. 
I interviewed Stacy for the upcoming episode of Uptown TV, which will be posted online in the coming weeks.  In the episode Stacy talks about her inspiration, what it feels like to show at New York Fashion Week, who she would most like to see in Boy Meets Girl® and more! A must see! 
For more information, on Boy Meets Girl® click here to visit the website. 
In the meantime, what do you think of the Boy Meets Girl® S/S collection? xx