Show Your Spots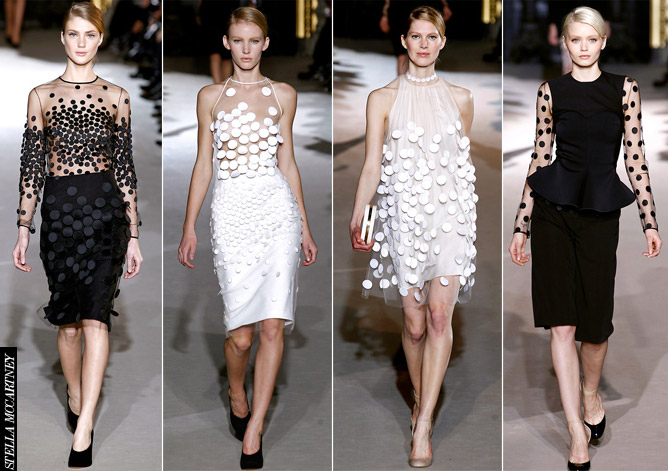 Dots On Spots On Dots…
From Stella McCartney, to Marc Jacobs, Azzaro and more, designers were seeing spots for Fall!
Romantic, Feminine and ever-so chic – the polka dot returned as the print of the season. From little black dresses to blouses, hats and tights – the iconic spots could be found in a variety of sizes and styles across the runways.
At Stella McCartney polka dots sat on delicate chiffon – overlapping and engaging each other in tiny galaxies of clusters. Meanwhile, Marc Jacobs' unabashed affair with the polka dot saw models dotty from head to toe – in some looks quite literally. Polka dot berets, handbags and tights finished off his classical silhouettes with an exclamation point.
Effortlessly stylish and delightfully playful, the simple spot is usually associated with a humble vintage aesthetic – think 'Itsy Bitsy Teeny Weeny Yellow Polka Dot Bikini'. Yet this season's spots seem unmistakably more fresh, sleek and refined. Iconic yet modern.
For dotty perfection… choose your spots on a sexy little black dress, a la Stella McCartney or Lanvin, for timeless, classic style.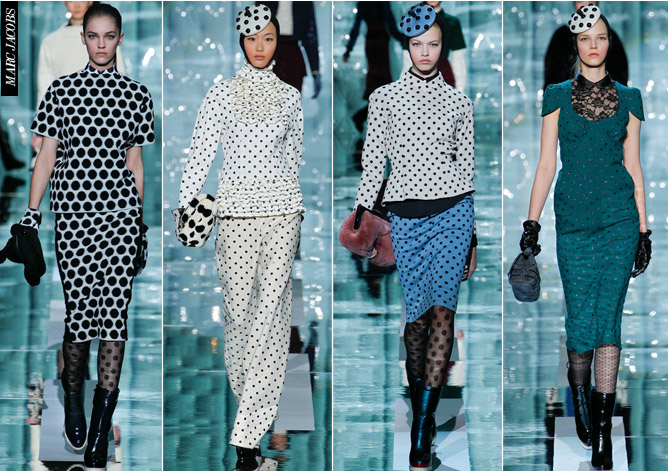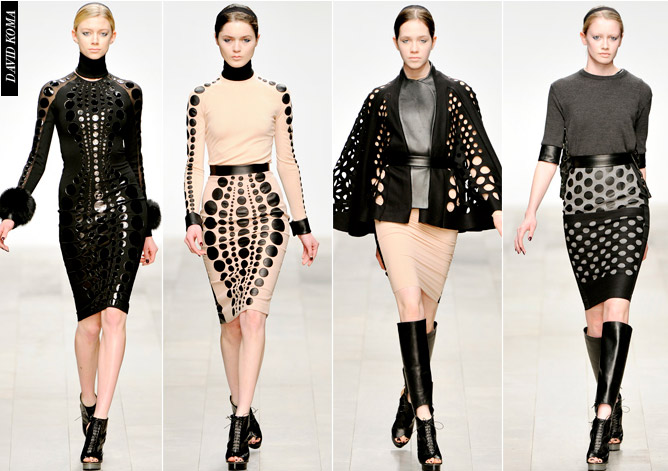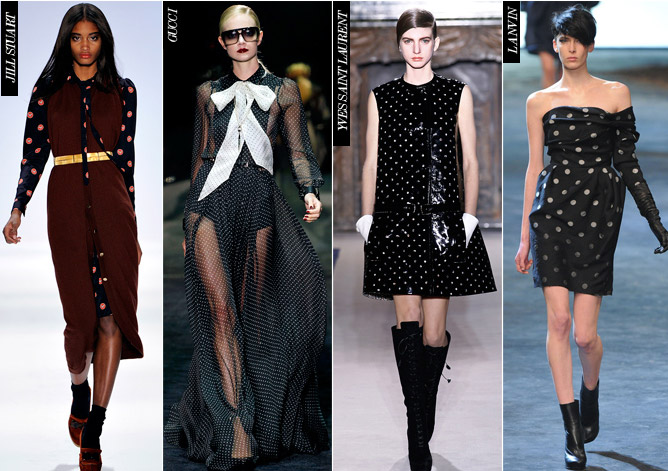 Will you be falling in love with the Polka Dot? xx
Photos from style.com
Favourite Pieces…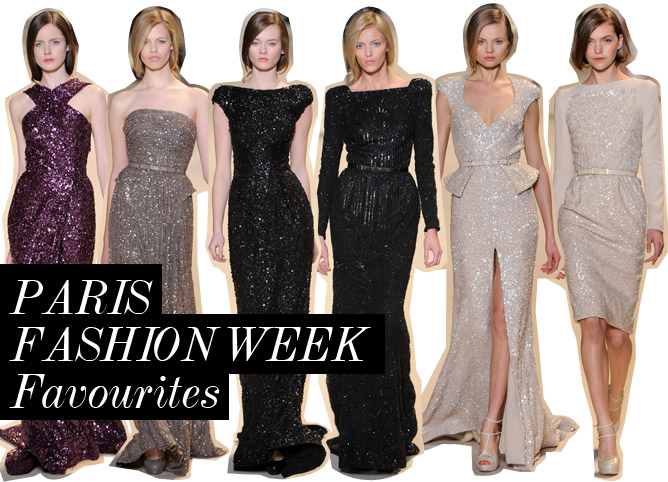 Paris Fashion Week – Fall 2011
Miu Miu and Louis Vuitton brought the month long fashion festivities to a close in Paris this week. Paris the city of light and love was, as to be expected, bursting with pieces so perfect words are often inadequate to describe their innate beauty.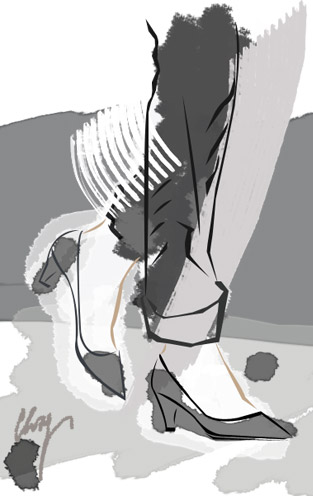 From Chanel to Lanvin, the Parisian Couture Houses brought forth a tirade of divine silhouettes, texture and colour palettes. From the delicate tones of beige and cream at Chloé, to striking black and white at Chanel, not forgetting the pops of colour at Lanvin; the Parisian Fall will be a much more simplistic, monochromatic affair than the streets of Milan or London.  
While Paris Fashion Week was filled with exquisite collections, it wasn't without its controversy (cough*John Galliano*) then more with Kate Moss smoking down the Louis Vuitton catwalk. There were the rumours of a boycott of the Dior show, but instead much love and support was the agenda of the day. Before the collection began, Dior CEO Sidney Toledano appeared to address attendees (and the world) with a heartening speech about the values that Christian Dior have represented for more than six decades, "the heart of the House of Dior, which beats unseen… is made up of its teams and studios, of its seamstresses and craftsmen". And the finale, as the lights dimmed those 30-strong members of the Dior ateliers mentioned by Toledano appeared on the catwalk.
From the apocalyptic tones at Chanel, to the tree inspiration at Lanvin – Paris brought the Fall fashion week calendar to its spectacular conclusion.
p.s. Loved the classic black kitten heels at Chanel (illustrated right) & the sparkling sequined gowns at Elie Saab (pictured above)…
Some Of My Favourite Pieces…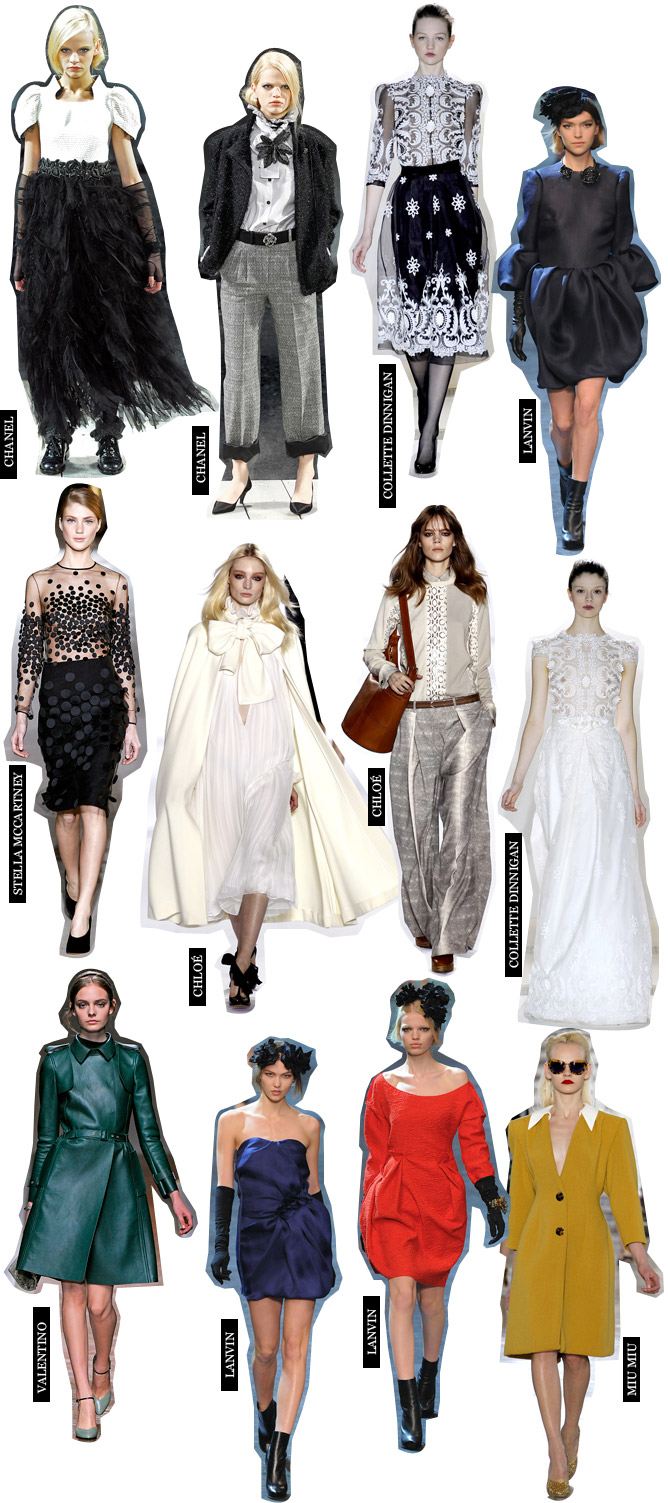 What were your favourite shows from Paris Fashion Week? xx
Colour Your World…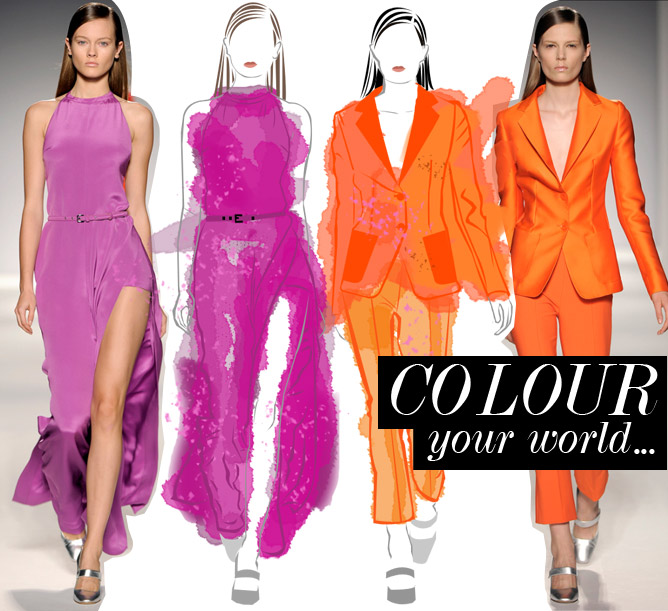 Tired of the Winter Blues? Embrace Colour for an exhilarating burst of Summer freshness…
Right across the Spring / Summer 2011 runways, colour was used to make an impact. From zesty orange to candy pink – there are so many colour options waiting to be discovered!
Colour is bold, youthful and engrossing. Perfect for adding the finishing accent to an all black ensemble or why not go daring in complete colour. Whatever you choose, next season there is a rainbow of options for you to explore.
At MaxMara striking colour made the minimalist silhouettes pop. In sunshine yellow, succulent orange or gorgeous violet – the MaxMara collection is not for the faint hearted. Colour was also strong at Jil Sander, where gorgeous bright pieces were teamed with crisp white tees and shirts. Colour blocking then took centre stage. A green cargo jacket was worn with a pink shirt and yellow palazzo pants. Orange was worn with violet; red with pink and yellow. It was a standout collection that was reminiscent of Yves Saint Laurent's passion for colour. Designer, Raf Simons described his use of colour as: "A mille-feuille of color" or a 'vanilla slice' of colour…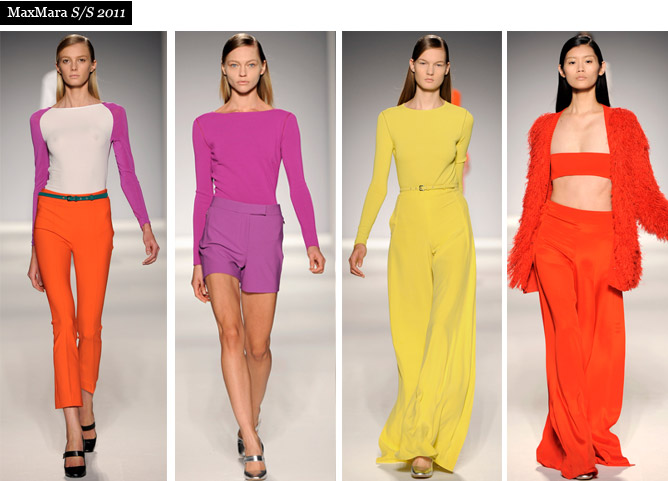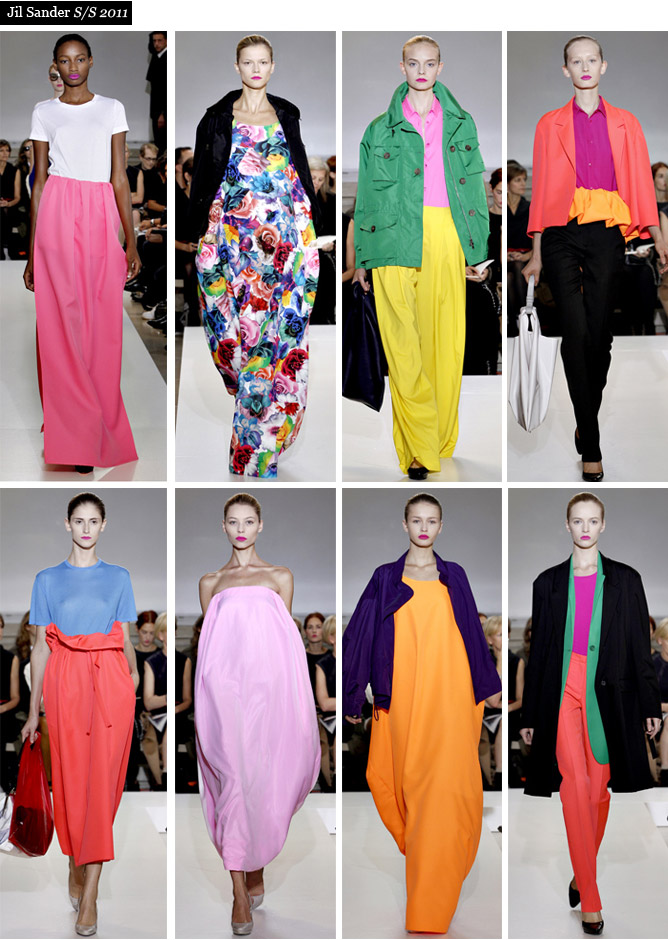 Will you be bright & bold in fabulous colour? xx
Photos from style.com