Striking, Strong, Sophisticated… Stripes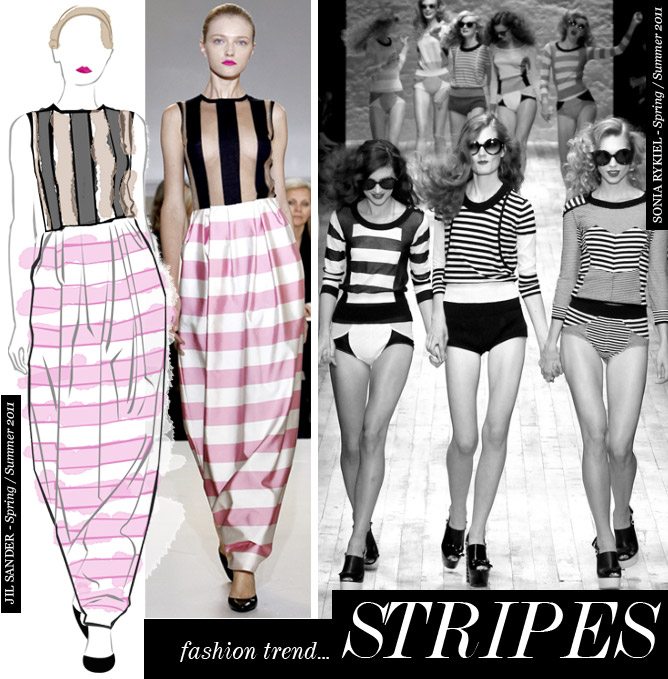 Love your Liquorice Allsorts? Why not wear them too! Choose stripes in an assortment of widths and delicious confectionery colours for pure fashion fun.
From Jil Sander to Prada, the Spring / Summer 2011 collections were a riot of stripes in bold silhouettes and striking colour. Whether you choose vertical or horizontal – stripes will definitely make an impact on your new season wardrobe. Go daring in stripes from head-to-toe or tone them down in the form of a gorgeous striped handbag. Stripes are chic, sophisticated and high spirited.
So give your classic maritime stripes a break and choose a mash-up of playful neon bright stripes…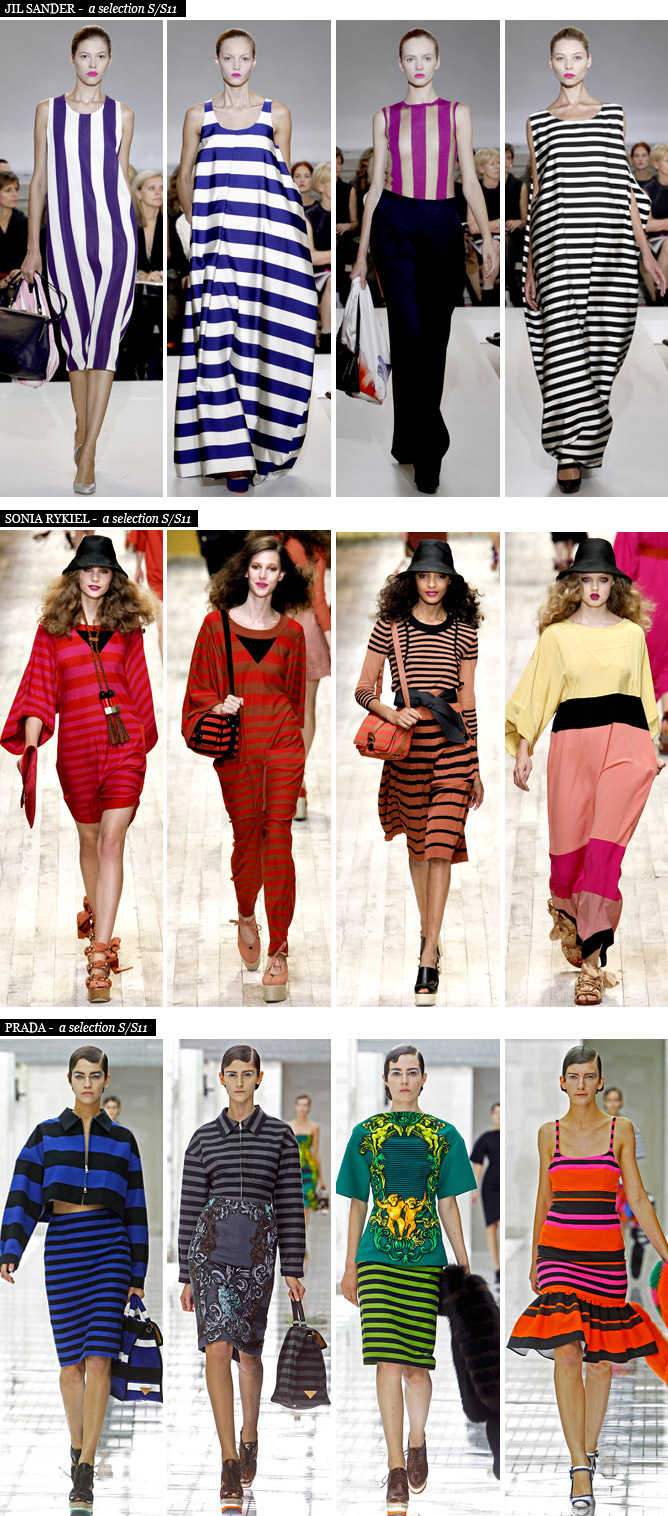 Will you make a statement in stripes for Spring / Summer 2011? xx
Photos from style.com
Colour Your World…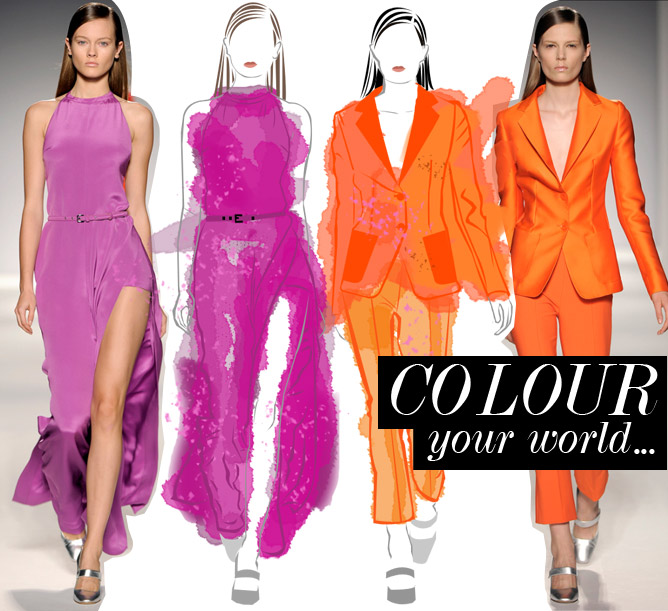 Tired of the Winter Blues? Embrace Colour for an exhilarating burst of Summer freshness…
Right across the Spring / Summer 2011 runways, colour was used to make an impact. From zesty orange to candy pink – there are so many colour options waiting to be discovered!
Colour is bold, youthful and engrossing. Perfect for adding the finishing accent to an all black ensemble or why not go daring in complete colour. Whatever you choose, next season there is a rainbow of options for you to explore.
At MaxMara striking colour made the minimalist silhouettes pop. In sunshine yellow, succulent orange or gorgeous violet – the MaxMara collection is not for the faint hearted. Colour was also strong at Jil Sander, where gorgeous bright pieces were teamed with crisp white tees and shirts. Colour blocking then took centre stage. A green cargo jacket was worn with a pink shirt and yellow palazzo pants. Orange was worn with violet; red with pink and yellow. It was a standout collection that was reminiscent of Yves Saint Laurent's passion for colour. Designer, Raf Simons described his use of colour as: "A mille-feuille of color" or a 'vanilla slice' of colour…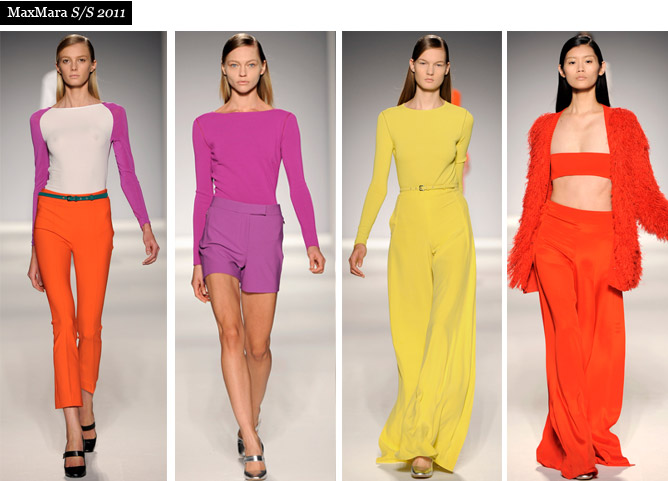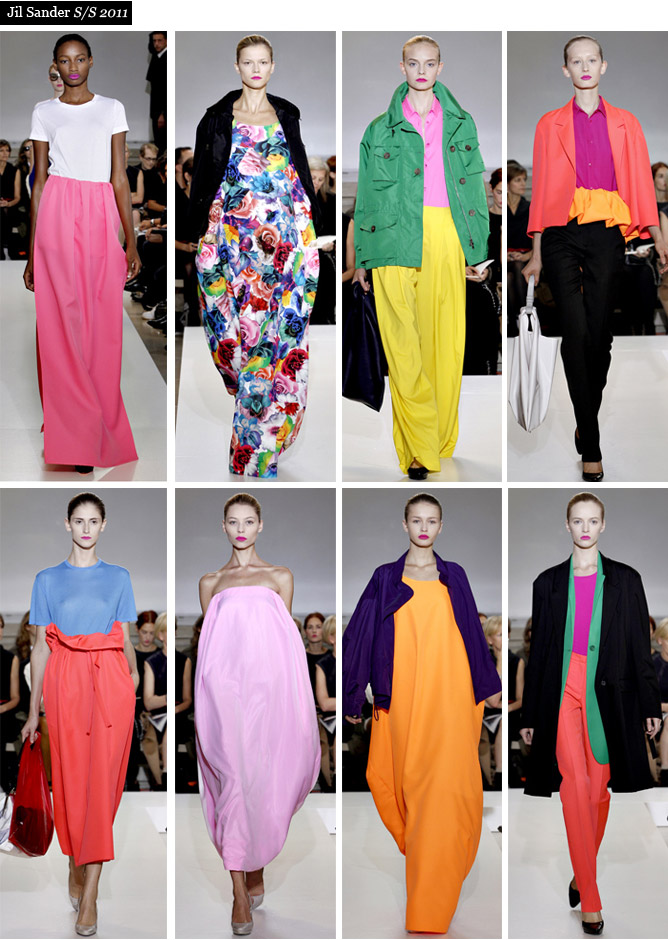 Will you be bright & bold in fabulous colour? xx
Photos from style.com
Through The Looking Glass…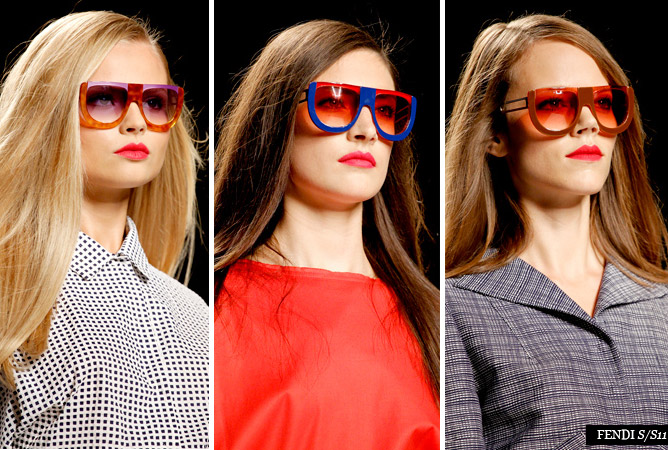 It Wouldn't Be Summer Without Some Seriously Chic Sunglasses…
Spring / Summer 2011 Sunglasses are all about the drama! Striking shapes and dynamic colour will make your sunglasses scream look at my gorgeous face!
From Fendi to Prada, Stella McCartney to Christian Dior – sunglasses were the 'IT' item of the Spring / Summer 2011 collections. Whether they were oval, round or square shaped; or something seemingly straight from Alice In Wonderland; – sunglasses are meant to make a statement.
At Jil Sander 'too cool for school' aviator frames took the crisp collection to the next level. At Christian Dior and Marni it was all about 1950's chic. Meanwhile, Prada took sunglasses design to the next level. 
My absolute favourites… Fendi's colour mixing frames (featured above & right). Love the big statement shape and coloured gradient lenses. So playful yet so chic!
Embrace statement making shades for summer xx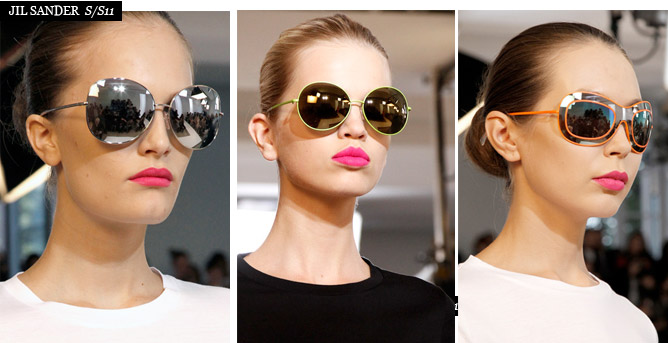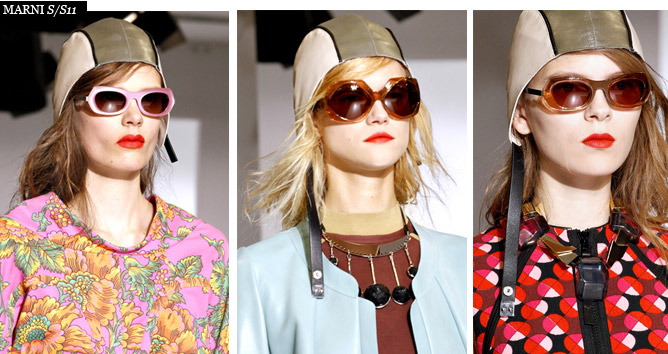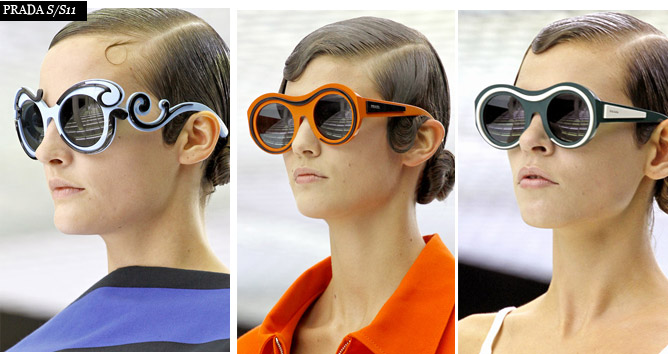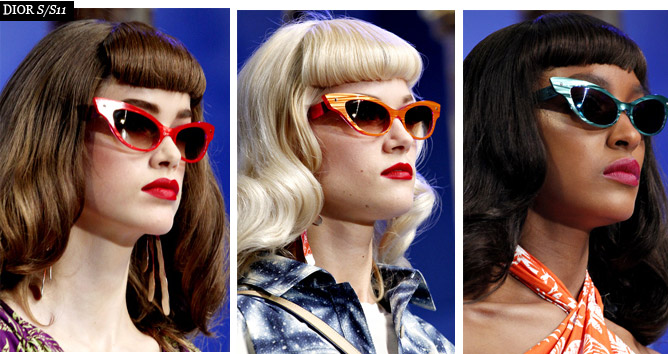 Happy Friday! xx
All photos from style.com