In Rouge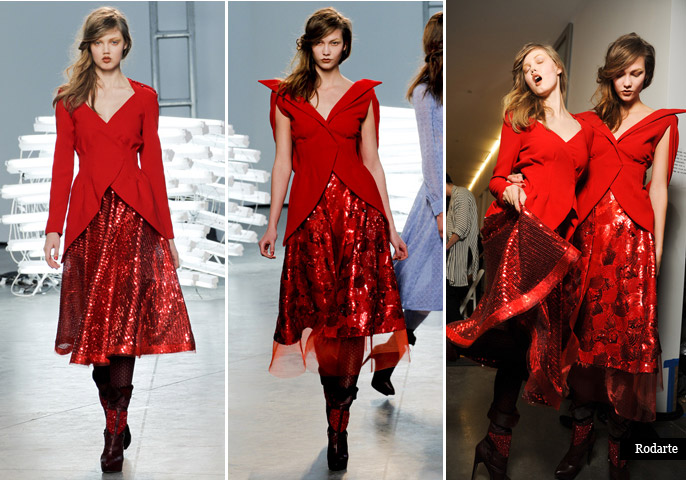 Catch Scarlet Fever…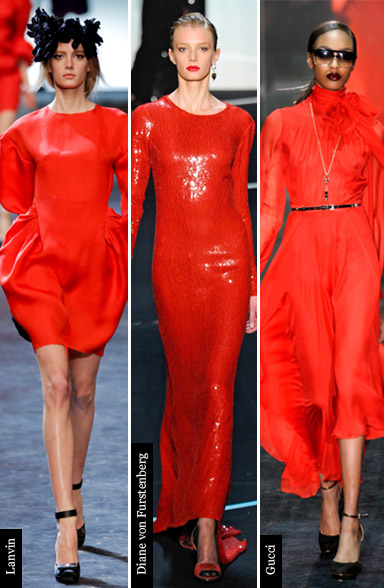 Across the runways designers were feeling a little hot under the collar. Shades of scarlet, crimson, cardinal and vermilion brought an undeniable warmth of sexy, bright, sophistication to the upcoming Fall season.
The House of Valentino has long painted the town red, with the Couturier himself once saying: "Women usually prefer to wear black at events because it makes them feel safe, however, if there's one woman wearing red, she will inevitably be the eye-catcher of the evening. It's as though the room is suddenly illuminated — simply perfect for a grand entrance."
The little red dress made for a dashing statement at Gucci, Lanvin, Jil Sander and Diane von Furstenberg, not to mention countless others. Meanwhile, at Michael Kors' a luxe red fur added the finishing touch to a complete scarlet look. At Chanel a little red jacket also added a dash of colour to a monochromatic collection.
The colour of passion, red isn't a look for the faint of heart. Sizzling sirens need only apply!
Must Have… The little red dress; sensational red trousers; or a statement red fur.
Minimal Chic… Want to dip your toes into this delightful trend? Try a slick of bold red lipstick; sultry red stilettos; or finish your look with a darling red clutch.
Favourite Catwalk Look… Rodarte Red! Love the Rodarte's Wizard Of Oz inspired dresses which feature red sequins in divine silhouettes.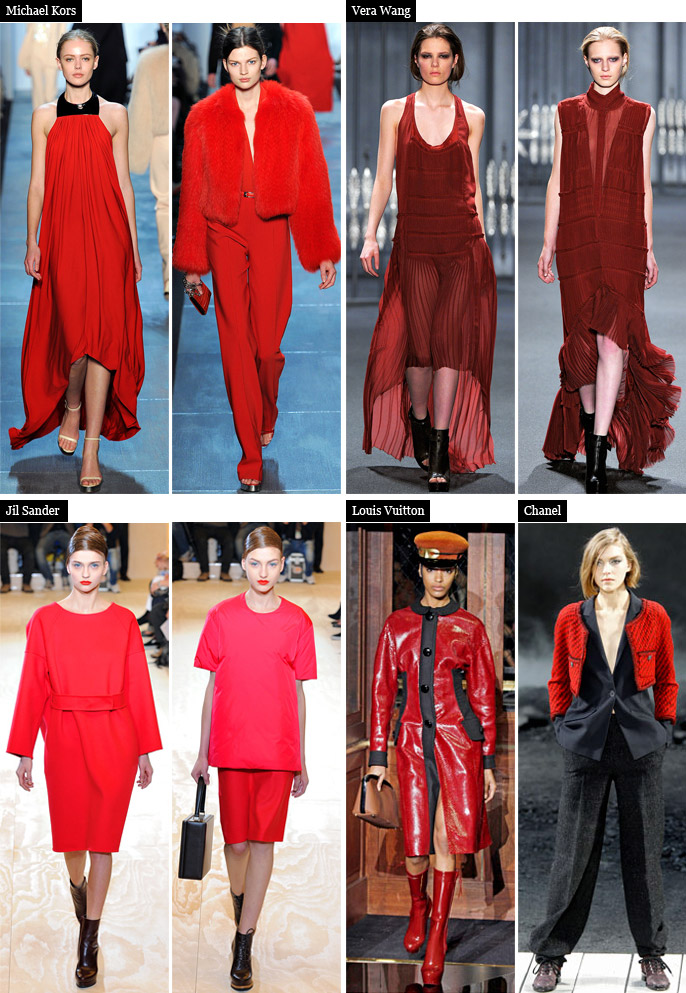 Will you sizzle in radiant red for Fall?
Photos from style.com / elle.com
Favourite Pieces…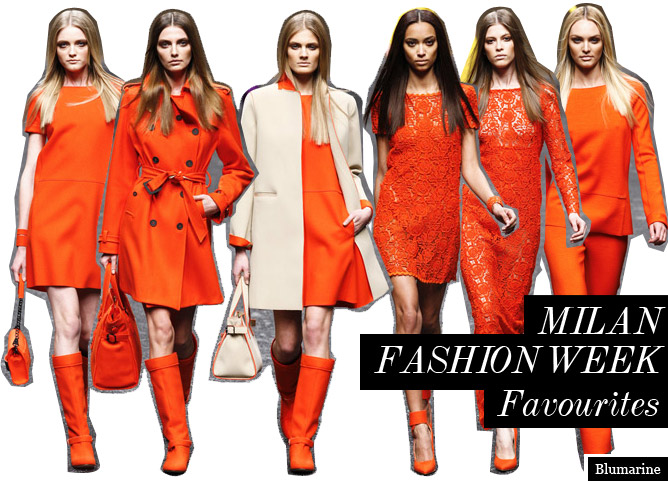 Milan Fashion Week – Fall 2011
With Milan Fashion Week now over and Paris about to get underway, I have chosen my favourite pieces from a week full of 'La Dolce Vita'. The incredible colour, texture and styling of Milan is always extraordinary and the exquisite offerings for the Fall season are no different.
Let's just say, if the four major fashion weeks (New York, London, Milan and Paris) were my children, Milan would definitely hold a special place in my heart. I love how no matter what the rest of the world's designers are feeling, those in Milan are always offering exuberant colour and intoxicating prints. Home to Prada, Marni, Pucci and Cavalli (to name but a few) – Milan Fashion Week is no shrinking violet. It is for the lovers of fashion who simply won't dress quietly when there are so many delicious flavours to be tried!
Some Of My Favourite Pieces…
Across the Milan catwalks colour took to the catwalk in a kaleidoscope of shades and tones. Blumarine startled everyone when the first two dozen looks down the runway were in beige and black! They were calm, sophisticated pieces and beautiful in their own right… but this was Blumarine we were watching! But the exuberant colour didn't stay away too long and soon enough head-to-toe colour took centre stage. Models wore solid orange, yellow, purple and blue from collar to boot. LOVE the trench coats lined in colour and those shift dresses with matching boots! ADORE the fun 60's feel of the collection.
Karl Lagerfeld and Silvia Venturini Fendi, described their collection's muse as a buttoned-up-to-the-neck art teacher who was still wild enough to wipe her paintbrushes in her hair and unleash the animal within. What isn't to love! Especially LOVE the coloured tights and contrasting colours!
Other favourites for me: Prada (I die for those Mary-Jane boots and sweet jackets), Bottega Veneta (I need to try out that hair style) and Gucci (so much glamour).
Oh & can this please be my Fall Wardrobe…

Which were your favourite Milan Fashion Week Shows? xx
Your Daily Fashion Week Scoop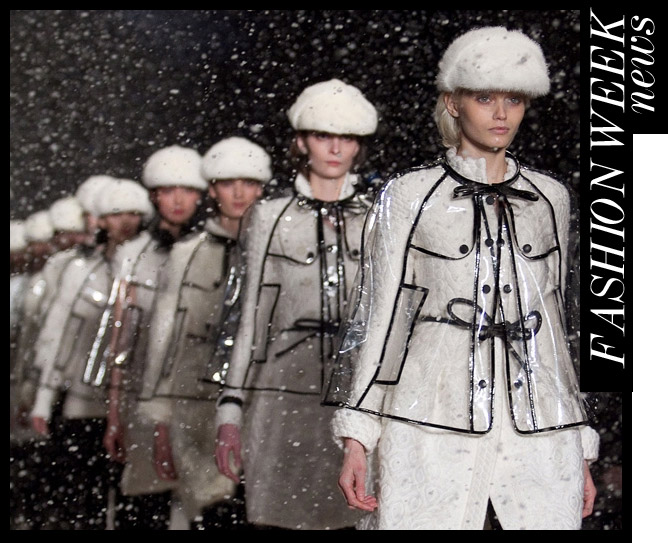 4 Fashion Week Espresso Shots Of News…
Let It Snow, Let It Snow,
Let It Snow… At Burberry
Not only did Burberry live-stream their Fall 2011 collection online across the globe; London was given an even better view. Thanks to Vitamin Water and the British Fashion Council who sponsored a spot on Piccadilly Circus, the show was live-streamed for everyone walking by to watch! With a collection full of spectacular coats in an assortment of colours and fabrics, the Burberry show came to an epic finale… falling snow! The coats, the clothes, the snow… one of the most beautiful fashion spectacles I have ever seen! And it gets even better! For the next week you can buy direct from the runway at Burberry.com and have the items delivered to your door within 7 weeks! Burberry just leaves me speechless…
Versace Back In Control
Of Versus
Versus – the label designed by Christopher Kane alongside Donatella Versace – is back under the Versace wing. Versace regained control of Versus, which has previously been produced and distributed By Swinger International SpA. Meanwhile, Swinger will remain as the sole manufacturer and distributer for Versace Jeans. The Versus Fall 2011 collection will be shown in Milan on February 27th…
Don't Tell Anyone….
Tom Ford Showed At London Fashion Week
Tom Ford's Fall 2011 collection was presented at London Fashion Week and was again a top secret affair. The collection was treated as a top secret event, with guests believed to have signed a nondisclosure agreement before viewing the collection. No sneaky iPhone pics or bloggers at this show! Of the reason behind this, Ford said: "I don't want to be reviewed, I'm not an artist with an opening; this is not a film. I'm just trying to make pretty clothes. And beautiful clothes make beautiful women, but sometimes they don't make fashion news"…
Jil Sander At The Oscars
While everyone has been talking about the costumes for Black Swan, and all the controversy surrounding who designed what; another fashion house has collaborated with an Oscar Nominated designer. Raf Simons for Jil Sander was commissioned by costume designer Antonella Cannarozzi to create the looks for Tilda Swinton's character, Emma Recchi in the film I Am Love. Antonella Cannarozzi is Oscar Nominated for the film…
Happy London Fashion Week Everyone! xx
Photos from fashionising.com.au, style.com, fashiongonerogue.com & google images