Your Monday Fashion Shot…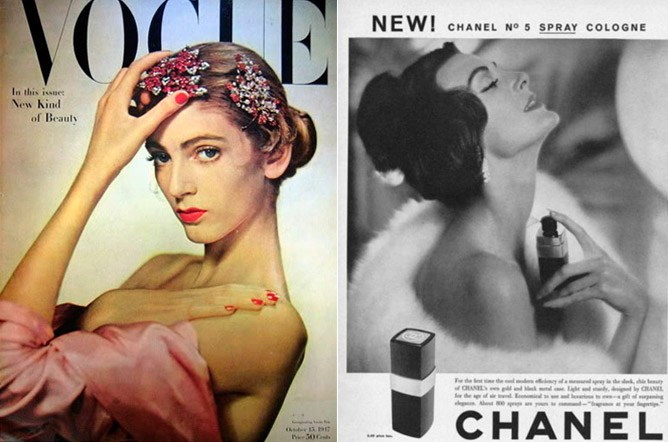 Espresso Shots Of News + Best Dressed From The MTV Movie Awards…
– – – – – – – – – – – – – – – – – – – – –
Happy Birthday To Cecil Dell'Orefice For Friday!
Cecil Dell'Orefice, one of the world's oldest working models, will celebrate her 80th birthday this Friday June 10th.
Gracing the cover of American Vogue at just 15 years of age in 1947; Dell'Orefice went onto become the face of Chanel (pictured above), Rolex and Elizabeth Arden campaigns (pictured below right). Most recently Dell'Orefice walked the catwalk for Alberta Ferretti's Fall 2011 collection (pictured below left). Previously, she also took to the catwalk for John Galliano and Hermès.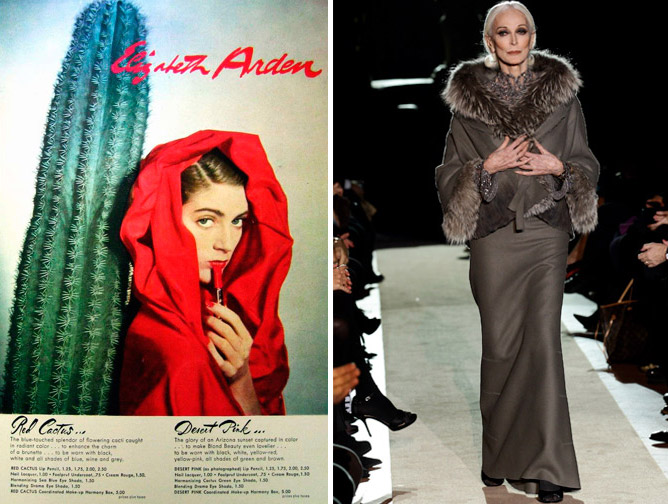 The Royal Wedding Gown On Display…
During this year's Annual Summer opening of Buckingham Palace (July 23 – October 3), the Duchess of Cambridge's royal wedding dress will go on display. Designed by Sarah Burton for Alexander McQueen, the gown stopped hearts around the world for its exquisite, intricate beauty. While you swoon over this incredible history making gown, you can also check out the Duke and Duchess of Cambridge's traditional fruit wedding cake as part of the display.
– – – – – – – – – – – – – – – – – – – – –
Best Dressed At The MTV Movie Awards…
1>> Emma Watson in Marchesa
2>> Leighton Meester in Balmain
3>> Lily Collins in D&G
4>> Rosie Huntington-Whiteley in
Dolce & Gabbana
5>> Kristen Stewart in Balmain
6>> Emma Stone in Bottega Veneta
7>> Selena Gomez in Giambattista Valli
8>> Elle Fanning in D&G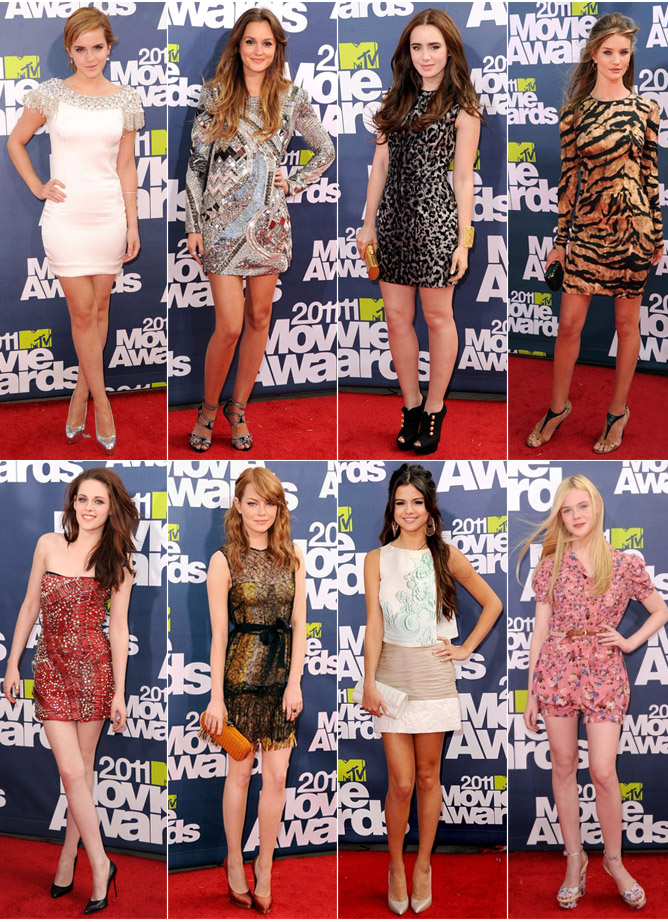 Who is your best dressed lovely from the MTV Movie Awards? xx
Photos from dailymail.co.uk / grazia.com.au / google images
My New Favourite Item In My Wardrobe…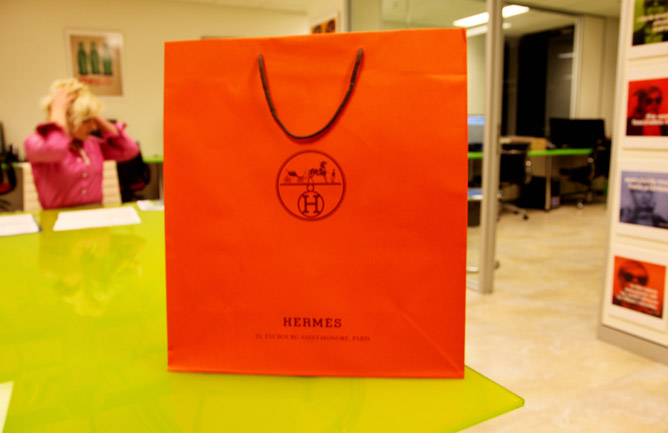 Some of you may have already seen on the Uptown Twirl Twitter that last weekend I went shopping at Hermès!
And this is what I brought…
A stunning Hermès scarf in delicious pink!
This exquisitely beautiful scarf is already my absolute favourite item in my wardrobe! I would go as far to say, one of my most loved pieces of all time! The colour is divine and it feels so luxurious to wear.
About The Hermès Scarf… Hermès scarves are woven from the silk of 250 mulberry moth cocoons. Hand-painted using multiple silk screens, they are truly works of art! Only two scarf collections are released by Hermès each year, along with re-prints of the most popular designs and limited editions. Since 1937, Hermès have released over 2500 scarf designs, the most recognised being their equestrian creations.
J'aime mon carré! (I love my scarf!)

Style photos featuring my beautiful scarf coming soon…
In the meantime, what is your favourite item in your wardrobe? xx
Your Daily Fashion Scoop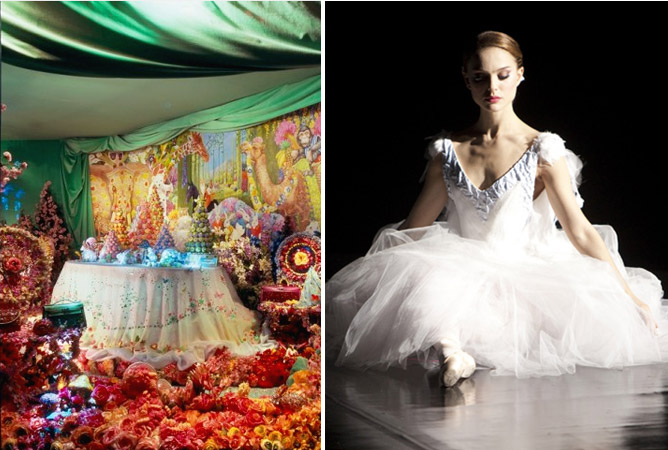 5 Espresso Shots Of News
Sit back, relax & enjoy some delicious scoops of fashion news…
Proenza Schouler's First Vogue Cover
The February 2011 issue, is the first Vogue cover for both Kristen Stewart and designers, Proenza Schouler (Lazaro Hernandez and Jack McCollough).  Stewart appears on the cover wearing a gorgeous look from the Spring / Summer 2011 collection. Photographged by Mario Testino, Lazaro Hernandez has said of Stewart,
 "She's very much the girl we have in mind when we design. It's cool to see Kristen in the clothes because she's not 'the lady, and that's exactly who we see in those clothes"…
Rodarte Not Eligible For An Oscar Nomination For Black Swan
Rodarte will not receive an Oscar or credit for the extraordinary ballet costumes they have created for Black Swan (pictured above right). Rodarte created 40 ballet costumes along with Natalie Portman's knitwear and dresses for the film. At the time Rodarte didn't negotiate credits in their initial contract and were not part of the Costume Designers Guild until recently. The guild rules state only the official designer is eligible. Costume designer, Amy Westcott, has been given the front credit. The film is currently nominated for a Costume Design BAFTA and is anticipated to also receive an Oscar nomination…
The Hermès Paris Window Display
Unveiling the Winter 2011 window display in Paris (pictured above left); the words whimsical, opulent, romantic and delightful immediately spring to mind. The intricate display windows change every season and are the work of Design Director, Leïla Menchari. Handbags and other luxury items are incorporated into the fairytale like display. This is one seriously gorgeous window…
Chic This Week –
Michelle Obama
In a delightfully unexpected twist, The First Lady, Michelle Obama wore a stunning Alexander McQueen gown this week (pictured right). In shocking red, the gown has an exquisite floral print in black, but I also love the beautiful shoulder and neckline detailing. My favourite First Lady of Fashion moment yet!…
Halle Berry to be honoured at Style Awards
Halle Berry is to be honoured at the Annual Costume Designers Guild Awards next month. The actress will receive the newly titled Lacoste Spotlight Award. The awards will take place in Los Angeles' Beverly Hilton Hotel on February 22nd. Meanwhile, also this week, Berry attended the Golden Globes in a chic black corseted Nina Ricci gown (pictured right)…
The Black Swan costumes look amazing! What do you think about Rodarte not receiving the credit? xx
Photos from: purseblog.com / Styleite.com / fashionologie.com / graziadaily.co.uk / style.com