Tuesday Fashion Shot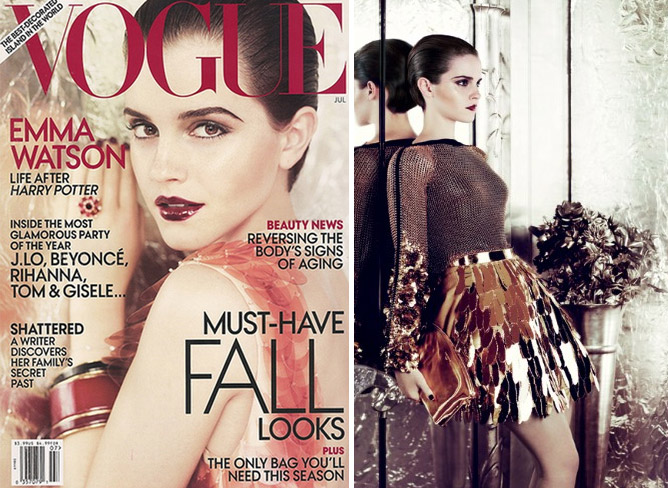 Emma Watson's First US Vogue Cover
Emma Watson has landed her first US Vogue cover at just 21 years of age!
The glamorous beauty covers the July 2011 issue of American Vogue, ahead of the release of the final Harry Potter film. Looking immaculately polished with her flawless skin and striking, delicate features; Watson wears a divine gown from the Prada Fall 2011/12 collection. Photographed by Mario Testino, within this issue Watson also wears looks by Tom Ford, Alexander McQueen, Prada, Calvin Klein and Dolce & Gabbana.
Watson is a fan of young British Designers – often choosing to wear labels such as Erdem and Hakaan, among others – and said in her interview with Vogue US: "I thought: "If people are going to write about what I'm wearing, then I would wear young British designers who need the publicity."
– – – – – – – – – – – – – – – – – – – – – – – – – – – – – – – – – – – – 
Angelina Jolie By Annie Leibovitz for Louis Vuitton

Renowned photographer Annie Leibovitz has photographed Angelina Jolie for the Louis Vuitton Core Values campaign.
The Louis Vuitton Core Values campaigns celebrate Vuitton's timeless classics pieces, in real situations on real people. Reclining on a wooden boat in Cambodia, Angelina Jolie looks serenely beautiful with her own six-year-old monogrammed 'Alto' carryall bag.
Of the campaign, Louis Vuitton's executive vice president, Pietro Beccari, has said: "People are not used to seeing Angelina in this situation. I like the fact that it's a real moment. This travel message we give through personal journeys is a fundamental one for the brand."
Previous people to feature in this campaign, include; Bono and his wife Ali Hewson in Africa; Sofia Coppola and her father Francis Ford Coppola in the Buenos Aires countryside; Keith Richards in a hotel suite; and Mikhail Gorbachev, former President of the Soviet Union and Nobel Peace Prize winner in the back of a limo passing remains of the Berlin Wall.
Jolie will donate a significant portion of her fee to a charity, which will most likely be the Maddox Jolie-Pitt Foundation in aid of community development and conservation in Cambodia.
– – – – – – – – – – – – – – – – – – – – – – – – – – – – – – – –
Tobey Maguire For Prada Menswear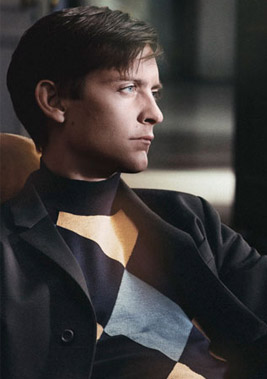 Tobey Maguire has been announced as the new face of Prada's Menswear Autumn / Winter 2011-12 campaign (pictured right).
Of his new role Maguire has said: "A great supporter of the Arts, Miuccia Prada has inspired a culture of creativity that is woven through every aspect of her company, from her collections, her campaigns, to every design detail in her stores. I have such admiration for her artistry and I'm thrilled to be a part of Prada's fall campaign."
– – – – – – – – – – – – – – – – – – – – – – – – – – – – – – – –
Top 3 Covers For July 2011
Besides Emma Watson's divine cover for Vogue US; my other top 3 covers for July 2011 are:
–  Cate Blanchett covers In Style Australia, in Gucci
–  Claudia Schiffer covers Harper's Bazaar UK, in Prada
–  Beyoncé covers Dazed & Confused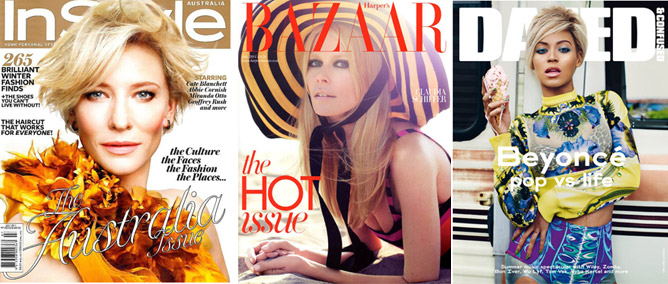 Happy Tuesday! xx
Photos from fashion.telegraph.co.uk / fashiongonerogue.com / vogue.co.uk
Your Fabulous Fashion Scoop

4 Espresso Shots Of Fashion News On Thursday…
– – – – – – – – – – – – – – – – – – – – 
Aussie 'Plus Size' Model Covers Vogue Italia
& Elle France
Australian 'plus size' model, Robyn Lawley, has landed the cover Vogue Italia's June 2011 issue. The 21year old also covers French Elle's latest Spécial Rondes 'Body Issue' .  (both covers pictured above)
This is the first time plus-size models have graced the cover of Vogue Italia since Sophie Dahl in 2000. Lawley was shot by renowned photographer Steven Meisel for the cover, which she shares with Tara Lynn and Candice Huffine. Vogue Italia Editor, Franca Sozzani, has dedicated a section of the magazine to curvier models, saying: "Why should these women slim down? Many of the women who have a few extra kilos are especially beautiful and also more feminine."
For Elle France, Lawley appears on the cover and also a 10-page editorial inside the magazine.
Lawley is an Australian size 14 and looks exquisitely beautiful on both covers…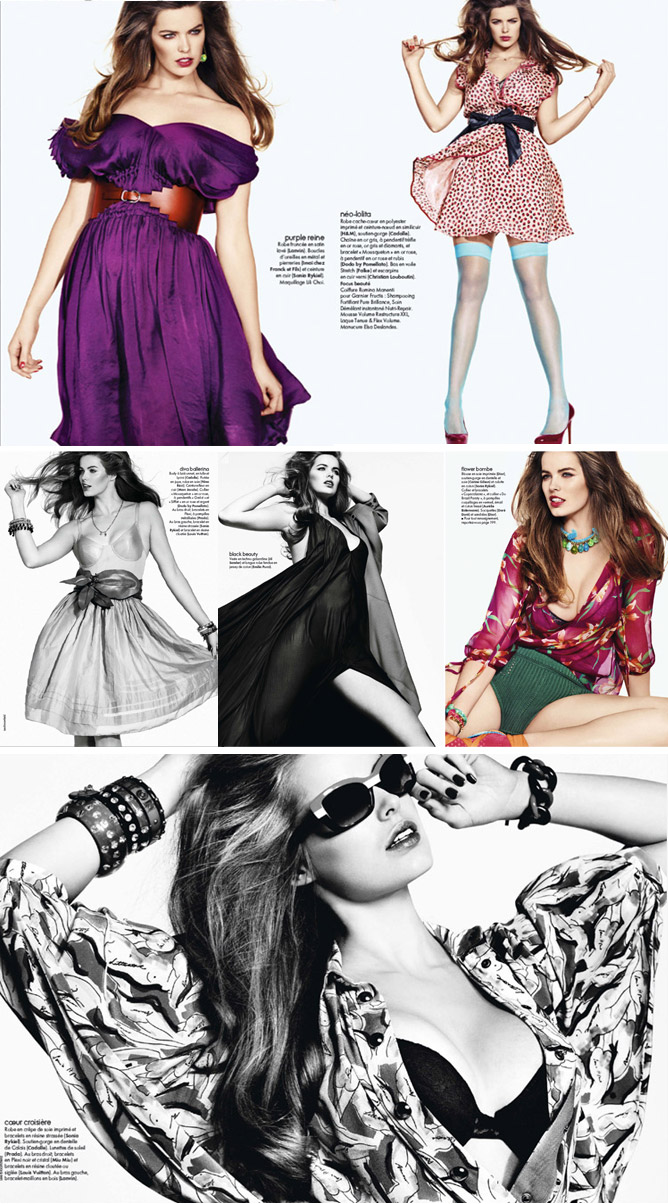 Jessica Simpson Tween Line
It was recently reported Jessica Simpson's clothing label is about to become the first ever celebrity line to top a billion dollars in retail sales. And now she is set to expand her fashion empire to the tween market!
The Jessica Simpson tween line will feature: shoes, outerwear, sportswear, activewear and jeans. Her younger sister, Ashlee Simpson, will also come on board as co-creative director. Of the new area of her brand, Jessica Simpson has said:
"Creating a tween apparel collection was a natural extension for the brand. I'm excited to bring my sister, Ashlee, along as co-creative director of this division, because she brings a savvy rocker edge that defines today's tweens."
– – – – – – – – – – – – – – – – – – – – 
Mario Testino For
Kate Moss' Wedding
Kate Moss has chosen Mario Testino as her official wedding photographer (pictured right).
The date is set for Moss to wed Jamie Hince on July 2nd.  Testino has had some practise in the Wedding genre of late, having taken the Duke and Duchess' of Cambridge's engagement pictures. Other details of the Moss wedding have been kept under wraps; however, rumour has it Shirley Bassey is set to perform. Watch this space…
– – – – – – – – – – – – – – – – – – – – 
A Chanel Bag Made Entirely Of Beef Jerky?
That is exactly what Nancy Wu, Art Center College of Design student, has created (pictured right)! Formed by hand-stitched sheets of dried meat, the bag also features the gold-chain handle and interlocking CC logo synonymous with the classic 2.55 Chanel handbag. Nancy also created a Louis Vuitton beef jerky wallet in her collection.
Very clever… but I think I will hold out for original!
– – – – – – – – – – – – – – – – – – – – 
Happy Thursday! xx
Photos from grazia.com.au / google images
Kate Moss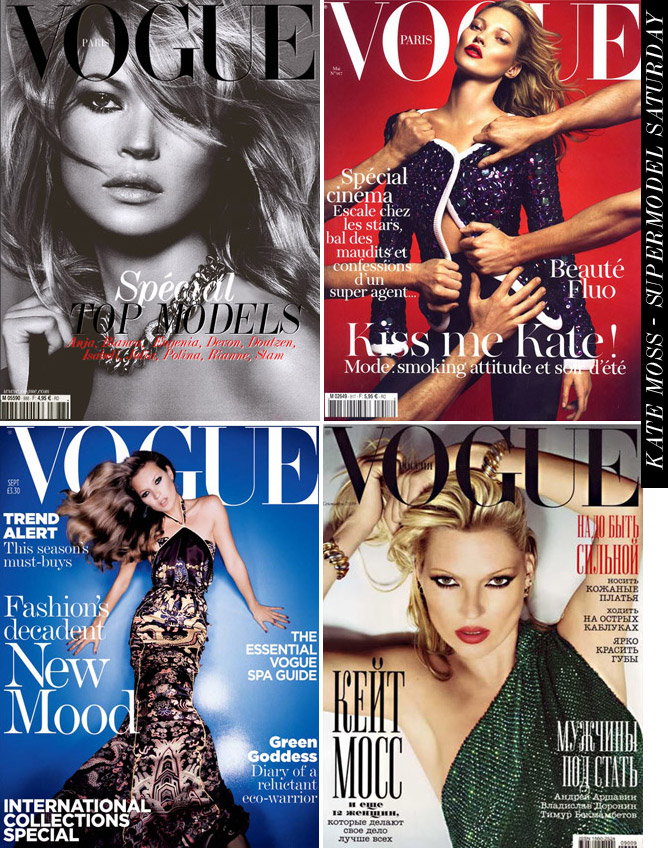 Kate Moss is one of the world's most recognisable models.
She has appeared on 30 British Vogue covers; 16 Vogue Paris covers; 5 American Vogue covers; as well as Vogue Japan, Spain and more.
About Kate Moss
Born in Croydon, England, Moss was discovered in 1988 at the age of 14 at JFK Airport in New York City. Shooting to fame in 1993 with a evocative ad campaign for Calvin Klein; Moss changed the look of modelling in the 90's. She brought into focus the 'heroin chic' look and 'size zero' fashion. Of this Moss said; "It was just the time. It was a swing from more buxom girls like Cindy Crawford and people were shocked to see what they called a 'waif'.
Moss has starred in countless campaigns for high-end labels, from; Gucci, Dior, Dolce & Gabbana, Yves Saint Laurent, Calvin Klein, Chanel, Burberry and Bulgari. As well as having worked with the most renowned fashion photographers in industry, from Mario Testino, to Mario Sorrenti, Steven Klein and Juergen Teller.
Still commanding the runway spotlight, recently closing the Louis Vuitton Fall 2011 collection, Moss has also launched a line of clothing with Topshop.
Kate Moss –
The Vogue Covers…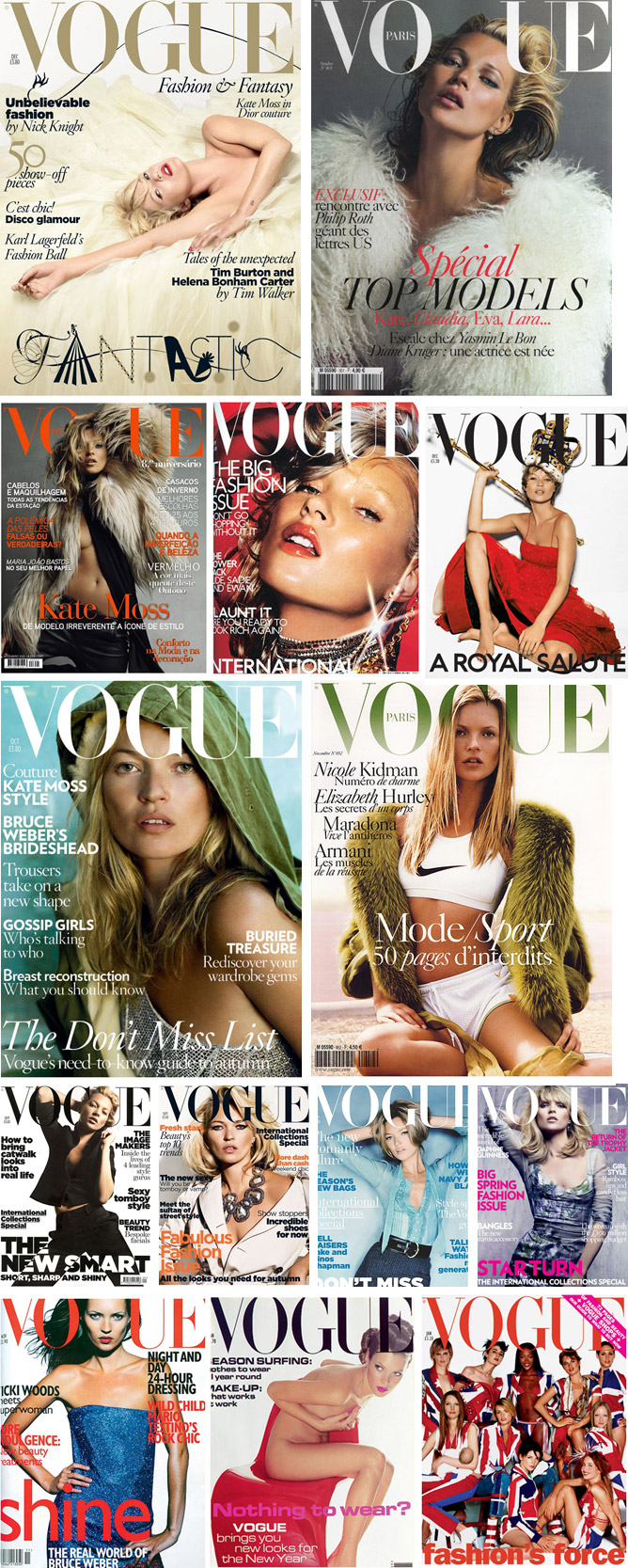 Which is your favourite Kate Moss Vogue Cover? xx
Photos from vogue.co.uk