Michelle Williams In Alexander McQueen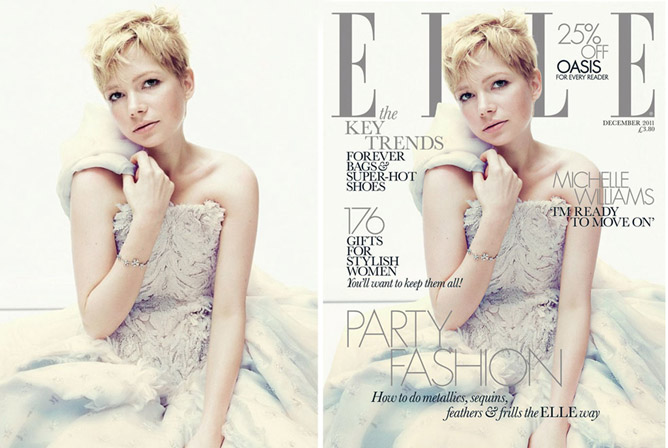 December's most exquisite cover – Michelle Williams wearing Alexander McQueen for Elle UK.
Michelle Williams, captured by Alexei Hay, looks positively angelic wearing this extraordinary McQueen gown. The divine embellished gown from the Fall 2011 collection is truly breathtaking.  
– – – – – – – – – – – – – – – – – – – – – – – – – – – – – – – – – – – – – – – – – – – – – – – – – – – – – – – – – – – –
The Spring / Summer 2012 Collection
With extraordinarily breathtaking detail, the Alexander McQueen Spring / Summer 2012 collection is a heaven sent, fashion fantasy. Sarah Burton, McQueen's creative director, said of the collection: "This is a collection about excess. It's an exploration of ideals of beauty at their most extreme. We go to such lengths to adorn ourselves that we almost become our clothes or are taken over by them."
In a colour palette of shimmering black, gold, silver, white, peach and red; the collection was filled with divine ruffles, lace and delicately beautiful allure. Raised waist silhouettes created exaggerated lines of movement Burton described as how "a jellyfish moves in the sea". Shoulders were emphasised and curves accentuated with bustles.
With an avant garde edge, the ready-to-wear collection was practically couture with its extreme attention to detail. Every piece was hand sewn with half made in the UK, half made in France – some by Burton herself.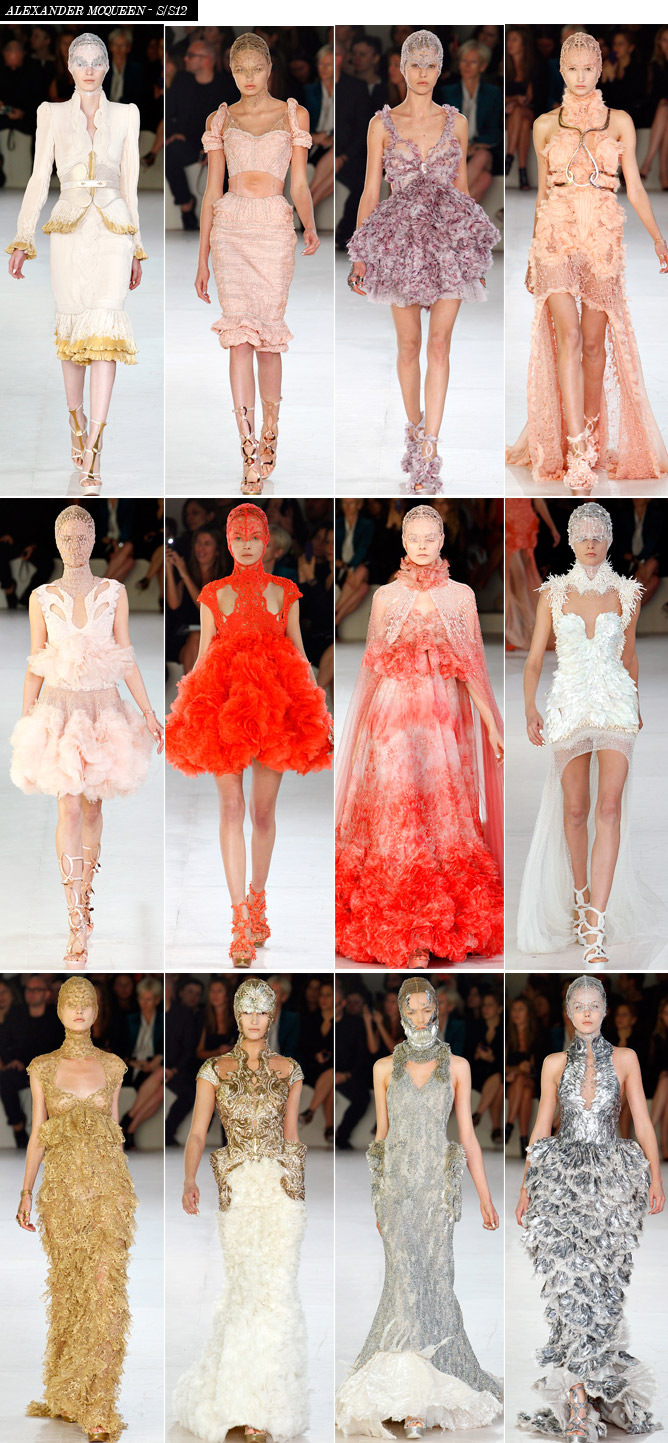 J'aime Michelle Williams & McQueen!  
Photos from style.com
Thursday Fashion Shot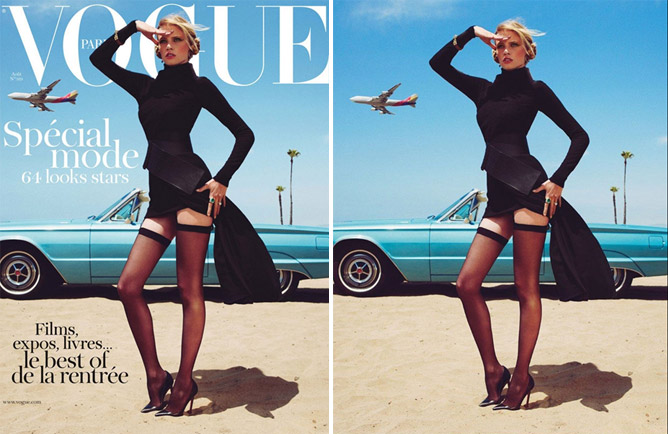 5 Espresso Shots Of News…
– – – – – – – – – – – – – – – –
An Amazing Magazine Cover – Vogue Paris, August 2011
Lara Stone graces the striking Vogue Paris, August 2011 cover. As Emmanuelle Alt's fourth edition as Editor-In-Chief, the cover is a cinematic fashion moment! Stone wears a Haider Ackermann Fall 2011 coat and can be seen peering off into the distance on a Californian beach. Love the juxtaposition of the sandy beach with Stone's unattainable glamorous beauty! Definitely one of my favourite covers of the year!
– – – – – – – – – – – – – – – –
Vintage Gucci Advertising
This year marks the 90th Anniversary of Gucci. To celebrate the extensive heritage of this renowned Italian label, Gucci has reissued its very first ad from 1922 as part of the 'Forever Now' campaign. Set to appear next to the vintage ad will be a photograph of Aldo Gucci from 1955, standing in front of the first Gucci store in Rome on Via Condotti.  Aldo Gucci was the son Gucci founder, Guccio Gucci. The 'Forever Now' campaign, now in its fourth instalment, celebrates the quality, craftsmanship and heritage of Gucci.
– – – – – – – – – – – – – – – –
'Burberry Body' – Rosie Huntington-Whiteley
The first campaign image for Burberry's new fragrance for women, Burberry Body, has been released featuring the impeccably beautiful Rosie Huntington-Whiteley. Huntington-Whiteley wears only an iconic rose gold satin trench coat in the shot which is sure to stop traffic. Burberry Body will launch in over 150 countries from September 1st.
Of Burberry Body, Christopher Bailey, Chief Creative Officer, has said:  "Burberry Body is the most exciting launch that we have ever created and captures the iconic spirit of the brand today in a striking and sensual way. Rosie's effortless style and her staggering beauty made her the natural choice as the first Burberry Body."
– – – – – – – – – – – – – – – –
New Creative Directors At Kenzo
Humberto Leon and Carol Lim, have been named as the new Creative Directors for Kenzo. The duo was previously behind dynamic label Opening Ceremony, which they started in 2002. Pierre-Yves Roussel, Chairman and CEO of the Fashion Division of LVMH, has said of the new appointment:
"Humberto and Carol will bring their fresh creative talent and innovative approach to Kenzo to rejuvenate this iconic brand. I am confident that they will leverage the unique contemporary & lifestyle spirit of the Brand to position it ideally for an ambitious development."
– – – – – – – – – – – – – – – –
Tom Ford Officially On The London Fashion Week Schedule
This will be the first season Tom Ford will present his collection during London Fashion Week as part of the British Fashion Council's official LFW schedule. Previously for his Autumn / Winter 2011 / 12 collection, Ford hosted a small gathering of key press only.
Other big names who recently returned to London Fashion Week include; Burberry Prorsum (returned from Milan for S/S 2010) as well as Temperley London, Matthew Williamson and Jonathan Saunders (who all returned from previous showings in New York).
– – – – – – – – – – – – – – – –
Happy Thursday! xx
Photos from fashiongonerogue.com / fashion.telegraph.co.uk / google images
Best Magazine Covers for August 2011…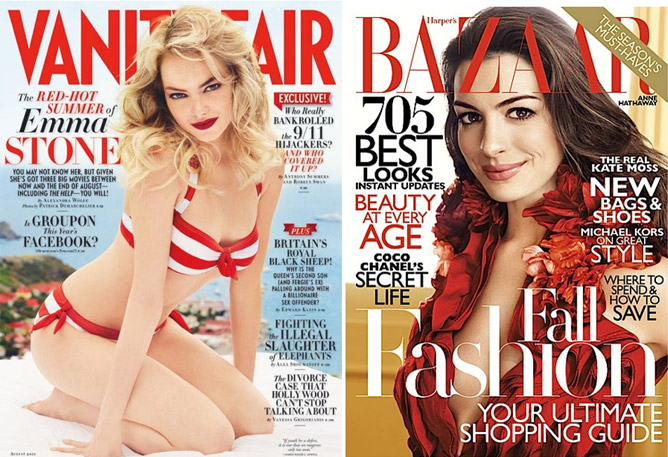 Hi, my name is Cara Gray and I am a Magazine Addict. I purchase several each month – sometimes even those in other languages!
And many times this is all down to the cover. The power of an exceptional Fashion Magazine cover can never be under estimated. The model (or celebrity); the fashion; the styling; the typography – all elements coming together to create a pure fashion fantasy.       
My favourite Covers so far for August 2011 are:
>> Emma Stone on the cover of Vanity Fair
>> Anne Hathaway for Harper's Bazaar US
>> Zoe Saldana covers Harper's Bazaar Russia
>> Mila Kunis gracing the cover of Flare Canada
Below are some of the gorgeous photos from Anne Hathaway's Harper's Bazaar feature. Wearing looks by Miu Miu; Max Mara; Prada; Valentino; and Alexander McQueen; Hathaway looks timelessly glamorous in this chic London editorial!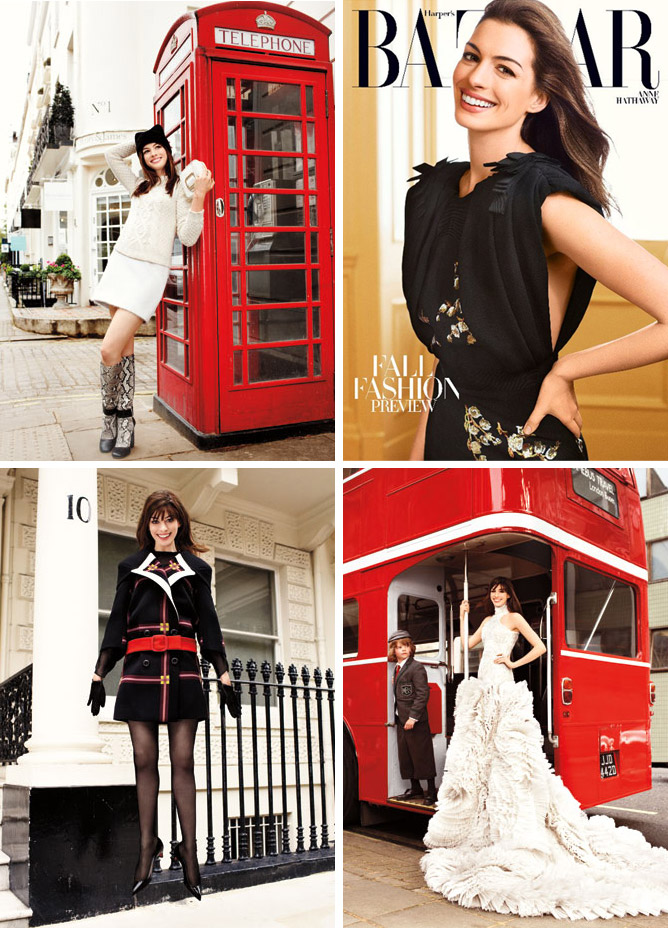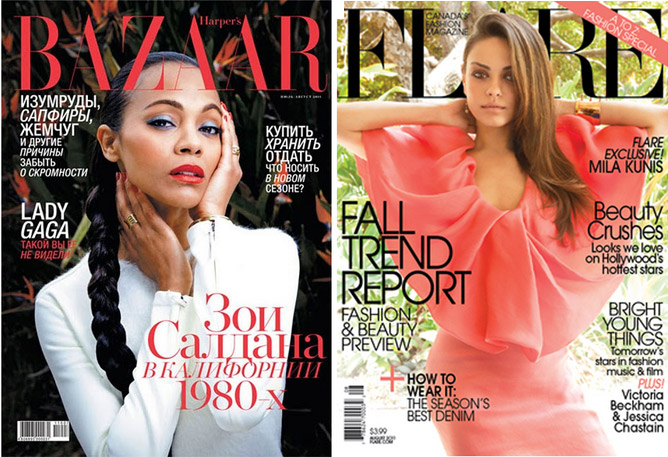 Which magazine is your 'must read' each month? xx
Photos from fashiongonerogue.com