Iconic, Timeless 40's Glamour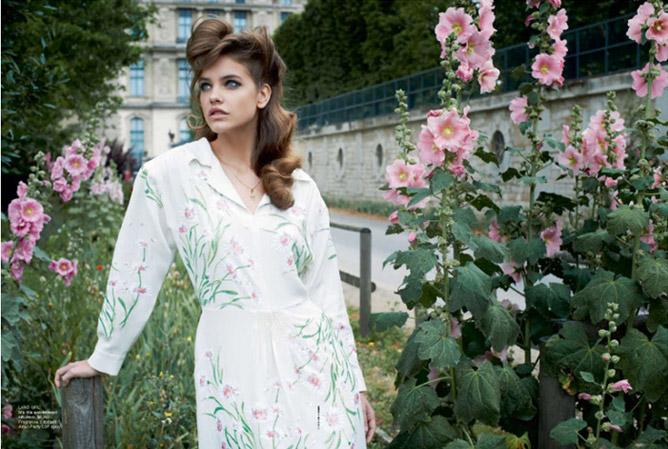 Entitled 'In The Mode', this Vogue Australia editorial channels the romantic nostalgia of 1940's dressing perfectly.
Continuing on from my previous article on the 40's trend for Fall, this editorial, featuring Barbara Palvin, captures the classic glamour and timeless beauty of this bygone era.
With ultra feminine pieces that exude lady-like elegance, Palvin wears looks by Miu Miu, Louis Vuitton, Chanel, Balenciaga and Bottega Veneta, amongst others. Her loose 40's pin curls bring a softness and romanticism to the photos; while her dark eye make-up and red lip conjures a sexy, strong, sophistication.
Vogue Australia perfectly introduces the editorial with: 'The romance of the past is rendered modern by a divine melange of print, texture and shape.'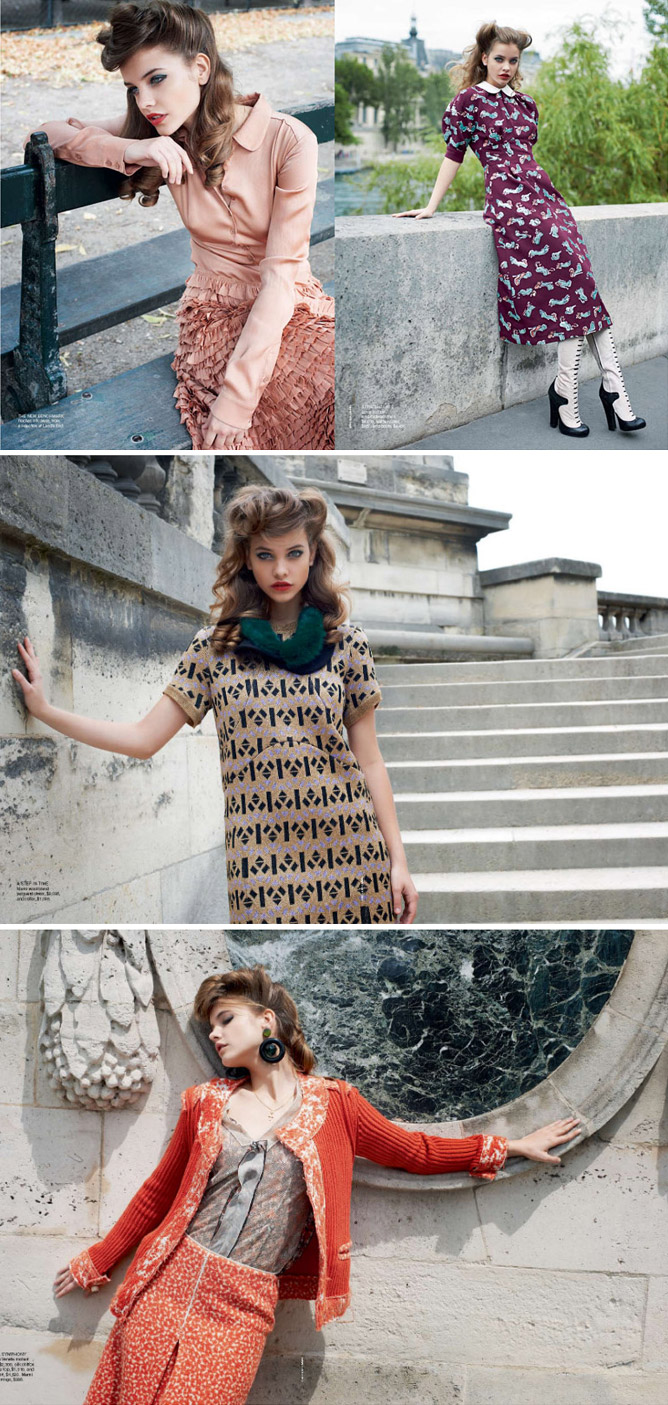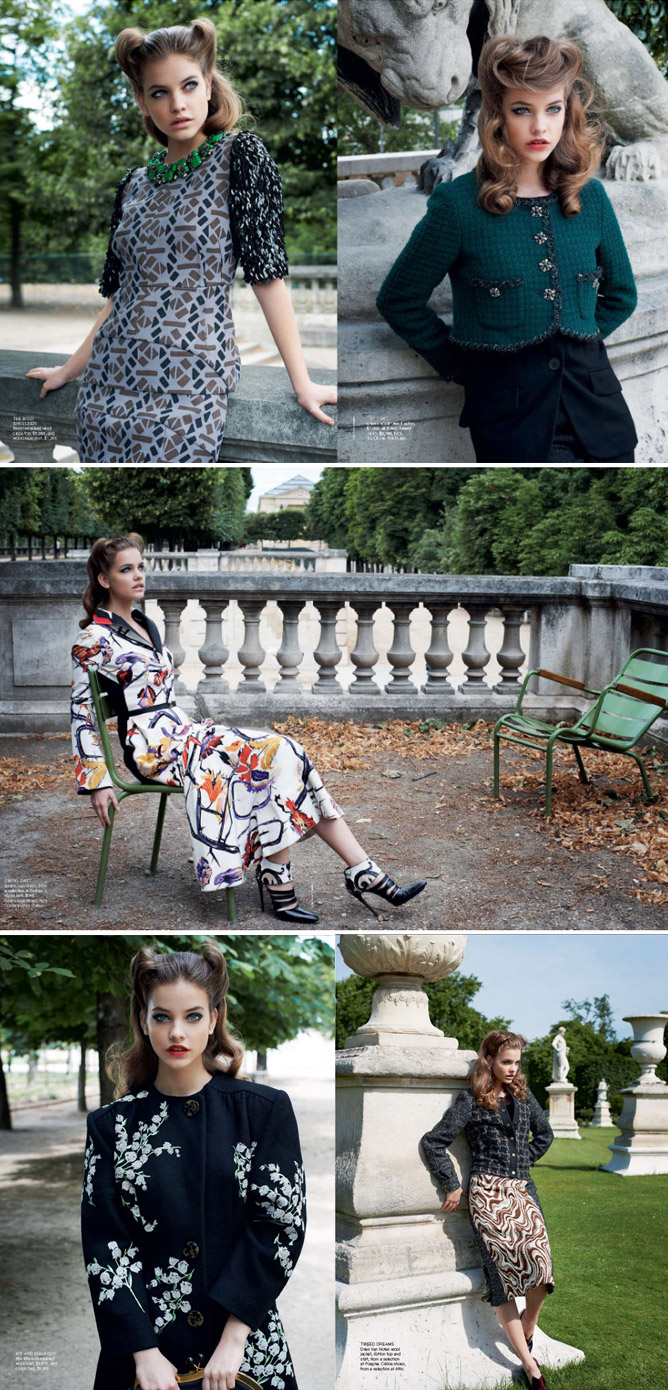 Enjoy your Sunday xx
Photos from fashiongonerogue.com
4 Fabulous Fashion Shots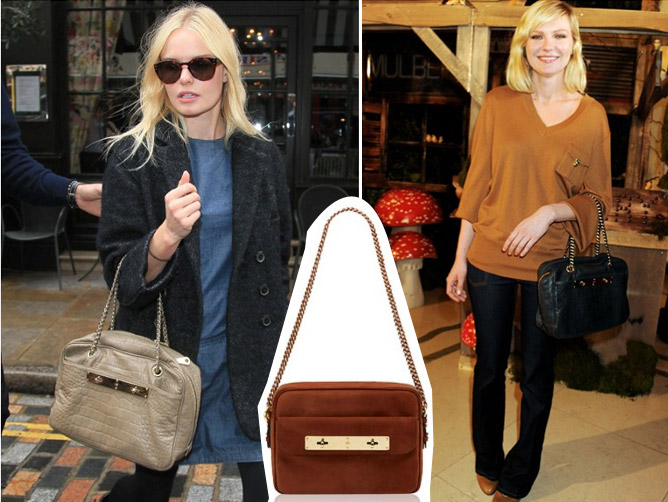 Have You Met Mulberry's New Family Member – Carter?
Mulberry has added a new handbag to their stylish accessory family – the Carter (pictured above). Already being worn about town by modern day style icons – Kate Bosworth, Emma Watson and Kirsten Dunst – the Carter is available in three sizes. It is a boxy, rectangular shape with chain handles. Mulberry has become the go-to label for IT accessories and the Carter looks set to further cement this status.
– – – – – – – – – – –
Baby's First
Louis Vuitton
Rachel Zoe announced her baby gift from Louis Vuitton on Twitter and it is B-A-N-A-N-A-S! Zoe tweeted: "Is Skyler to young to have his first LV? So MAJ for a new diaper bag."  The monogrammed 'speedy' bag (pictured right) with Skyler's initials is super stylish for a 4 month old! Zoe went on to tweet a thank you message to Louis Vuitton "Sending a big, stylish thank you to @LouisVuitton_US for Skyler's insane gift on his 4 month birthday! :)"
– – – – – – – – – – –
The Will of
Alexander McQueen
The Will of Alexander McQueen has hit the headlines with the extraordinarily talented designer leaving a significant amount of his estate to his pet dogs and favourite charities. McQueen's considerate and giving nature were clearing apparent as he bequeathed:
>> £50,000 to his dogs' trust fund to look after Minter, Juice and Callum for the rest of their lives
>> £50,000 to each of his two housekeepers
>> £50,000 to his godson and each of his nieces and nephews
>>  £250,000 to each of his three sisters and two brothers
>> £100,000 to his four favourite charities – The Terrence Higgins Trust, Battersea Dogs and Cats Home, the London Buddhist Centre and the Blue Cross sick animal centre
>> The remainder of his estate is in the trust for his Sarabande charity. McQueen asked that the money be considered to fund bursaries or grants for students at Central St Martin's College of Art and Design
– – – – – – – – – – –
Editorial Of The Week
Loving this editorial for Elle Russia, August 2011 issue, which celebrates lady-like elegance and old-world glamour. Pieces by Stella McCartney, Elie Saab, Louis Vuitton and Salvatore Ferragamo, amongst others, are worn by Hailey Clauson as she strikes a pose in striking black lace, polka dots and opulent textures! It's darling!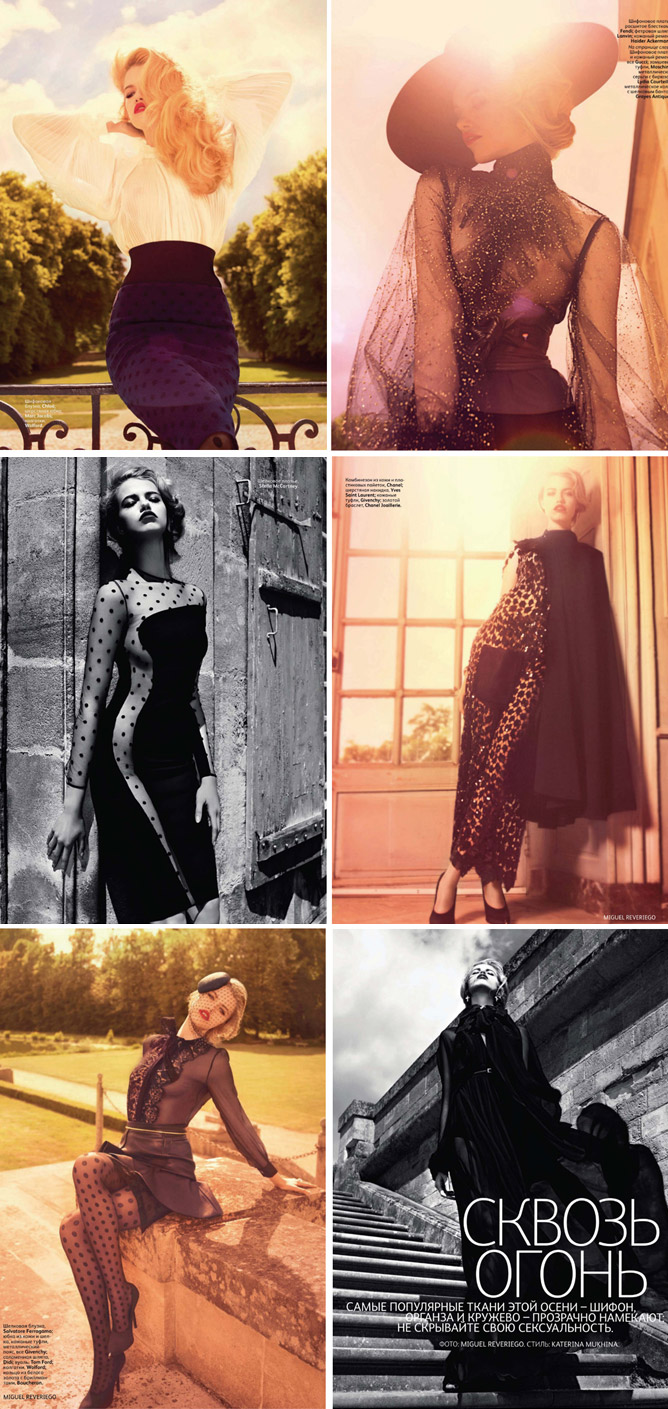 Happy Wednesday! xx
Photos from fashion.telegraph.co.uk / twitter.com / fashiongonerogue.com / google images
The Power Of A Spectacular Hat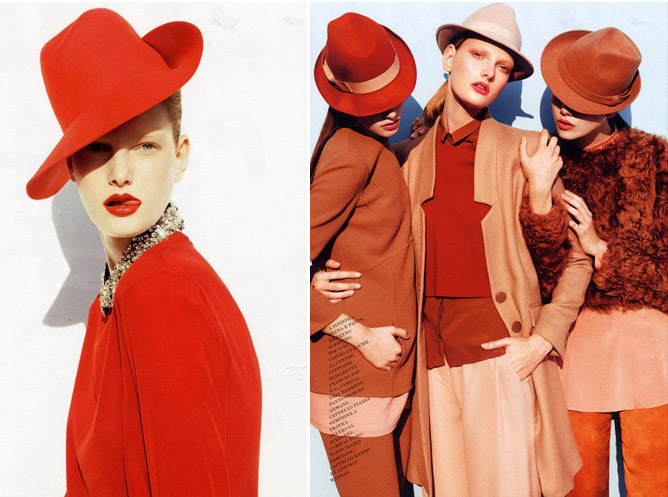 Not enough people wear hats. It's a bold statement, but I'm willing to make it. A magnificent hat has the power to command an outfit; instantly portray your style; captivate a room. A spectacular hat can transcend a fashion moment.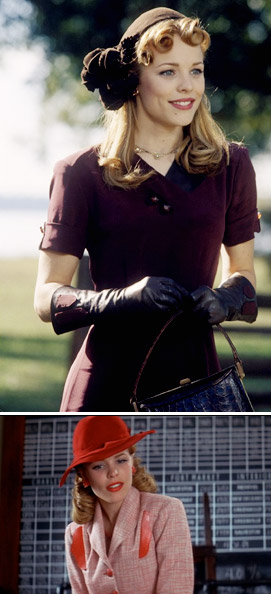 'If you want to get ahead and get noticed, then get a hat' – in years gone by, the hat was an essential item in every wardrobe.  It was even considered a disgraceful act if you left home without one. The etiquette was the same across all class levels – you simply must wear a hat. Today however, the dedication to this stylish accessory seems to have been lost in translation.
Hats can still be the de rigueur for all occasions. Next time you are dressing for an event think of the scene stealing headpiece Kate Winslet wears in Titanic or Rachel McAdams' embellished beret from The Notebook. Make an iconic statement.
A hat instantly draws attention to your face – it is the most noticeable accessory you can wear.
When choosing your own spectacular hat, be sure to reflect on the style, colour and shape. Consider the type of look you want to achieve and your wardrobe choices that will be accompanying it. A hat will balance out your look, so be sure to place careful consideration on proportion; i.e. don't let a hat wear you!
Below is an editorial for Flair, which celebrates a new season of darling headwear. Entitled Hide & Seek, this editorial displays just how a striking hat can transform a look.

What is your favourite 'statement making' accessory? xx
Photos from fashiongonerogue.com / imdb.com