Pretty & sweet; an assortment of beautiful headbands were on show during the Fall 2012 collections.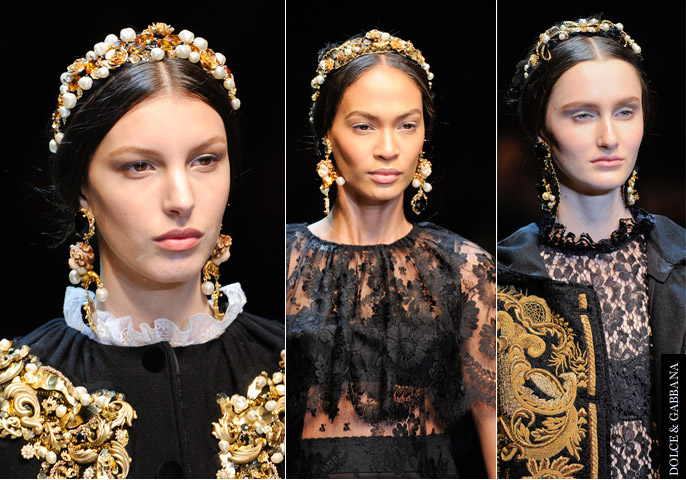 Headbands are the perfect accessory to invest in. Whether they have bows, embellishments, are bright or neutral – headbands play off beautiful dresses, handbags and shoes to perfection.
Opulently embellished headbands could be easily spotted at Dolce & Gabbana and Oscar de la Renta. Drawing attention to beautiful faces, embellished headbands add an splash of drama and sparkling delight to your look.  
Meanwhile at Clements Ribeiro and Moschino Cheap & Chic (pictured above), headbands were much more minimalist. These knotted variations appeared only in black at Clements Ribeiro, while at Moschino Cheap & Chic pretty pastels added that extra teaspoon of sweetness to the collection.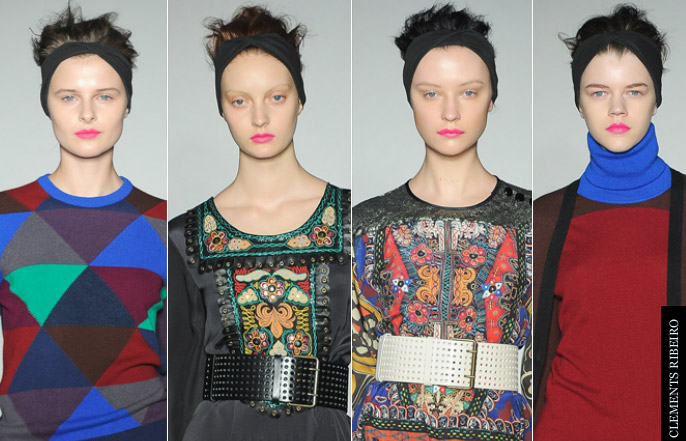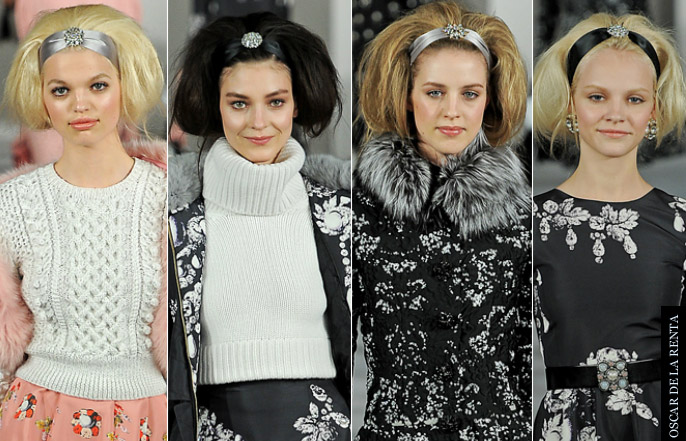 Do you love headbands? Which is your favourite accessory?
Photos from style.com
Overtly feminine & positively chic – a brooch can make quite the style statement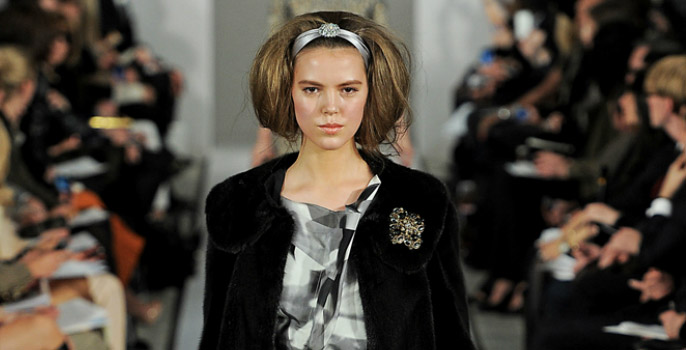 On the Oscar de la Renta Fall 2012 runway, opulently beautiful brooches added the perfect finishing touch to several looks.
The decedent Gobstopper sized crystals created bulbous brooches, which were pinned high at the neck of a crisp white shirt or perfectly placed on chunky knits and coats. Dusted with glistening pearls and gems, they added an extra splash of glamour to this chic collection.
Evoking a vintage nostalgia, brooches are the perfect accompaniment to clean lines and a minimalist look. A sparkling brooch creates that extra dash of the dramatic in your style. These darling embellishments enable you to reinvent some of your most loved pieces (from a classic blazer to a simple little black dress) and are perfect for adding a chic touch of individuality to your look.
Evoke the playful mood of the brooch and wear in a cluster of your favourites for an artful electric twist.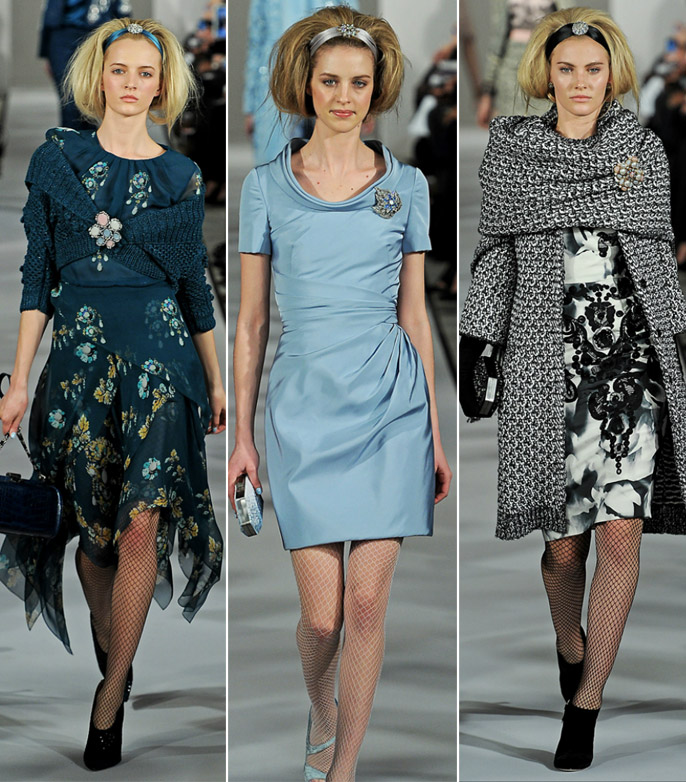 Will you empty your jewellery box & wear a beautiful brooch? xx
 Photos from style.com
The Le Smoking trend is back & the world's most stylish are mad about the boy.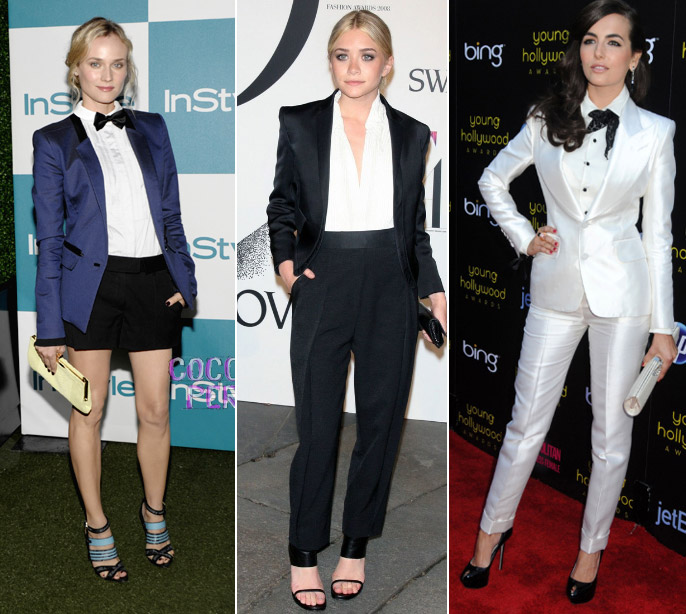 As one of the most powerful and enduring fashion creations of the 21st century, Yves Saint Laurent's Le Smoking Tuxedo is still a favourite amongst the world's most stylish. From Diane Kruger to Camilla Belle, a feminine take on the tuxedo is sharp, fresh & seductively sexy.
About Le Smoking
Created in 1966 by Yves Saint Laurent, the Le Smoking tuxedo revolutionised women's fashion. Pioneering the androgynous look for women, the tuxedo enabled women to dress with style, influence and power.
When it first appeared as part of YSL's Pop art collection it was a controversial alternative to the little black dress or evening gown.
The sharp black jacket and straight cut, high waisted trousers worn with a white organdy blouse, became instantly adored by trend setting, style icons such as Catherine Deneuve, Lauren Bacall, Bianca Jagger and more.
Every season since this controversial design made its debut, countless designers reference its chic shape – a testament to the enduring appeal of Le Smoking. YSL himself reinvented his signature silhouette in hundreds of new and unique ways during his own reign – from dress versions to jumpsuits and trenches.  Since then all of Saint Laurent's successors (Alber Elbaz, Tom Ford and Stefano Pilati), have made the Le Smoking an inherent feature in every YSL collection. {images from the YSL Fall 2012 collection below}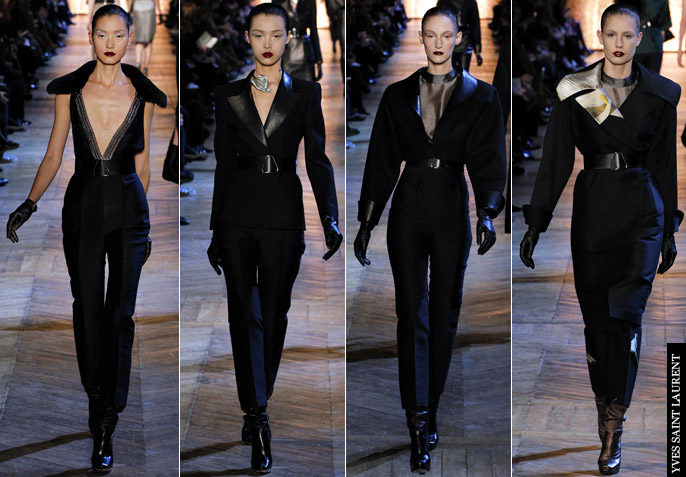 Will you wear Le Smoking Tuxedo? xx
Photos from style.com /  justfad.blogspot.com.au / google images