Favourites Part1…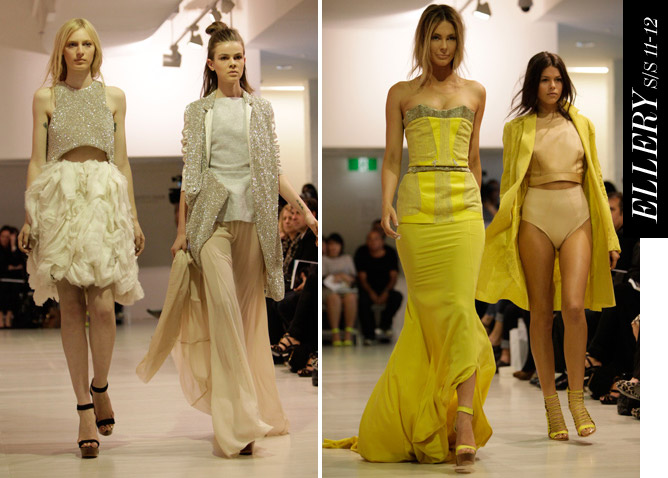 A few of my favourites from Rosemount Australian Fashion Wk Spring / Summer 2011 / 12…
– – – – – – – – – – – – – – – – – – – – – – – – – – – – – – – – – – – – – – – – – –
Ellery S/S 11-12
Abstract tailoring and a play on oversized pieces, Ellery's Spring / Summer 2011 collection drew inspiration from David Hockney's contemporary artwork. Entitled 'The Second Marriage', Ellery fused her signature cool, sexy and quirky aesthetic into modern yet classic pieces. The waists on skirts and dresses were nipped in while shoulders were exaggerated. As one of the hot tickets at Rosemount Australian Fashion Week, Ellery's  front row was the place to be seen. LOVE, LOVE, LOVE the bright yellow coat and gown! Two of my absolute favourite looks from the week…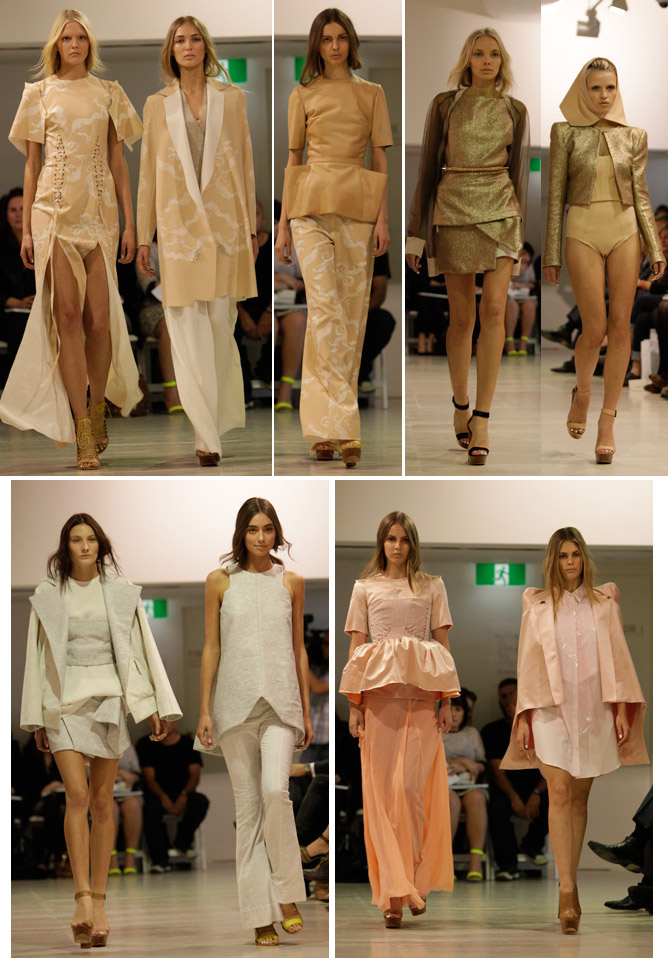 Camilla and Marc S/S 11-12
Taking a far more playful aesthetic than past seasons, Camilla and Marc's Spring / Summer 2011 collection featured some extraordinarily bright colours and captivating prints. Still maintaining the sharp relaxed tailoring the label is known for, Camilla and Marc also offered some silhouettes with an understated simplicity. These were made fierce with colouring blocking techniques or bold leopard print. The collection also had hints of 'sporty', with hot pink neoprene and contrasting white…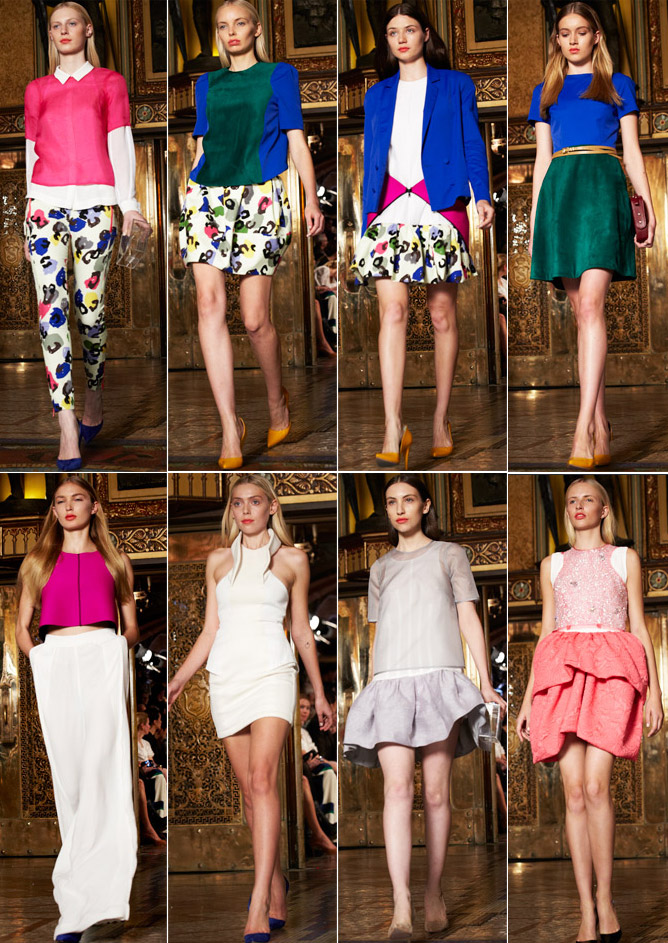 Dion Lee S/S 11-12
Having achieved monumental success for such a new label in the last few seasons, the pressure was on for Dion Lee to deliver something impeccable. And he did. "There's a focus on silhouette… Micro short shapes transition into cutaway skirts, through to austere, sober shapes.", said Dion Lee of his Spring / Summer 2011 collection.  Entitled 'Composure', the collection maintained Lee's sharp architectural silhouettes with his strong lines and crisp tailoring. Yet it also felt fresh and new.  Lee also stayed true to his signature colour palette of white, greys, blues, pinks and black…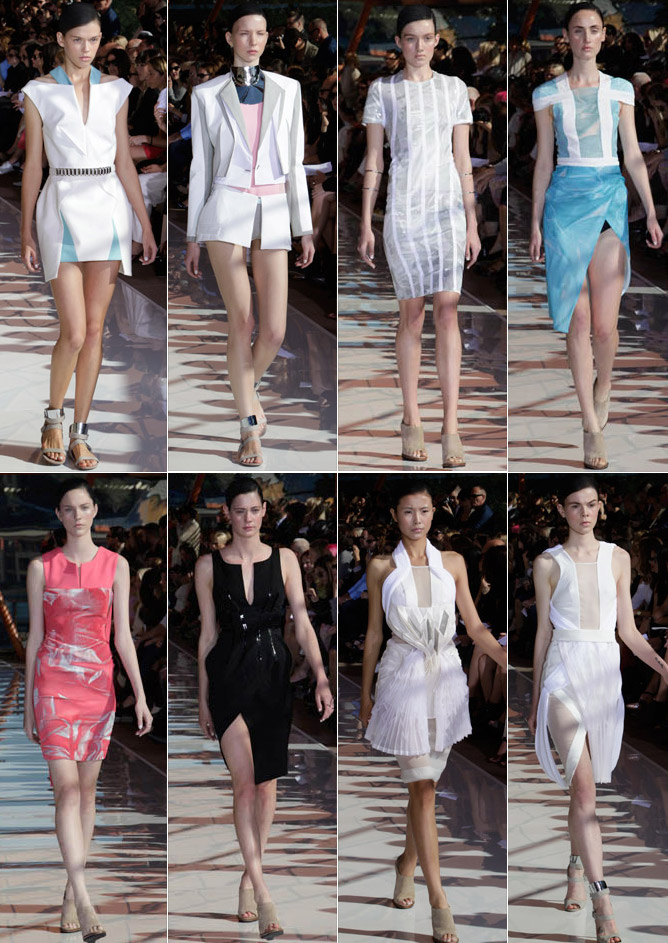 Alex Perry S/S 11-12
Entitled 'Cuban Princess', Alex Perry's Spring / Summer 2011 collection was a vibrant feast for the eyes. Bright Colours, floral prints and hoop earrings brought the Cuban inspiration to life. There were sequin embellishments and flowing chiffon skirts ready to cut a fierce rumba on a steamy Havana night. And don't forget exquisite wear – of course the most glamorous evening gowns of RAFW were to be found at Alex Perry! Perry always creates effortless, fairytale, sophistication…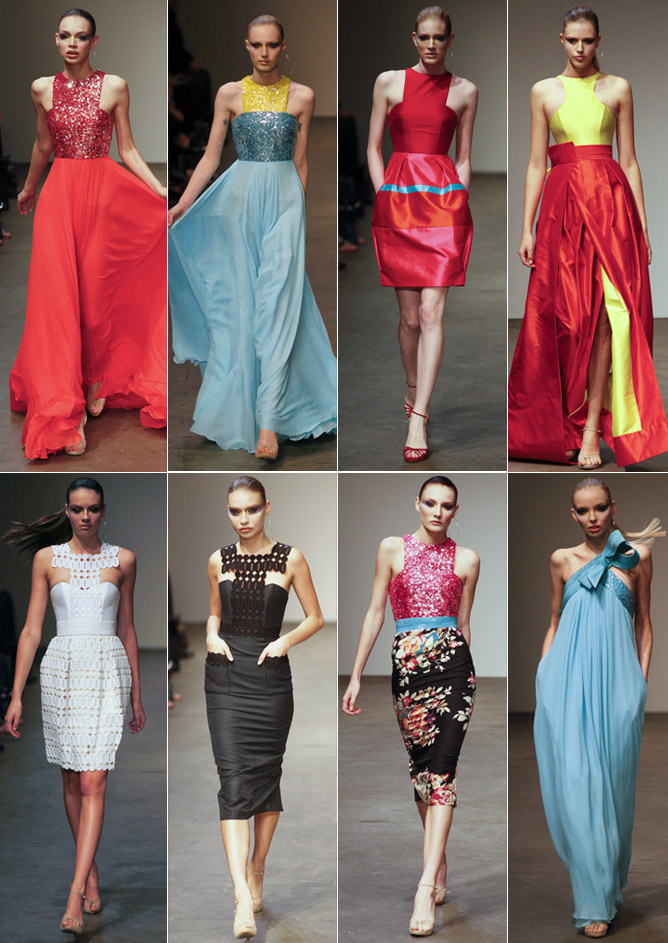 What do you think of these collections? xx
Photos from grazia.com.au / breakfastwithaudrey.com.au
Designer Spotlight Series
Designer Spotlight on… Dion Lee
A Little Bit About Dion Lee…
I remember reading about Dion Lee back in March 2009 when he first featured in Vogue Australia. He instantly caught my attention with his feminine yet crisply tailored pieces that sculpt around the body.
Focused on the structure and architecture of clothing; Lee's attention to detail, the precise construction of his clothing and sharp tailoring creates bold, dynamic pieces. His clothes are both, functional yet dramatic – sharp jackets, tailored trousers and cocktail dresses, would fit perfectly into any modern woman's wardrobe.
Now at just 24 years of age, Lee's innovative creations are beginning to capture the international spotlight.
Dion Lee Fans…
Emma Watson wore a look from Dion Lee's Spring / Summer 2011 collection while in New York recently. Watson, who is becoming quite the style icon, teamed the inkblot mini dress with boots and tights.
Dion Lee
Spring / Summer 2011…
As his sixth collection at Australian Fashion Week and second solo show of the year, all eyes were firmly on Lee's Spring / Summer 2011 collection. And he did not disappoint.
Using Rorschach blots as a print, Lee's structural pieces highlighted the movement of the body. Blots printed in intense violet shades with highlights of soft pink, flowed along the body creating truly artful pieces. Some blots almost appeared to take on floral shapes while others were distinctly abstract. There was also an emphasis placed on athleticism. Mesh pieces with racer backs intertwined perfectly with the feminine, yet edgy feel of the collection. Towards the end of the collection, Lee began combining pleating and knots to create some truly divine mini dresses. The dresses had a touch of classic Grecian draping with a distinctly modern edge. They were whimsical and feminine with yet powerful and tough.
Lee's work is – modern verses classic, structured verses fluid. The collection is concise yet powerful. It is beautiful and most noticeably, innovative…
What do you think of Dion Lee's Spring / Summer 2011 Collection? Love it or loathe it? xx