Kamola S/S 2011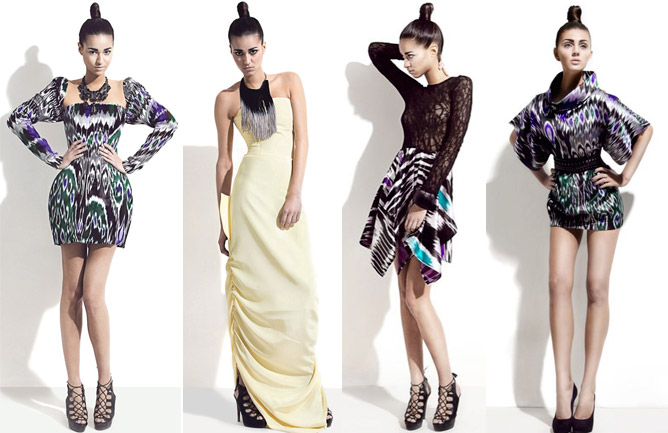 Last Saturday I was invited by Kamola & LilaBoutique.co.uk to a preview of Spring / Summer looks in Kensington.
The Creative Director and Founder of Kamola, Kamola Malikova, was on hand to talk about her pieces; her inspiration; and take personal orders for her made to measure S/S 11 looks. Champagne, Canapés and shopping… what better way is there to spend a Saturday?!
I have included some of my favourite looks from the Kamola Spring / Summer collection below. Striking graphic prints, divine lemon yellow and seductive lace will make for a sophisticated summer. My absolute favourite look is the white high-waisted A-line skirt, grey lace top and pink cape! So dramatic, feminine and chic xx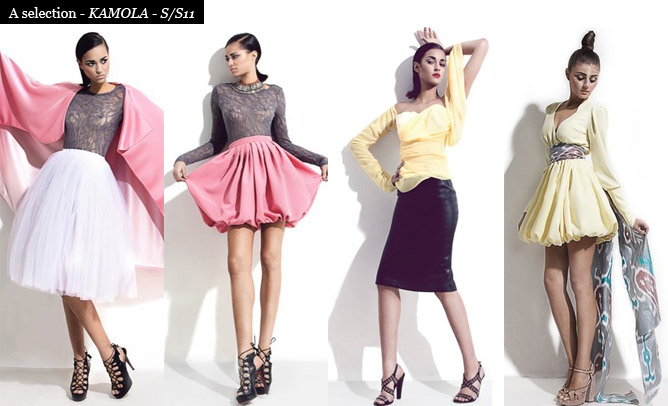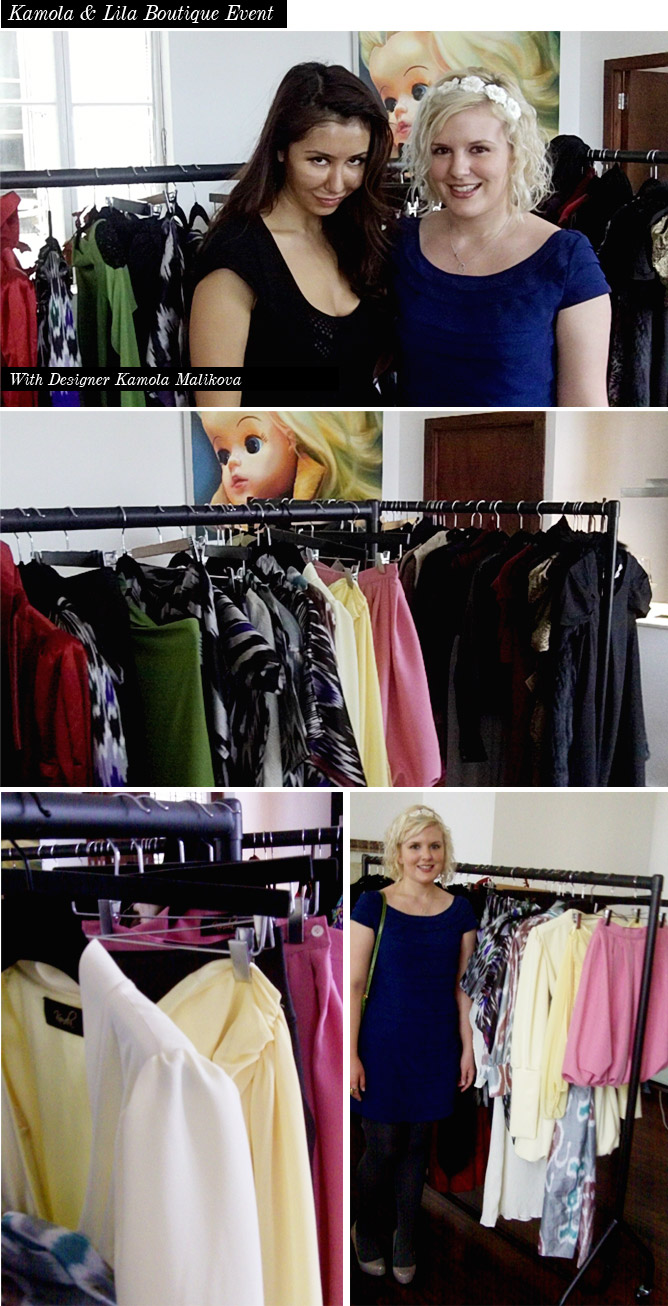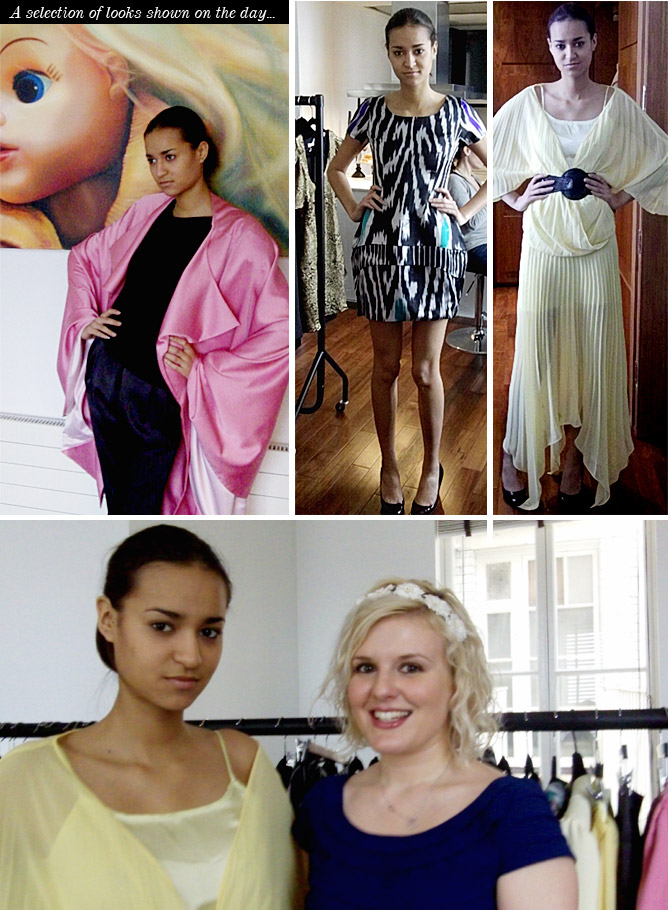 Also at the event were some gorgeous dresses by Laundry Room and Butter By Nadia. The photos of the red Butter By Nadia look are actually all of the same dress!  This 'one size fits all' dress in rayon jersey wraps, twists and drapes around the body to create endless styles! It's amazing! And the two cute dresses below by Laundry Room are both so cute and so reasonably priced at only £50.00! I want the colourful one! You can buy all of these looks from www.lilaboutique.co.uk…
For more information please visit: www.lilaboutique.co.uk and www.kamola.co.uk
Spring/Summer 2011 Collection
Meet Boy Meets Girl®
Easily recognisable by the iconic branding, Boy Meets Girl® is a New York based fashion label that exemplifies urban, edgy and unmistakable cool.  
Boy Meets Girl® creates stylish, wearable pieces that are casual yet classic. Having struck a chord with countless fashionable celebrities: Eva Mendes, Rachel Bilson, Rosario Dawson, Michelle Williams, Hillary Duff and Zooey Deschanel, to name but a few, have all been spotted wearing Boy Meets Girl®. You may have also seen pieces on Gossip Girl, The City, Vampire Diaries, The Real Housewives of New Jersey and more. Boy Meets Girl® is definitely a label to watch! 
Boy Meets Girl®: Spring/Summer 2011 Collection
"We have only this one life so we must live it fully, without fear or regret. Our experiences create our identity and individualism, so the more experiences we have the richer we become. This collection has that richness of experience on display."
– Boy Meets Girl® 
Inspired by the intrepid traveller, the Boy Meets Girl® Spring/Summer 2011 collection is full of gorgeous separates that can be easily interchanged. The muse: an energetic, free-spirited girl who will be travelling all summer with a wardrobe that can take her anywhere she wants to go; from New York to Paris, day to evening.   
In a neutral colour palette of black, grey and khaki with hints of light blue; the Boy Meets Girl® collection is full of interesting separates and unexpected detailing. Cut-outs, zips and shapes; reveal different areas of the body with subtly and sophistication. When models turned on the catwalk, the back of their looks were also equally surprising. Many pieces had been cut into strips or transformed into seemingly different tops- yet all fell perfectly around the models bodies. Striped Boy Meets Girl® gloves and knee high socks added the finishing touches to this cool collection. 
The collection covered all bases and included: trousers, shorts, dresses, skirts, t-shirts, tops and jackets. Pieces were created in comfortable, luxe materials that also flatter female curves. Overall the collection exuded the effortless chic vibe of the brand. 
Uptown Twirl Must-haves:
I love the white off the shoulder tee with the Boy Meets Girl® logo full of coffee beans! My other favourite look is the khaki shift dress with front zip. Both so wearable, yet fun and unique. 
Uptown Twirl Met: Boy Meets Girl®
While on a whirlwind trip to London, I met with Stacy Igel, Founder / Creative Director of Boy Meets Girl®. 
I interviewed Stacy for the upcoming episode of Uptown TV, which will be posted online in the coming weeks.  In the episode Stacy talks about her inspiration, what it feels like to show at New York Fashion Week, who she would most like to see in Boy Meets Girl® and more! A must see! 
For more information, on Boy Meets Girl® click here to visit the website. 
In the meantime, what do you think of the Boy Meets Girl® S/S collection? xx
Stella McCartney For Target
If you have ever considered taking a trip Down Under now is the perfect time… Stella McCartney's second collection for Target has been announced!  
While Stella McCartney has just shown her 2011 Spring / Summer Collection in Paris; it was also revealed her second collection for Target (Australia) would be hitting selected stores on October 29th!
The 42 piece Spring / Summer collection incorporates an impressive array of chic, versatile separates. Jeans, trousers, skirts, dresses, blouses and t-shirts are all well represented in McCartney's smart, chic signature style. A true reflection of McCartney's design aesthetic, the collection has a strong focus on her sharp tailoring and well-cut silhouettes. Lace and sequins are also used with great success for polished, sexy feminine separates.
McCartney's last collaboration with Target in 2007 sold out within a couple of days. And with prices ranging from just $20 to $199 (both in Australian Dollars), this collection looks set to fly off shelves even faster! It will also be available up to size 16. Target unveiled the collection at the Altona mansion harbour-side at Point Piper. Instead of a catwalk, models moved and interacted around different displays – from taking high tea to lounging in deck chairs.
My Favourite 5 looks:
1. Tulip Dress with Tie in Magenta
This dress is my absolute favourite! Love it! The sleeve length, neckline and nipped-in waist work perfectly for a powerful, sexy look. And the magenta colour is divine! (pictured above in Ivory)
2. White Lace Tee and Ivory Tulip Skirt
The lace tee and tulip skirt are so pretty together. Love the tulip shape combined with the delicate lace.
3. Collarless Jacket, Lace Tee & Tight Lace Trouser
Signature Stella style – the ivory jacket, black lace tee and cigarette trouser equals seriously chic.
4. Lace Dress in French Blue
With a beautiful neckline and sleeves, this lace dress is lovely in French blue.
5. French Blue Shirt with Tie and Wide Leg Trouser
A fantastic pair of trousers are an essential part of every woman's wardrobe. When combined with a dress shirt means effortless chic.