Alex Perry…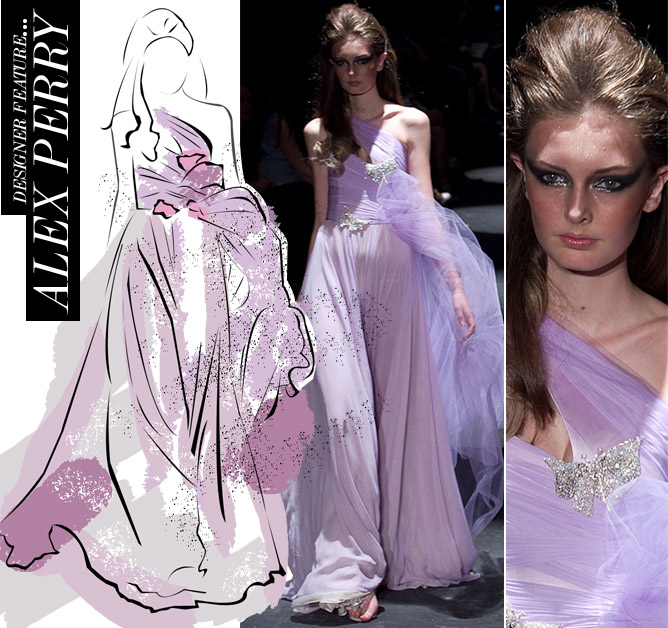 Alex Perry is often referred to as Australia's most glamorous fashion designer.
A title apt for Perry whose spectacular Haute Couture gowns are easily identifiable for their exquisite beauty; whimsical cascading fabrics; and pure 'fairytale' red carpet glamour. 
About Alex Perry
With a long list of ever so stylish celebrity fans – from Jennifer Lopez to Eva Longoria, Natalie Portman to Miranda Kerr – Perry is renowned for his magnificent evening gowns, high glamour and prestige quality.
Opening his first atelier in Sydney in 1992, Perry has shown annually at Australian Fashion Week since 1997. The Alex Perry brand has since grown to encompass Haute Couture, Red Carpet, Ready-To-Wear and Bridal.
With his distinct style and quick wit, Perry is also an accomplished media personality. Appearing as a judge on Australia's Next Top Model, Perry is the only judge to have been involved in all six seasons.
Alex Perry collections are available internationally in select boutiques and his flagship store in Sydney's iconic Strand Arcade encompasses all of his labels.     
Alex Perry & Waterford Crystal
It was a world-first when Perry recently partnered with Waterford Crystal to create three spectacular couture gowns.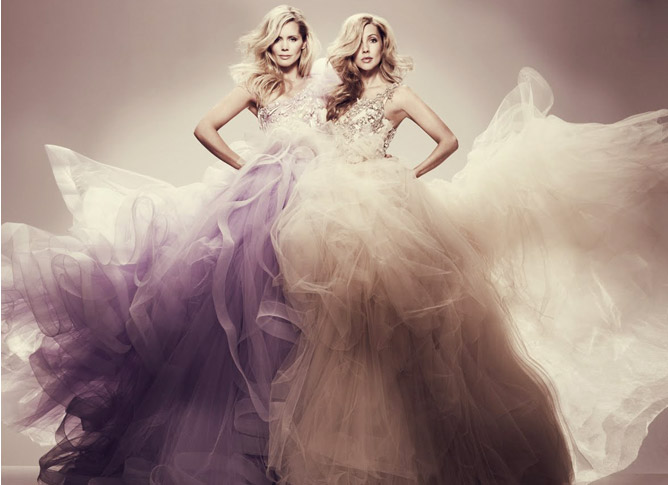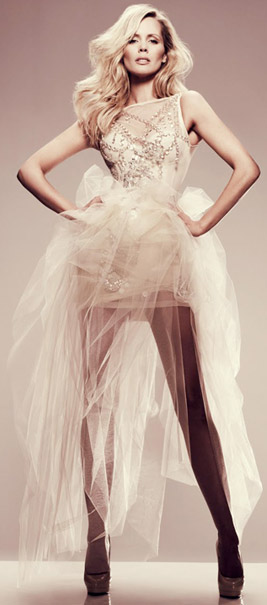 As the king of glamour, sparkle and beauty were always anticipated; however, the three exquisitely enchanting gowns exceeded to surpass all expectation – sweeping you away in pure romanticism, elegance and drama.  
Perfectly capturing the beautiful allure of the luxurious crystal label, Perry 's couture gowns align with his signature aesthetic. In a glistening colour palette of lilac and creamy nude, the gowns are made with hundreds of metres of tulle and embellished with Waterford Crystal chandelier droplets in an assortment of cuts and sizes. The tulle is wrapped, draped and perfectly placed to embrace the body around corseted bodices which are encrusted with crystal. The result… illuminating, couture radiance, virtually too exquisite for words.
While other designers have collaborated on stemware and giftware ranges with Waterford Crystal in the past (including the likes of Marc Jacobs, Jasper Conran and John Rocha), this was the first time a designer has extended and translated the brand in fashion. And it was a partnership that could only have been celebrated with such refined elegance and fairytale-like glamour with Alex Perry.
Alex Perry S/S 2010/11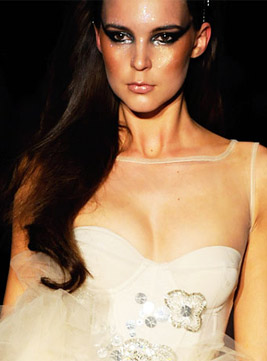 Entitled Arabian Princess, Perry's Spring / Summer 2010/11 collection is an enchanting mix of sharp tailoring, whimsical evening gowns, lace and embellishment.
The collection was a schooling in luxurious elegance, decedent dressing and shimmering beauty. Held at Sydney's Fox Studios the 130 metre long runway, wrapped around a 1,000 strong crowd all eager to see the luxurious glamour Perry is renowned for.
There were feathers, sequins, beading and even an exotic zebra print – transporting the audience to a starry Arabian night. Models wore voluminous hair with dark, seductive eye make-up and a mask of shimmering glitter.
Sexy yet sophisticated, innately detailed yet not over done. From cocktail dresses to red carpet evening gowns, it is a collection that exuded fierce femininity with intricate beauty.

For more beautiful Alex Perry creations, visit the official website: www.AlexPerry.com.au .
What do you think of Alex Perry's S/S collection? xx
Photos from alexperry.com.au | fashionising.com | theknot.com.au
Jayson Brunsdon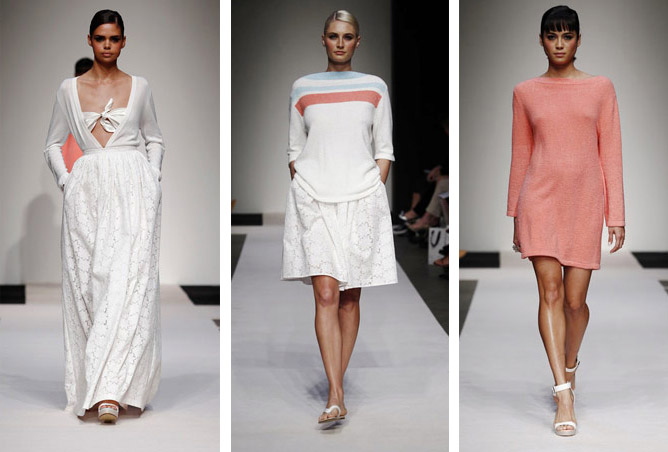 Designer Espresso Shot Of News…

About Jayson Brunsdon
In my post yesterday, I wore my new Jayson Brunsdon skirt, so today I thought I would feature more about this Australian Designer I love!
Before starting his label in 2004, Brunsdon was first an Illustrator, Stylist and Fashion Editor. His fans include; Naomi Watts, Linda Evangelista and HRH Crown Princess Mary Of Denmark. The Jayson Brunsdon label is now available in 15 countries worldwide; including leading department stores – Saks Fifth Avenue, Neiman Marcus and Selfridges and Co.
Jayson Brunsdon Spring / Summer 2011
Creating an elegant, sophisticated and fresh collection – that screams of a 'perfect summer' – Jayson Brunsdon's Spring / Summer 2011 is classic, chic perfection. It is beautifully executed and quite simply charming!
Capturing the elegance of icons such as Grace Kelly, Brunsdon's silhouettes are flattering and sophisticated. Tie-front bandeaus work perfectly with the high-waisted full length skirts. Clinched in waists, with 50's shaped skirts, fall perfectly over the body. Meanwhile, clean white Broderie Anglais featured in dresses, shirts and skirts to create a feeling of freshness. The colour palette of white, peach, tan and peppermint is perfect for Summer.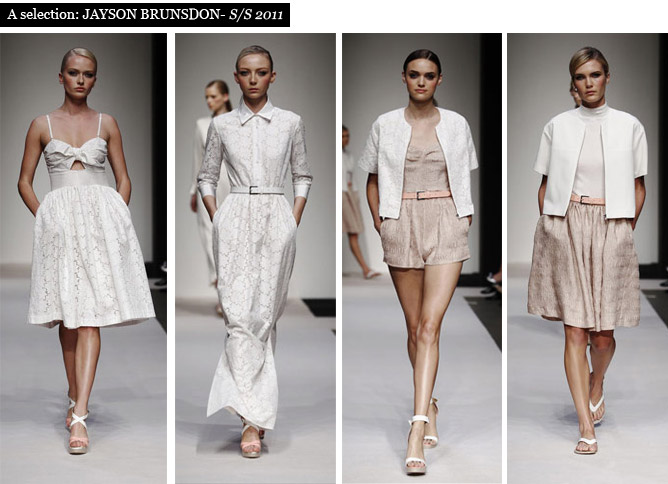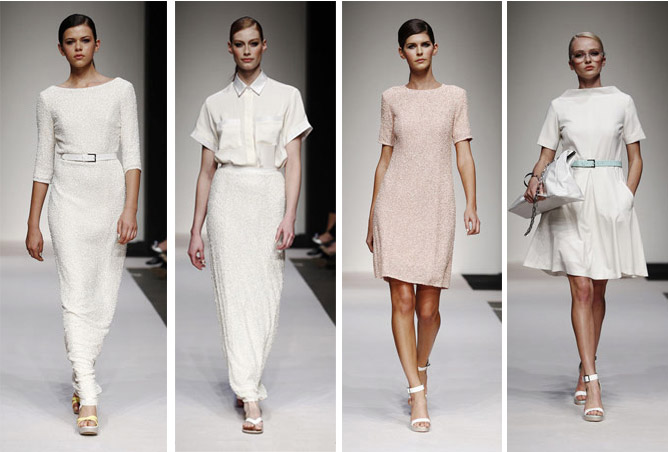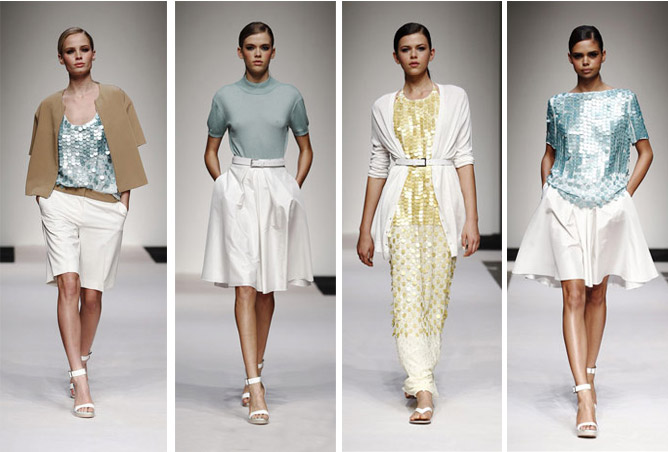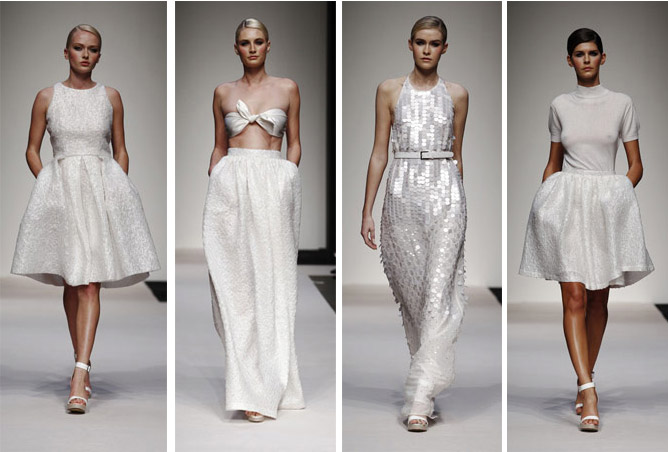 What do you think of the Jayson Brunsdon collection?
To view the complete collection, please visit: jaysonbrunsdon.com
p.s. the skirt I wore on New Years Eve from yesterday's post is the last pictured above (but in the cream version). Love this one too! xx
All photos from grazia.com.au
Designer Spotlight Series
Designer Spotlight on… Dion Lee
A Little Bit About Dion Lee…
I remember reading about Dion Lee back in March 2009 when he first featured in Vogue Australia. He instantly caught my attention with his feminine yet crisply tailored pieces that sculpt around the body.
Focused on the structure and architecture of clothing; Lee's attention to detail, the precise construction of his clothing and sharp tailoring creates bold, dynamic pieces. His clothes are both, functional yet dramatic – sharp jackets, tailored trousers and cocktail dresses, would fit perfectly into any modern woman's wardrobe.
Now at just 24 years of age, Lee's innovative creations are beginning to capture the international spotlight.
Dion Lee Fans…
Emma Watson wore a look from Dion Lee's Spring / Summer 2011 collection while in New York recently. Watson, who is becoming quite the style icon, teamed the inkblot mini dress with boots and tights.
Dion Lee
Spring / Summer 2011…
As his sixth collection at Australian Fashion Week and second solo show of the year, all eyes were firmly on Lee's Spring / Summer 2011 collection. And he did not disappoint.
Using Rorschach blots as a print, Lee's structural pieces highlighted the movement of the body. Blots printed in intense violet shades with highlights of soft pink, flowed along the body creating truly artful pieces. Some blots almost appeared to take on floral shapes while others were distinctly abstract. There was also an emphasis placed on athleticism. Mesh pieces with racer backs intertwined perfectly with the feminine, yet edgy feel of the collection. Towards the end of the collection, Lee began combining pleating and knots to create some truly divine mini dresses. The dresses had a touch of classic Grecian draping with a distinctly modern edge. They were whimsical and feminine with yet powerful and tough.
Lee's work is – modern verses classic, structured verses fluid. The collection is concise yet powerful. It is beautiful and most noticeably, innovative…
What do you think of Dion Lee's Spring / Summer 2011 Collection? Love it or loathe it? xx