Sleek, sophisticated and often times extraordinarily beautiful, the clutch handbag has become a wardrobe staple.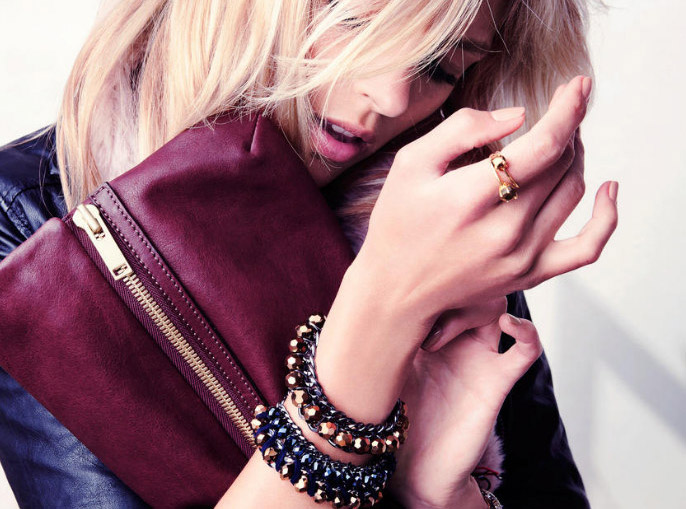 The clutch handbag has evolved. Your clutch can take you from work to weekend; the boardroom to the ball. There is now a clutch style and size to suit every need.
Typically the perfect choice for evening and formal occasions, clutch bags are now seeing the light of day.
Downsizing your handbag contents to fit within a clutch purse for day can be highly liberating. And it needn't be in classic black – from striking leopard print to vivid brights – choose your clutch to be bold, beguiling and beautiful.
Did you know… the idea behind the clutch bag originated during the Victorian era when women would carry a decorative purse for their handkerchiefs and smelling salts? The clutch reappeared during World War II when rationing demanded things become smaller and simpler. After the war the clutch jumped in popularity and became the evening bag of choice for elegant, modern women.
For colourful clutch inspiration Anja Rubik's recent campaign for Kurt Geiger is truly gorgeous….

Will you downsize your purse & embrace the day-time clutch? xx
Photos from fashiongonerogue.com
A fresh fashion optimism swept the Spring / Summer runways with shimmering sequins brightening up any gloomy day.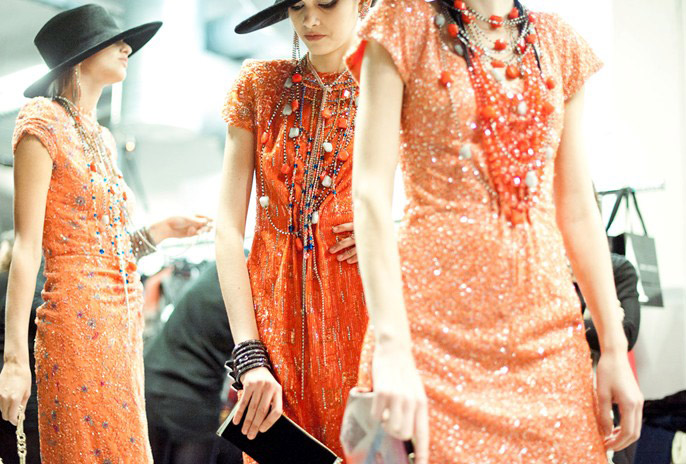 Sequins and beads add luscious texture and movement to beautiful bejewelled gowns. But don't save these twinkling stars just for evening. During the shows girls were venturing out in shining sequins from head to toe, accompanied by countless bangles and trinkets. When it comes to sparkle this Summer think: the more the merrier.
Fashion should be fun, beautiful and inspiring. This pure bejewelled optimism is set to enliven every wardrobe with pretty sparkle.
At Elie Saab, languid silhouettes were embellished with rippling sequins for exquisite results. At Dolce and Gabbana the collection came to a close with the duo's signature lace cocktail dresses, but this season they were encrusted to the hilt in colourful crystals. Pretty patterns and a rainbow of colours, created mesmerising show stopping gowns of twinkling beauty. While at Marc Jacobs a pretty bejewelled coat had unmistakable charm and a sweet glamorous appeal.
Will you shimmer and shine in sequins this Summer? xx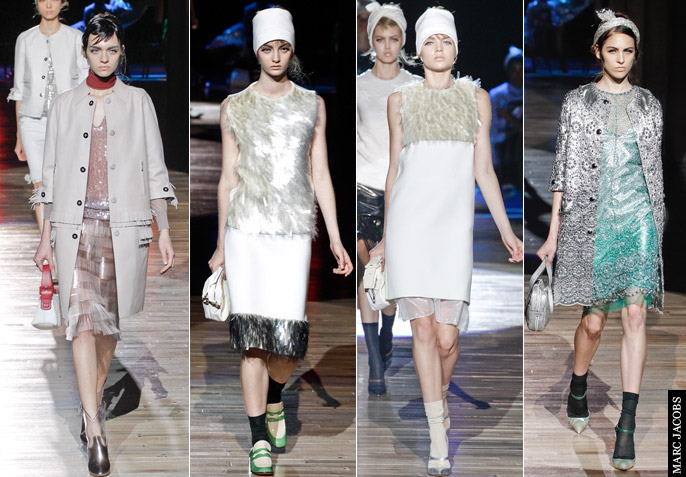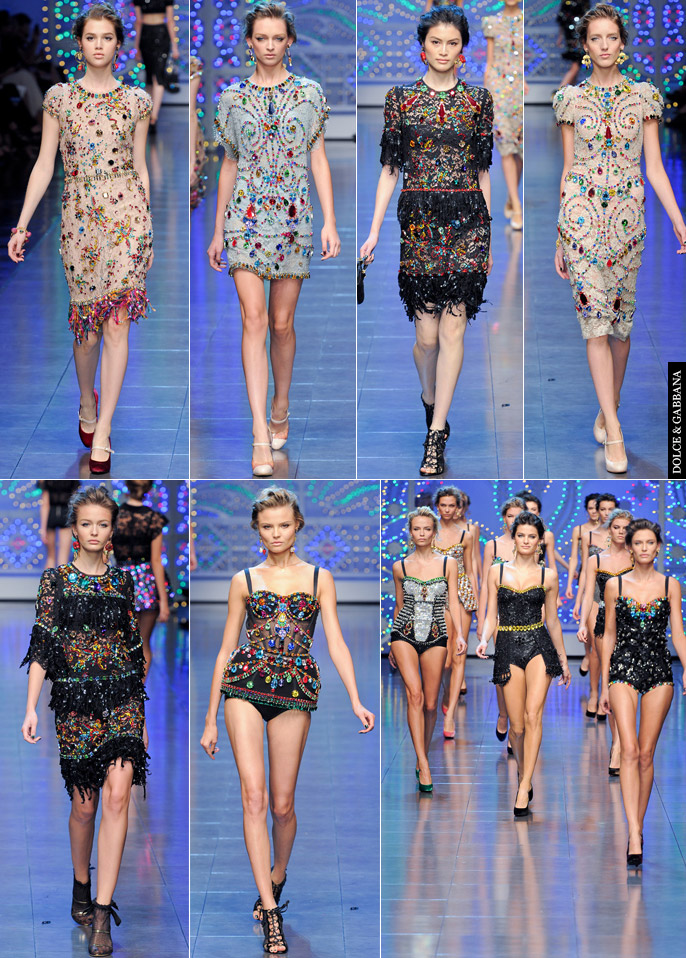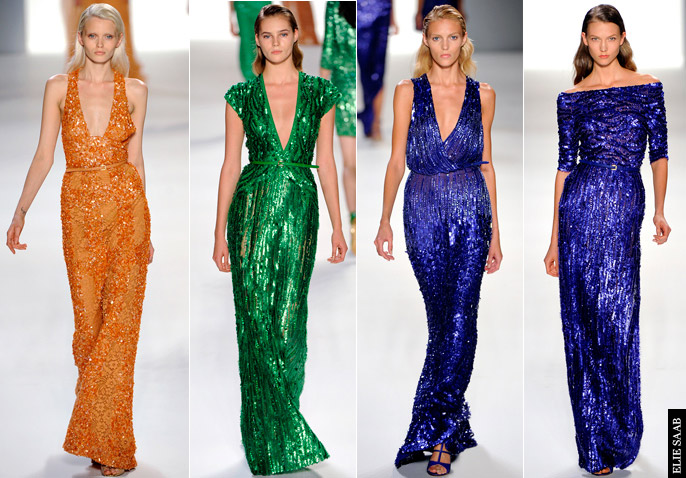 Photos from style.com
Frame your face with glistening gems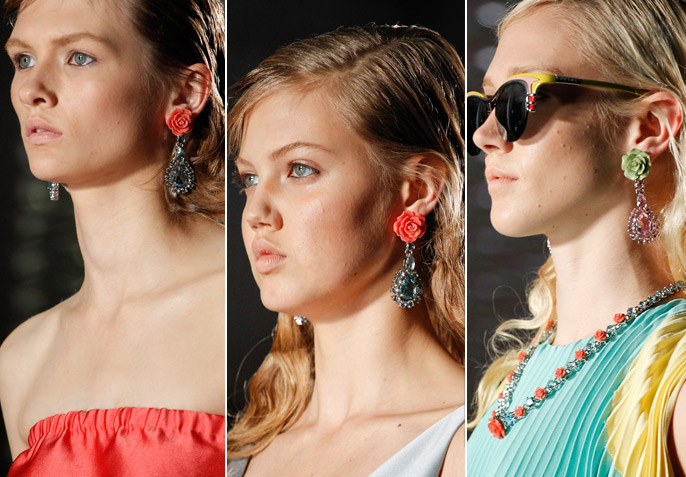 When updating your wardrobe for the new season, don't forget your jewellery box.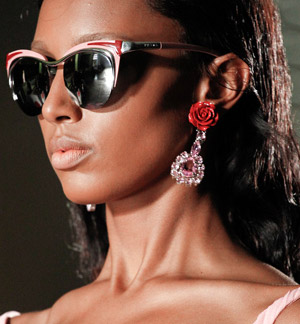 At the Prada Spring / Summer 2012 runway presentation, jewellery made as much a statement as the clothes. The earrings in particular were bold, charismatic and impossible to ignore.
Ornate antique inspired earrings, with sweet enamel flowers in bursts of pastel colours and tear drop precious gems, added an unexpected polish and drama to the collection.
Part Old-Hollywood glamour, part youthful sweetness; the Prada earrings are really quite breathtaking.
When wearing statement earrings, choose gem stones to compliment your outfit or be bold and embrace the unexpected. At Prada, for example, coral flower earrings with blue precious gems were worn with a light blue gown; while green and pink earrings where worn with a turquoise dress. Don't be afraid to break the rules…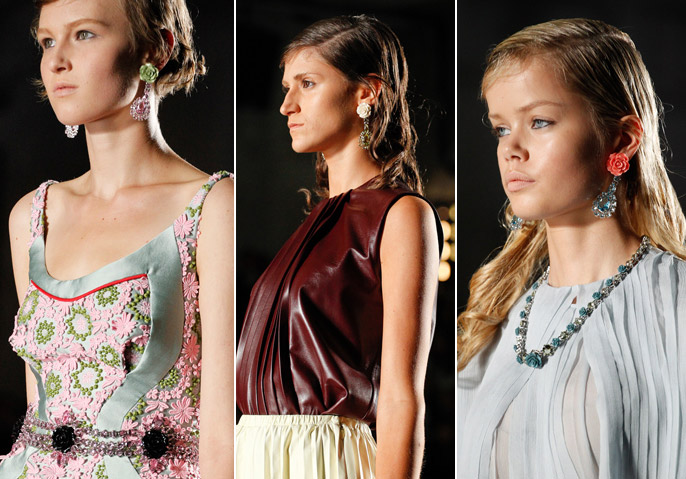 Will you embrace sparkling statement earrings? xx
Photos from style.com