Opulent, sophisticated & irrevocably feminine; pearls are unmistakably chic…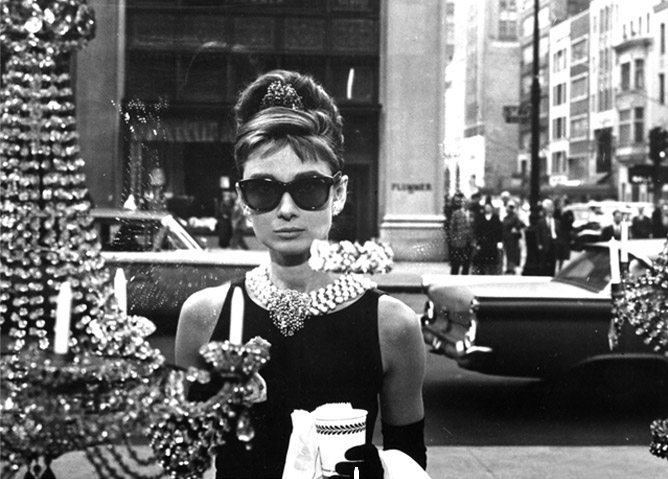 Pearls are an iconic statement. From Grace Kelly to modern day style icons Rachel Zoe and Olivia Palermo; pearls are a perfectly darling way to add the finishing touches to a timeless look.   
Nothing says pure Old-Hollywood glamour quite like Audrey Hepburn's striking white pearls against her little black dress in Breakfast At Tiffany's. Elegant, bold and a little whimsical, pearls have captured the hearts of stylish women across generations.
For a modern take, casually throw on a long strand of lustrous pearls. Wear with anything from a bright coloured cocktail dress to a simple white tee – a long single strand of pearls is always effortlessly chic. Pearls can also add the perfect subtle texture to neutral shades. Create volume around the neck by playing with different strand lengths. While for simple luxury choose delicate pearl studs.
The Latin word for Pearl literally means 'unique', testament to the fact that no two are identical. With their warm iridescence and shimmering beauty; pearls can even lift the complexion and give skin a subtle glow.
Pearl inspiration board…

Which are your favourite precious gemstones?
Photos from google images
4 Fabulous Fashion Shots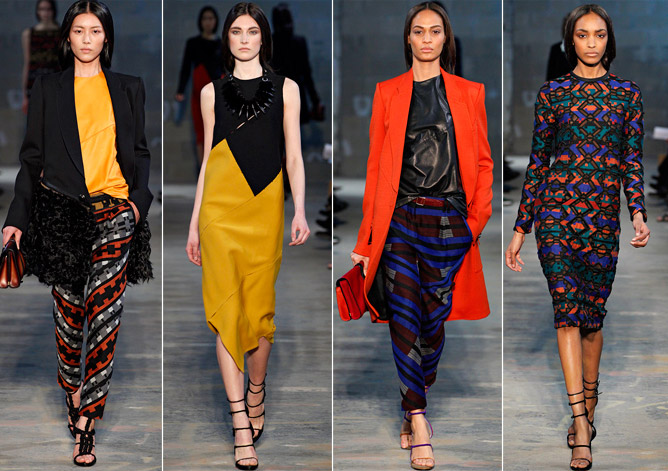 Proenza Schouler
To Grow Under New Investment
A 45% stake in Proenza Schouler, previously owned by the Valentino Fashion Group, has been brought by Andrew Rosen (owner of Theory) and John Howard (financier). Rosen has a portfolio of fashion investments, including; Rag & Bone, Alice & Olivia and Gryphon.
In a joint statement, Proenza Schouler duo, Jack McCollough and Lazaro Hernandez, said: "We are thankful to VFG for giving us a start, and allowing us to get where we are today. There's so much we'd like to accomplish and have found the perfect complement in John and Andrew to help us realize our dreams."
Proenza Schouler has become the hot ticket at New York Fashion Week, favoured by the super stylish; Kate Bosworth, Liv Tyler, Kirsten Dunst and Jennifer Lawrence, amongst others. Starting the label in 2002, Proenza Schouler has already been awarded the Council of Fashion Designers of America 'Designer of the Year' on two occasions.
– – – – – – – – – – – – – – – – – – – – – – – – – – – –
Olivia Palermo Face Of Carrera y Carrera
Modern day style icon; New York socialite; model; designer; reality TV starlet; and all round entrepreneur; Olivia Palermo has been announced as the new face of Spanish jewellery label –  Carrera y Carrera.
In the campaign images (pictured right) Palermo looks radiant and glowing. Adore Olivia Palermo… always immaculately chic!
– – – – – – – – – – – – – – – – – – – – – – – – – – – –
Coco Chanel Secrets Uncovered In New Biography
'Coco Chanel: An Intimate Life', written by Lisa Chaney, will be released later this year and is set to lift the lid on the designer's private life. The biographer claims to have found evidence, Chanel "used drugs, embraced bisexuality and had an affair with Salvador Dali while he was married".
The author's publicist has also confirmed that Chaney accessed documents from the Swiss Federal Archives to prove Günther von Dincklage (one of Chanel's lovers) was a spy for the Nazis during World War II.
While there are many Chanel bios already out there, this one is certainly shaping up to be a compelling read.
– – – – – – – – – – – – – – – – – – – – – – – – – – – –
Rachel Zoe To Design Children's Wear Line
Rachel Zoe has revealed she is designing a children's line. While doing an interview on Hollywood mothers  with US television network ABC, Zoe spoke about her line and said: "There are going to be a lot of boys clothes in my line."
At four months of age Skyler's walk-in-wardrobe is already topped with the crème da la creme, including; custom-made Missoni sweaters and a leather Gucci bomber jacket, amongst others.
– – – – – – – – – – – – – – – – – – – – – – – – – – – –
Hope you are all having a fabulously fashionable week xx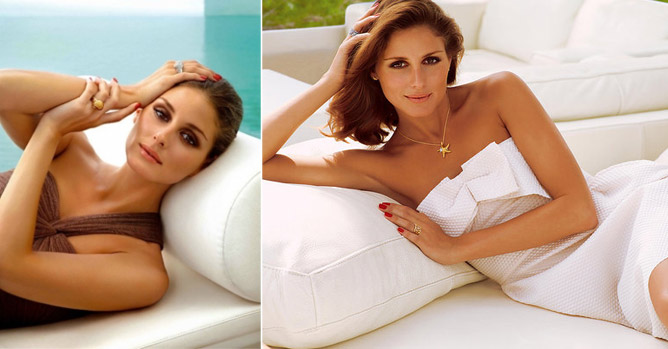 Photos from style.com / google images
Chanel Couture Fall 2011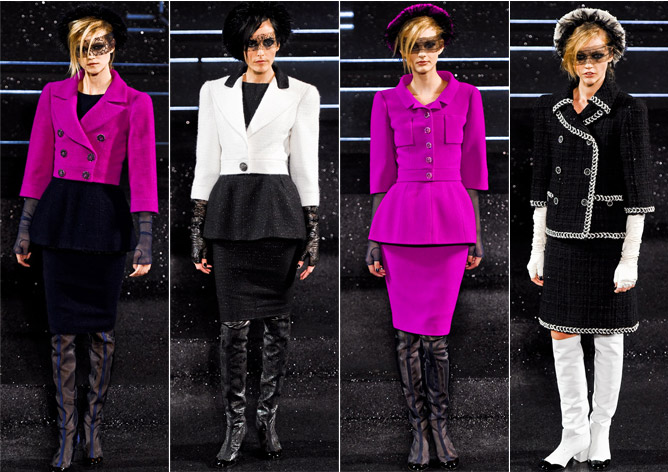 Spectacular craftsmanship; everlasting beauty; mesmerizing extravagance; opulent desire
There really is nothing quite like a Chanel Haute Couture Show…
– – – – – – – – – –
The Collection
Dominated by shades of black, grey and midnight blue; with striking accents of daring fuchsia; the Chanel Autumn/Winter 2011 Haute Couture Collection was an alluringly dark, seductive affair.
Held at 10pm under a starry Parisian sky, the Grand Palais was transformed into the Place Vendôme – complete with sparkling black pavements and instead of Napoleon's statue, one of Coco Chanel herself now took centre stage.
Focused on the signature Chanel skirt suit, the collection played homage to Chanel's iconic design with a breath of glamorous fresh air. Jackets were nipped in at the waist with a stiff peplum; while skirts were slimmer and slightly longer than previous seasons. Each look was accessorised with a sweet 'Victorian-inspired' hat as well as a lace fascinator worn just over the model's eyes. Exquisite beading and embellishment added the powerful finishing touches to Lagerfeld's opulent vision.
The collection exuded old-world elegance and sophistication – the perfect film noir atmosphere accompanied by strong 1940's shapes – with a refreshingly modern, unmistakably seductive, charm.
– – – – – – – – – –
A sneak peek behind the Chanel Couture scenes…
>> Karl Lagerfeld's original design sketch and the silk fabric
>> The silk fabric is folded, draped and pinned
>> The 'petites mains' are delicately folded and twisted to create the perfect effect
>> Attention to detail – delicate silver buttons and white plumes are created
>> The toile and pattern of an iconic Chanel tweed jacket
>> The pattern is placed on a mannequin
>> Tweed fabric is infused with glittering beadwork
>> The lining and hems complete the couture garments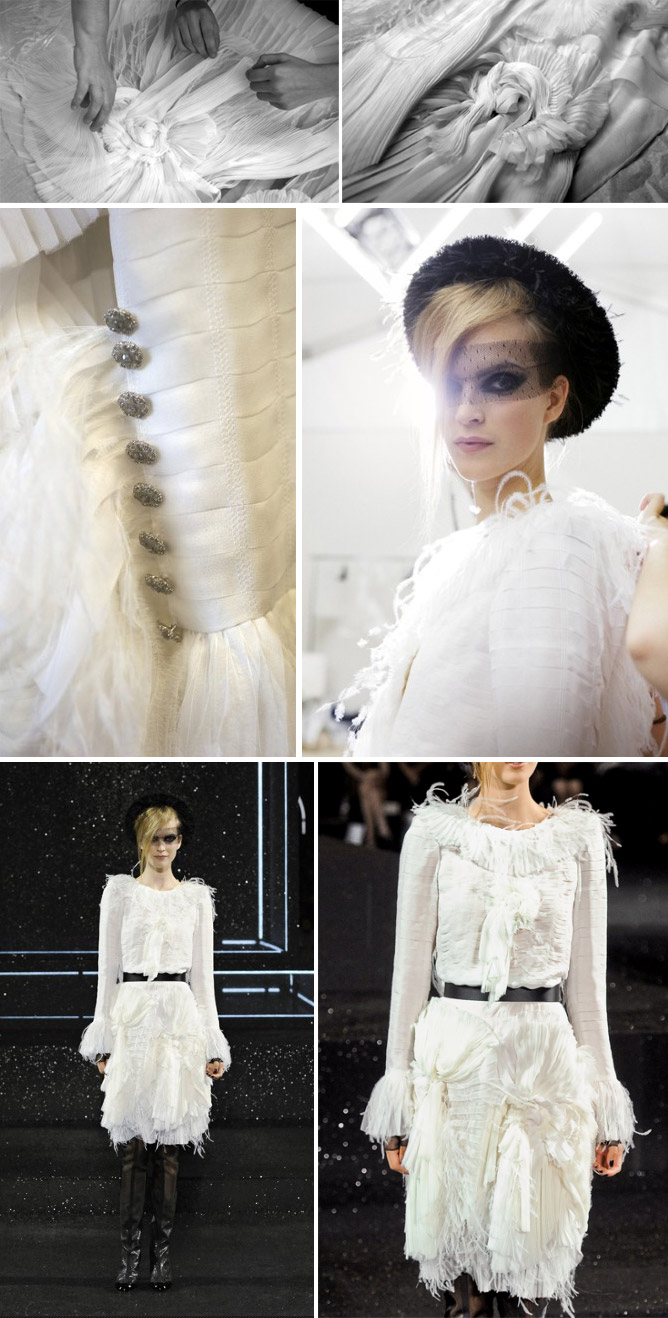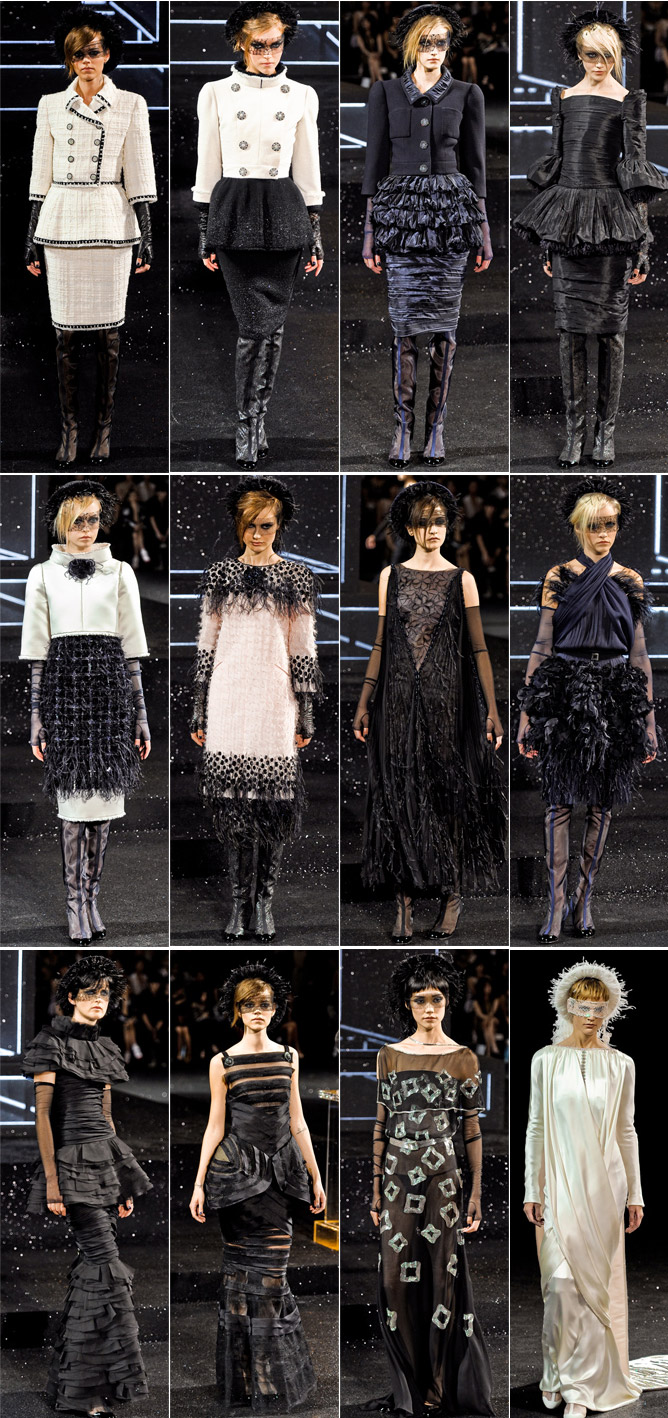 The decadence, the beauty, the unmistakable elegance… oh how I love Chanel! xx
Photos from style.com / fashion.telegraph.co.uk