Some Weekend Inspiration…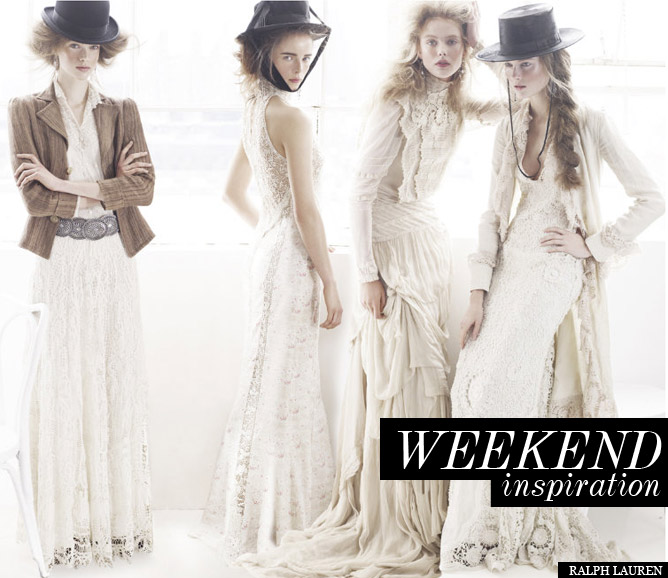 'Gangs of New York'
Shot by Mario Testino and styled by Grace Coddington for Vogue US February 2011 issue, 'Gangs Of New York' is a celebration of American Fashion.
This editorial showcases the work of New York's iconic fashion designers – Ralph Lauren, Michael Kors, Rodarte, Marc Jacobs, Calvin Klein, Proenza Schouler and Donna Karan. Featuring thirty models from Julia Saner, Anna de Rijk, Chanel Iman, Abbey Lee Kershaw, Kasia Struss, Karlie Kloss, and Joan Smalls, to name but a few, 'Gangs Of New York' is a 'who's who' in fashion. It is cool, sophisticated and represents each brand perfectly…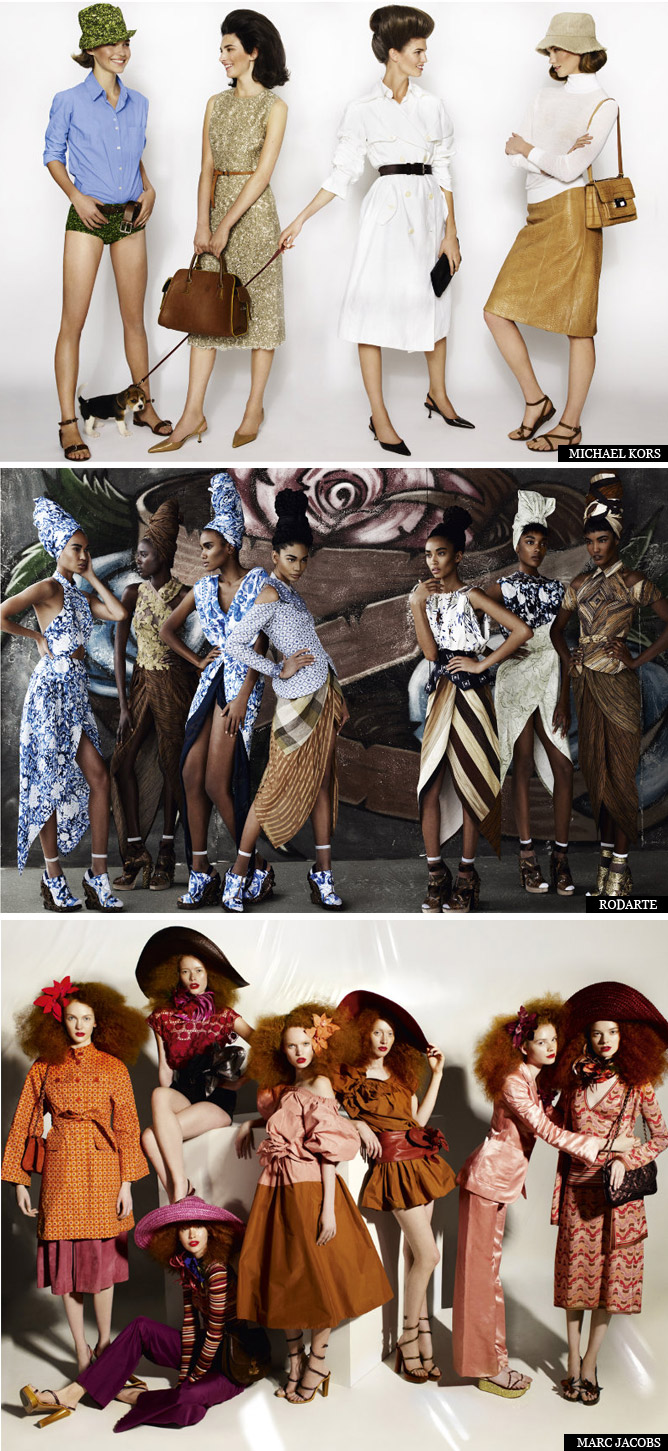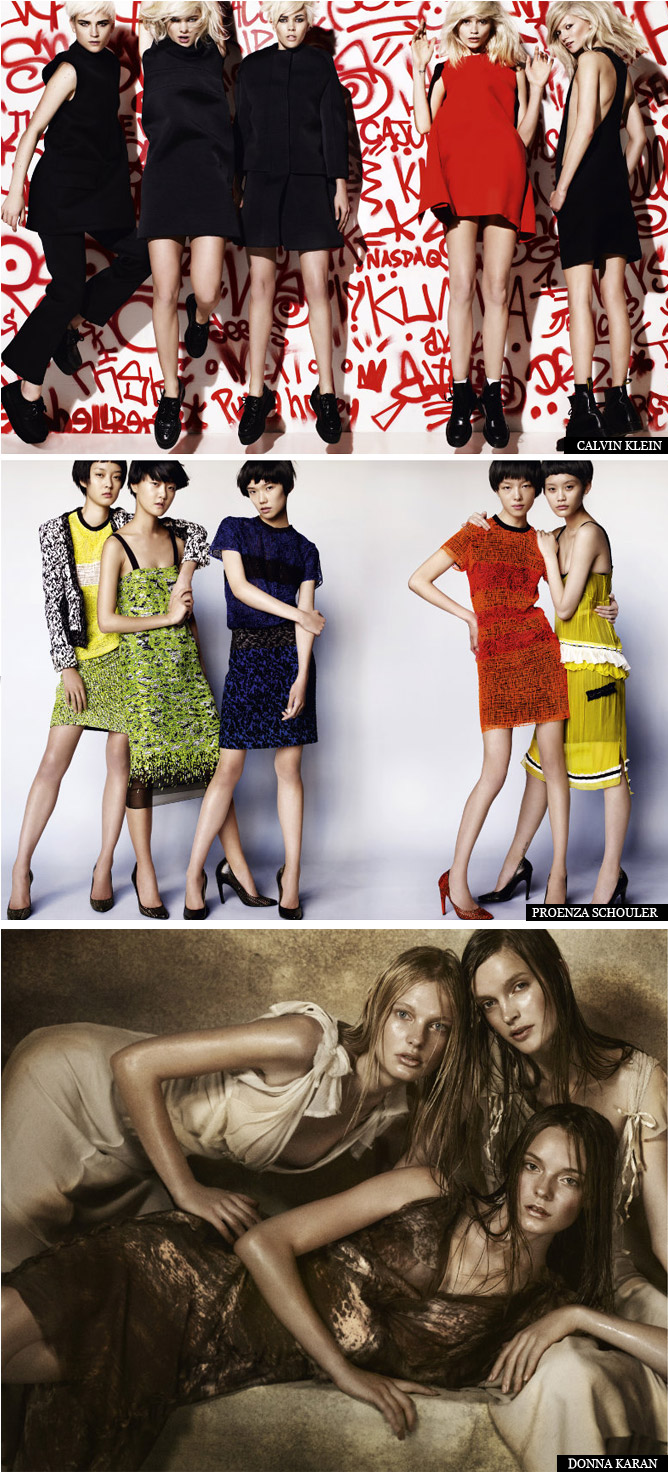 I hope you all have a fabulously fashionable fun weekend! xx
Photos from FashionGoneRogue.com
Your Daily Fashion Scoop
Celebrate Friday with some delicious scoops of Fashion News…
2nd Sneak Peek –
Lanvin For H&M
The first look from the Lanvin for H&M collaboration was released just the other day and now the second image has surfaced (pictured above). In gorgeous floral prints and delicious shades, these dresses are simply darling! I know which dress I will be after on November 23rd – Natasha Poly's pink floral frock!
Victoria's Secret 
2010 Fantasy Bra
Victoria's Secret Angel, Adriana Lima, wore the 2010 Victoria's Secret Fantasy Bra down the pink carpet in New York City. Worth $2 million, the Fantasy Bra consists of 3,000 jewels.  That's 142 carats of white diamonds, topazes and sapphires. It needed six craftsmen to complete the piece over a period of 1,500 hours. The spectacular bra will make an appearance at the Victoria's Secret Fashion Show on November 10th. 29-year-old Lima said of Victoria's Secret Fantasy Bra, "It's really a work of art. I love diamonds – they're always a girl's best friend!".  This year a recession-friendly crystal version of bra will also be available to buy in stores for $250, leading up to Christmas.
Ugg & Jimmy Choo
Jimmy Choo has created a special capsule collection with Ugg Australia. Striving to capture the best of both brands – the comfort of Ugg and the spirit of Jimmy Choo – the limited edition collection turns the functional Ugg boots into works of art. Meanwhile this week, Jimmy Choo President and Co-Founder, Tamara Mellon, received an OBE for her services to the Fashion industry.
Victoria Beckham's Twitter Advertising Finesse
What better way to advertise her new range of sunglasses then by modelling them on her gorgeous husband, Mr. David Beckham? Well there is no better way! Mr. Beckham wears the Classic Aviator in the 'Sky' colourway. Mrs. Beckham also urged her followers to sign-up now for a pair from her new collection, tweeting: 'Get on the waiting list at Harvey Nicks! New #victoriaBeckham glasses drop at the end of Nov!'
Calvin Klein Ads Banned in Australia
The Calvin Klein Jeans Campaign, starring Lara Stone, has been banned in Australia. The photographic and video content was deemed inappropriate – glamorising gang rape and violence towards women. What do you think of the Campaign? Do you find it inappropriate or High-Fashion Edge? 
Photo1 from jimmychoo.com | Photo 2 from dailymail.co.uk | Photo 3 from fashionising.com
Friday Inspiration…
If you are like me and the idea of doing laundry leaves you cold, then take some inspiration from the stunning Lily Donaldson, Gemma Ward and Caroline Trentini. Taken by Steven Meisel and originally published in Vogue US December 2005 issue, these shots turn the seemingly mundane task of washing into a ball gown affair…xx
A Crisp White Summer Awaits
While I have been waiting with baited breath for Fall (to bring out my new minimalism wardrobe essentials…aka the cape!), after seeing the wonderful New York shows I am already dreaming straight ahead to Spring!
Spring/Summer 2011 looks set to be two fun, vibrant seasons. Seasons that will say bye bye to restraint and hello to bright white, colour, prints and sheer exuberance.
NY Favourite Looks:

  White Wonderland

White, white, white! My favourite summer shade and what looks set to be next seasons must do colour! I will go as far to say white will be the new camel of 2011! It's fresh, pure and striking. It also does wonders for a lovely summer glow. White can add an unexpected dash of crisp, classic, sophistication to any look… just think what a white tee can do for jeans.
NY Favourite Collections Part 2:
Michael Kors
After seeing Michael Kors collection, next Summer I will definitely be heading to the Hamptons! Starting the collection with fresh white looks created a breezy, luxe optimism that stayed present throughout the show. The collection then went on to introduce a spectacular colour palette of fresh grass green, vibrant daffodil yellow, delicious candy pink and splashes of creamy purple and blue added in for beautiful measure. Luxe grey and crisp white broke up the collection throughout.
I loved the casual, chic feel of this collection. Crisp cotton and draped jersey in loose silhouettes made dreams of relaxing by the pool materialise from the catwalk. Meanwhile grey cardigans were worn oversized and cozy.
My Michael Kors must haves….
The yellow shift dress (pictured 2nd row) is one of my absolute must-haves for next season! I WANT IT NOW! I also adore the grey cashmere sweatshirt and sequined trouser combination… magnifique!
Thakoon
Sheer organza, swiss eyelet and faded denim created a sexy yet sweet collection at Thakoon. Soft and pretty, the collection mainly in white with cornflower blue touches, before building to black, featured light layering, wispy blue blouses and breezy feminine dresses. Thakoon's pieces embodied the essential cool, effortlessness you desire in a wearable summer wardrobe. Touches of sharp tailoring in pure white also created some strong looks.
My top choice at Thakoon….
The wispy, light cornflower blue dress is my favourite Thakoon look (pictured 2nd row). Appearing weightless and goddess-like, this dress will demand an entrance at any Spring Wedding or Pool Party.
Victoria Beckham
Victoria Beckham's Spring/Summer collection took an unexpected turn away from corseted structure this season. Instead we saw loose silhouettes and soft draping. Electric shades of ultraviolet and sunshine yellow added notes of the unexpected to her main colour palette of: blush pink, soft brown, silver, white and black. With a nod to the 60's, Beckham's dress shapes were beautiful, feminine and fun. Exposed zippers running down the back and soft seams on the front of dresses, were subtly sexy.
My essential Victoria Beckham pieces….
Two of my favourite dresses from the whole of NY Fashion week appeared in this collection! Firstly the white pleat shoulder bell dress with silver waist (pictured at the very top of this page). And secondly the white optical print flare dress (pictured centre of the 2nd row). I love, love, love them!