Join The Mod Squad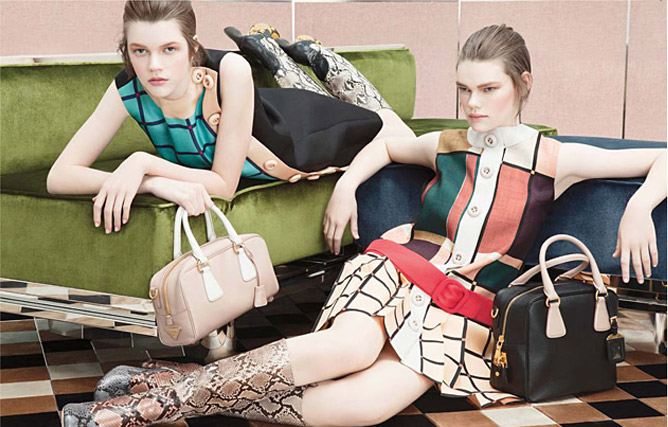 Embrace The Swinging 60's

Bold Plaids; Pop Art Brights; Sweet Smock Dresses – the 60's Return for Fall
If 1940's finesse isn't your style or polka dots don't hit the spot, designers were also reaching to another decade for Fall– the swinging 60's. The era's signature style makers, from Peter Pan collars to double-breasted peacoats, could be seen across the runways from Burberry Prorsum to Prada, Alberta Ferretti and more.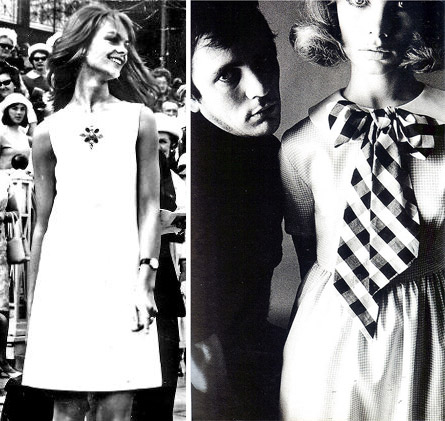 The mod style appeared in the late 1960's and set a new tone for this captivating era. This new look made way for empire waists, strong graphical lines and an array of bold, psychedelic colours. The 60's look, typified by style icons such as Jean Shrimpton (pictured right), combines just the right amount of girly sweetness crossed with sophisticatedly sexy edge. The  silhouette is characterised by simple shapes, in luxe fabrics, with great attention paid to the smallest details to achieve a polished look. Brooches or decorative buttons were a favourite to accessorise a dramatic yet simple pinafore shape.
Be inspired… wear 60's inspired smock dresses with bright coloured tights; embrace a decedent 'blanket check' (a la Burberry's sensational coats); and don't be afraid to amp up the accessories. Take notes from Prada with chunky sunglasses, statement making hats and strikingly stylish clutches.
From the colour palettes to the graphic lines, 60's fashion is fun, polished and with just the right amount of edge  – perfectly reflecting this revolutionary time…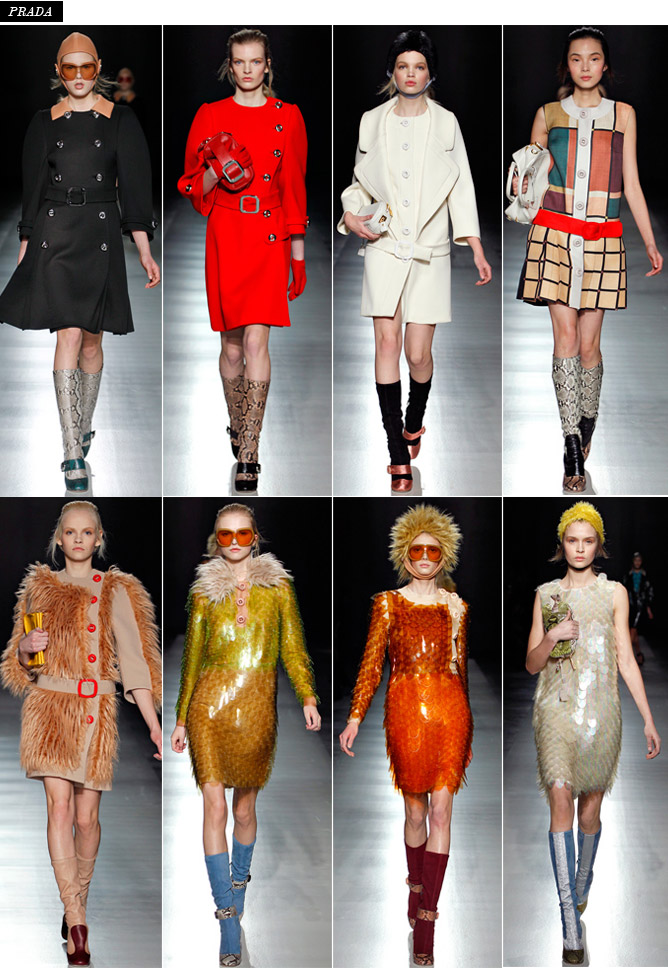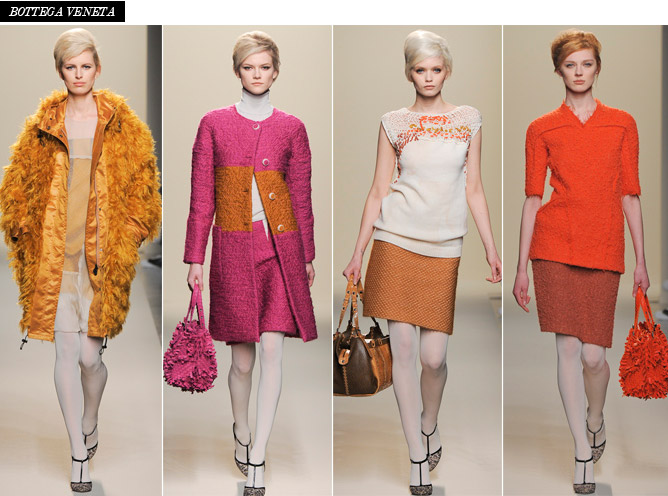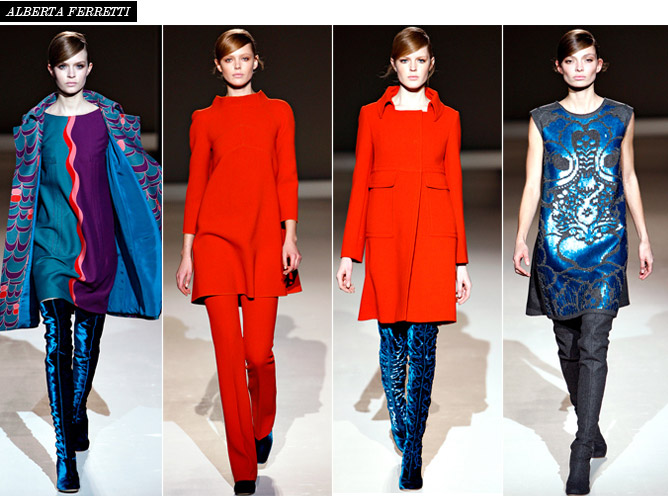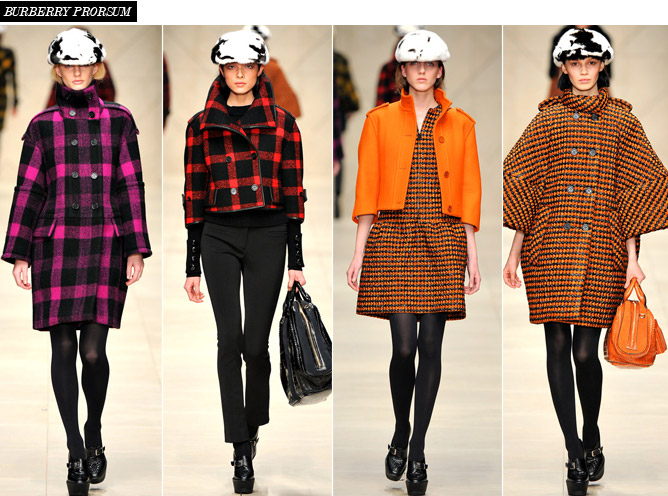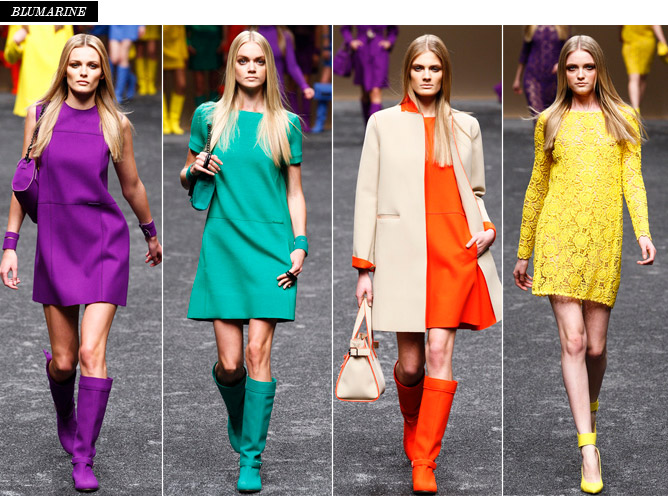 Are you feeling the swinging 60's baby, yeah?
Photos from fashiongonerogue.com / style.com
Thursday Fashion Shot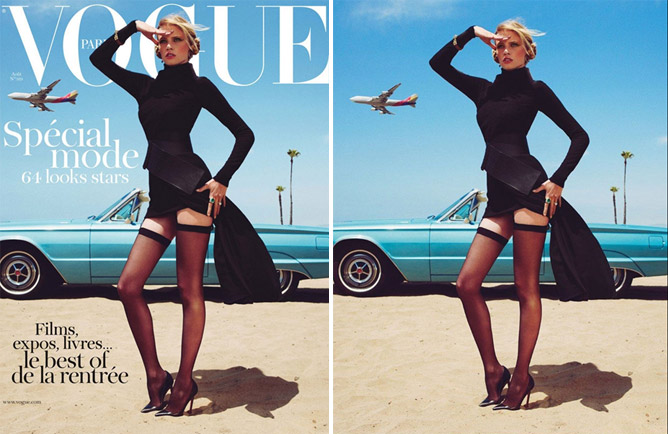 5 Espresso Shots Of News…
– – – – – – – – – – – – – – – –
An Amazing Magazine Cover – Vogue Paris, August 2011
Lara Stone graces the striking Vogue Paris, August 2011 cover. As Emmanuelle Alt's fourth edition as Editor-In-Chief, the cover is a cinematic fashion moment! Stone wears a Haider Ackermann Fall 2011 coat and can be seen peering off into the distance on a Californian beach. Love the juxtaposition of the sandy beach with Stone's unattainable glamorous beauty! Definitely one of my favourite covers of the year!
– – – – – – – – – – – – – – – –
Vintage Gucci Advertising
This year marks the 90th Anniversary of Gucci. To celebrate the extensive heritage of this renowned Italian label, Gucci has reissued its very first ad from 1922 as part of the 'Forever Now' campaign. Set to appear next to the vintage ad will be a photograph of Aldo Gucci from 1955, standing in front of the first Gucci store in Rome on Via Condotti.  Aldo Gucci was the son Gucci founder, Guccio Gucci. The 'Forever Now' campaign, now in its fourth instalment, celebrates the quality, craftsmanship and heritage of Gucci.
– – – – – – – – – – – – – – – –
'Burberry Body' – Rosie Huntington-Whiteley
The first campaign image for Burberry's new fragrance for women, Burberry Body, has been released featuring the impeccably beautiful Rosie Huntington-Whiteley. Huntington-Whiteley wears only an iconic rose gold satin trench coat in the shot which is sure to stop traffic. Burberry Body will launch in over 150 countries from September 1st.
Of Burberry Body, Christopher Bailey, Chief Creative Officer, has said:  "Burberry Body is the most exciting launch that we have ever created and captures the iconic spirit of the brand today in a striking and sensual way. Rosie's effortless style and her staggering beauty made her the natural choice as the first Burberry Body."
– – – – – – – – – – – – – – – –
New Creative Directors At Kenzo
Humberto Leon and Carol Lim, have been named as the new Creative Directors for Kenzo. The duo was previously behind dynamic label Opening Ceremony, which they started in 2002. Pierre-Yves Roussel, Chairman and CEO of the Fashion Division of LVMH, has said of the new appointment:
"Humberto and Carol will bring their fresh creative talent and innovative approach to Kenzo to rejuvenate this iconic brand. I am confident that they will leverage the unique contemporary & lifestyle spirit of the Brand to position it ideally for an ambitious development."
– – – – – – – – – – – – – – – –
Tom Ford Officially On The London Fashion Week Schedule
This will be the first season Tom Ford will present his collection during London Fashion Week as part of the British Fashion Council's official LFW schedule. Previously for his Autumn / Winter 2011 / 12 collection, Ford hosted a small gathering of key press only.
Other big names who recently returned to London Fashion Week include; Burberry Prorsum (returned from Milan for S/S 2010) as well as Temperley London, Matthew Williamson and Jonathan Saunders (who all returned from previous showings in New York).
– – – – – – – – – – – – – – – –
Happy Thursday! xx
Photos from fashiongonerogue.com / fashion.telegraph.co.uk / google images
Your Daily Fashion Week Scoop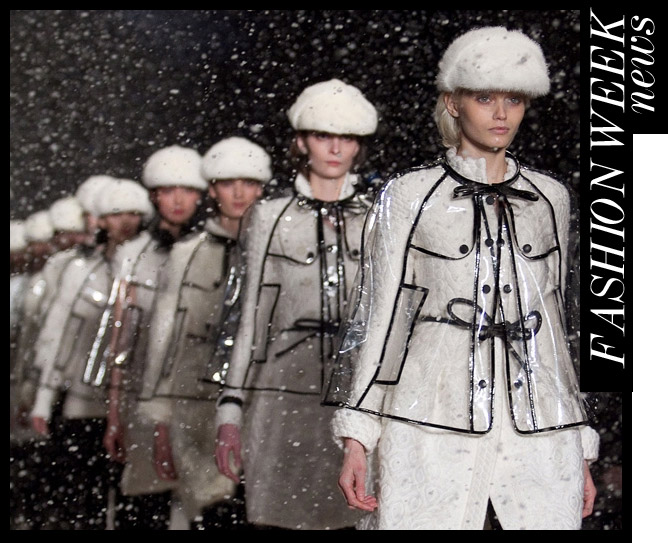 4 Fashion Week Espresso Shots Of News…
Let It Snow, Let It Snow,
Let It Snow… At Burberry
Not only did Burberry live-stream their Fall 2011 collection online across the globe; London was given an even better view. Thanks to Vitamin Water and the British Fashion Council who sponsored a spot on Piccadilly Circus, the show was live-streamed for everyone walking by to watch! With a collection full of spectacular coats in an assortment of colours and fabrics, the Burberry show came to an epic finale… falling snow! The coats, the clothes, the snow… one of the most beautiful fashion spectacles I have ever seen! And it gets even better! For the next week you can buy direct from the runway at Burberry.com and have the items delivered to your door within 7 weeks! Burberry just leaves me speechless…
Versace Back In Control
Of Versus
Versus – the label designed by Christopher Kane alongside Donatella Versace – is back under the Versace wing. Versace regained control of Versus, which has previously been produced and distributed By Swinger International SpA. Meanwhile, Swinger will remain as the sole manufacturer and distributer for Versace Jeans. The Versus Fall 2011 collection will be shown in Milan on February 27th…
Don't Tell Anyone….
Tom Ford Showed At London Fashion Week
Tom Ford's Fall 2011 collection was presented at London Fashion Week and was again a top secret affair. The collection was treated as a top secret event, with guests believed to have signed a nondisclosure agreement before viewing the collection. No sneaky iPhone pics or bloggers at this show! Of the reason behind this, Ford said: "I don't want to be reviewed, I'm not an artist with an opening; this is not a film. I'm just trying to make pretty clothes. And beautiful clothes make beautiful women, but sometimes they don't make fashion news"…
Jil Sander At The Oscars
While everyone has been talking about the costumes for Black Swan, and all the controversy surrounding who designed what; another fashion house has collaborated with an Oscar Nominated designer. Raf Simons for Jil Sander was commissioned by costume designer Antonella Cannarozzi to create the looks for Tilda Swinton's character, Emma Recchi in the film I Am Love. Antonella Cannarozzi is Oscar Nominated for the film…
Happy London Fashion Week Everyone! xx
Photos from fashionising.com.au, style.com, fashiongonerogue.com & google images