Your Fabulous Fashion Scoop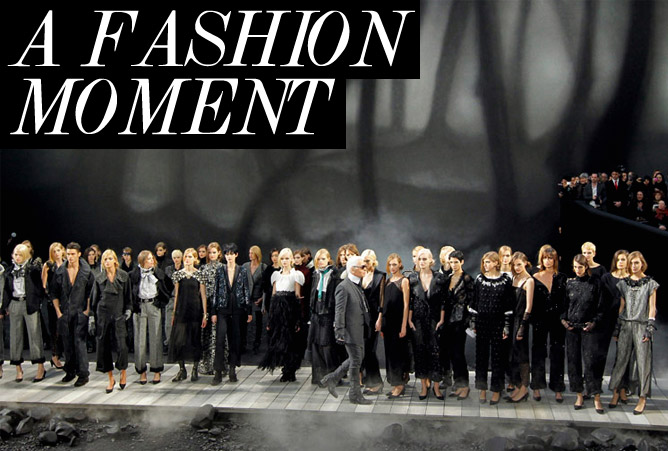 1 Beautiful Fashion Moment…
A Volcanic Catwalk At Chanel
As many of you may know, Chanel is my fashion true love. It is perfection in the form of a delicate evening gown; immaculately tailored suit or one of the astonishingly beautiful 2.55 quilted handbags. Chanel always surpasses my wildest fashion dreams.
From a giant lion to striking iceberg in previous shows, the Chanel set can be just as intoxicating as the collection itself. However, the Fall 2011/12 show took this to a new high. A volcanic catwalk! Models emerged from the smoke, and walked amongst volcanic rocks. The charcoal toned tweed and darker mood to the collection, were perfectly accentuated by the brooding surrounds. Chanel perfection at its finest! A selection of looks from the Chanel Fall collection are featured below…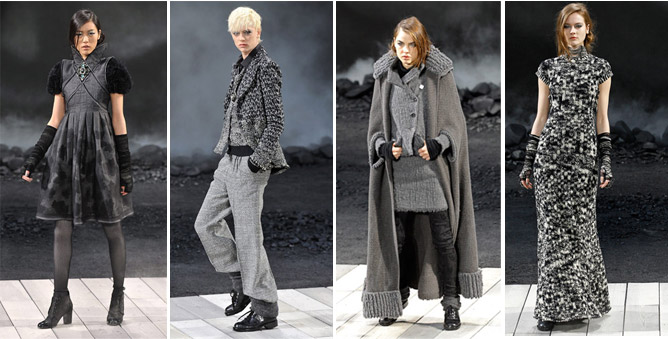 5 Espresso Shots Of News…
NOT YET CONFIRMED: Galliano's Dior Replacement
There is still much speculation over who will replace John Galliano at Dior. While Harper's Bazaar Editor-At-Large Derek Blasberg "confirmed" Riccardo Tisci's appointment as Creative Director for Christian Dior; it's still an official "no comment" from the LVMH Group. But Tisci does have Anna Dello Russo's vote, who said: "I think Riccardo deserves the [Dior] position. He's becoming a very mature artist. For me, Givenchy was the best show of the season so far."
Meanwhile, other speculation includes, Alber Elbaz of Lanvin taking the Dior position, while Jason Wu would replace him at Lanvin. Marc Jacobs has taken himself out of the running at the Louis Vuitton show, by saying "No! I haven't been asked". Only time will tell who will become the Creative Director for Christian Dior, but I cannot wait to hear!
Kate Moss Smokin' Hot (Literally!) at Louis Vuitton
When Kate Moss took to the catwalk at Louis Vuitton in Paris under the helm of Marc Jacobs, something dramatic was bound to occur. Moss walked the catwalk with a cigarette in hand, dramatically blowing smoke as she closed the runway. The collection which had themes of fetishism, crimes and scandals, certainly lived up to its concept! There were lots of leather, bustiers and handcuffs swinging off handbags for this collection. Also returning to the Louis Vuitton runway: Naomi Campbell, Amber Valetta and Carolyn Murphy.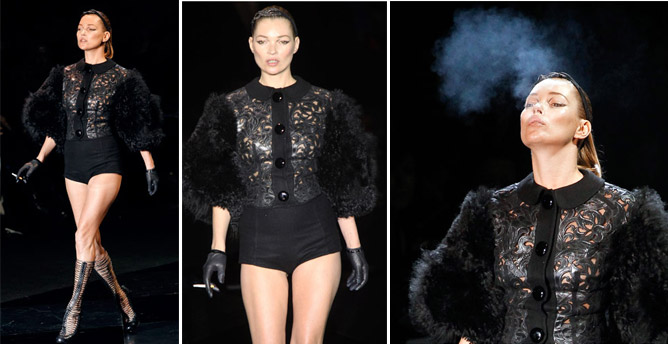 McQueen For The Royal-Wedding?
Kate Middleton's wedding dress designer has had the world's media in a flurry. Who will the designer be? If current rumours are true, Sarah Burton of Alexander McQueen may have the top honour. US Elle magazine's Creative Director Joe Zee, tweeted: "Kate Middleton, I love you but if you don't have Sarah Burton design your wedding dress, you're making a big mistake. HUGE." The new Fall McQueen collection does look perfect for a Princess! Devine shapes, texture and embroidery make this collection soar like a fairytale coming to life.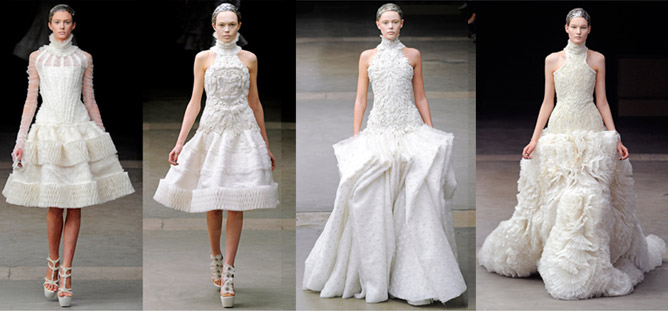 Blake Lively For Chanel
Blake Lively's beautiful Chanel ads are slowly being released to the media. As the face of Chanel's Mademoiselle Handbag line, Lively looks devine with some of the essential pieces for Spring.

Pregnant Rachel Zoe covers The Hollywood Reporter
Rachel Zoe has graced the cover of the new issue of The Hollywood Reporter. The glowing mum-to-be showed off her baby bump in 'exquisite fashion'!
Happy Thursday! xx
Photos from grazia.com.au / style.com
Chic This Week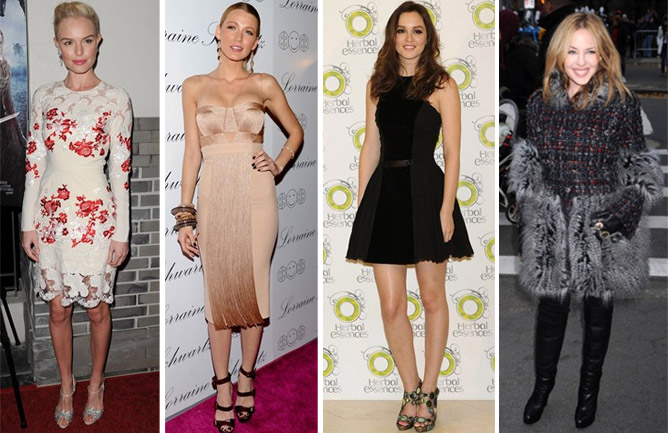 The Best Dressed Ladies Of The Week Are…
Kate Bosworth, Blake Lively, Leighton Meester & Kylie Minogue all stepped out looking stunning this week in some of my favourite designer looks from the Spring / Summer 11 & Autumn / Winter 10 collections! 
The looks on the catwalk…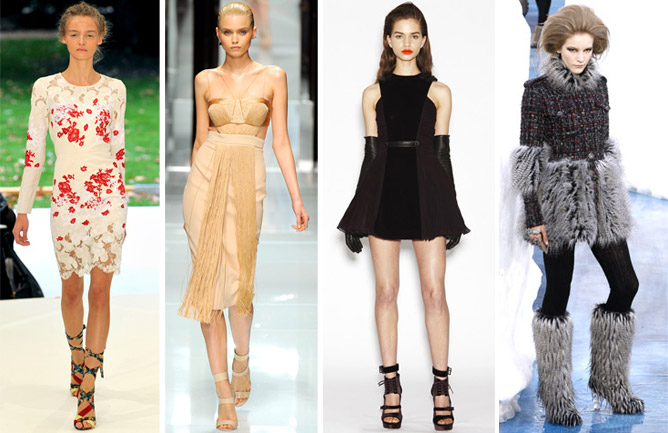 1>> Kate Bosworth looked divine in an Erdem Spring / Summer 2011 look. The white lace and red embroidered flowers are sophisticated, feminine and simply perfect!
2>> Meanwhile, Blake Lively was style personified in Versace. This Gossip Girl's fashion style is continually evolving and I am loving her red carpet looks of late.
3>> While in Madrid for 'Herbal Essences'; another Gossip Girl, Leighton Meester, wore a black dress from the Versus Autumn / Winter 2010 collection. A classic little black dress at it's best!
4>> And finally, Kylie Minogue performed at the annual Macy's Thanksgiving Day Parade wearing a look from the Chanel Fall 2010 collection. The tweed coat with faux fur trims looks delightfully warm yet oh-so chic!    
Who is your best dressed this week? xx
Photos1,2&3 from vogue.co.uk | Photo4 from redcarpet-fashionawards.com | Photos 5,6,7&8 style.com
Your Daily Fashion Scoop
4 Espresso Shots of News…
Miranda Kerr Makes Vogue Australia History
In the January 2011 edition of Vogue Australia, Miranda Kerr will become the first pregnant woman to grace the cover. Looking divine in a full-length gown, Kerr is positively glowing. Kerr said of the shoot, "It's wonderful that I have this opportunity to do this photo shoot with Australian Vogue and record this wonderful moment in time". The photo was taken in LA when Kerr was 6 ½ months pregnant. 
Emma Watson to design for Alberta Ferretti
Love Emma Watson? Adore Alberta Ferretti? Emma Watson has already designed capsule collections for People Tree and the uber stylish starlet is set to further her design talent with Alberta Ferretti. It has been announced that Watson will create an organic clothing range for Alberta Ferretti. 
Watson has said of the collaboration, "We're doing an organic clothing range. I can't reveal the name yet but there will be more information about it soon".  And of the inspiration, "Very classic, 60s Jane Birkin"… I cannot wait to see the results!  
Meanwhile, Watson has made a stylish appearance in a Burberry spiked trench coat from the Spring / Summer 2011 collection (pictured right). 
Kate Moss scoops Best Dressed of the Decade
US Vogue has named its Best Dressed List. Kate Moss scooped the top honour, winning Best Dressed of the Decade. No mean feat! The trendsetting icon has graced over 300 magazine covers since she started modelling at 14 and her effortless style seems to just get better and better. Favouring high-end vintage and designer pieces, Moss' effortless style of rock and roll chic is adored around the world. Her collaborations with Topshop and Longchamp, not to mention six perfumes to her name, make Moss one stylish, highly successful, hot commodity. 
Vogue Magazine's Best Dressed List:
And the Awards have gone to…
Best Dressed of the Decade: Kate Moss
The Bombshell: Blake Lively
Screen Siren: Marion Cotillard
The Independent: Michelle Obama
American Beauty: Jessica Biel
Street Cool: Alexa Chung
Haute Bohemian: Sarah Jessica Parker
Conscious Chic: Liya Kebede
Free Spirit: Carey Mulligan 
 
Who do you think is the Best Dressed of the Decade? xx
Side photos from vogue.com.au & fashion.telegraph.co.uk