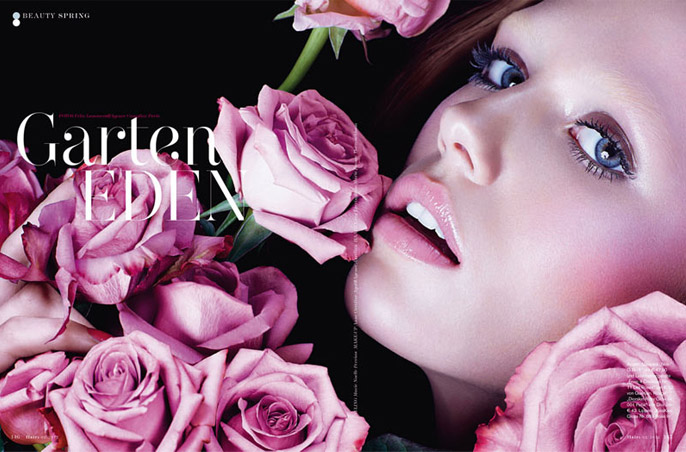 Tired of the Winter cold and want to feel as though Spring has sprung? Embrace make-up in pastel tones inspired by lovely garden delights.
Bright Spring shades are feminine, fun and positively glowing. Inspired by a rose garden in full bloom, this editorial from Flair Austria exudes stunning beauty.
In pastel pink, blue, lavender and peach shades, eye shadows in floral tones are the perfect way to welcome Spring colour into your wardrobe. Accompanying lip colour in luxe shades of soft pink make for a luscious pout.
Hope you all had a wonderful weekend! xx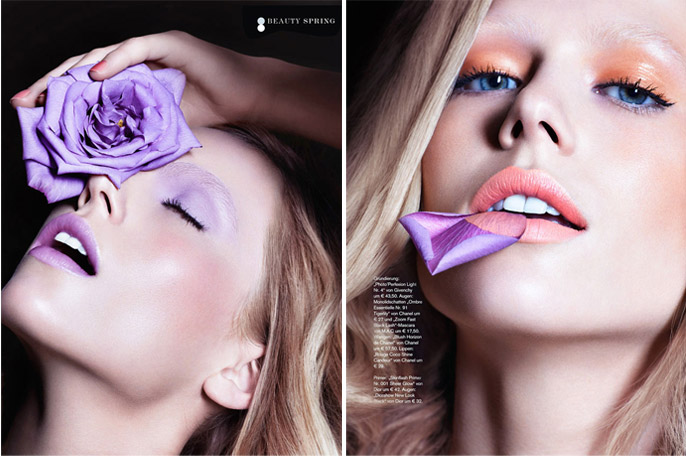 Photos from fashiongonerogue.com
Uptown Twirl Espresso News Returns For 2012 With 5 Fabulous Fashion Shots!
1. Mila Kunis – The Newest Dior Beauty
Mila Kunis has become the new face of Christian Dior. The exquisite beauty stars in the Spring / Summer 2012 campaign which was shot by Mikael Jansson (pictured above). With her glowing natural beauty, Kunis can be seen in chic black looks and holding the newest 'Miss Dior' handbag.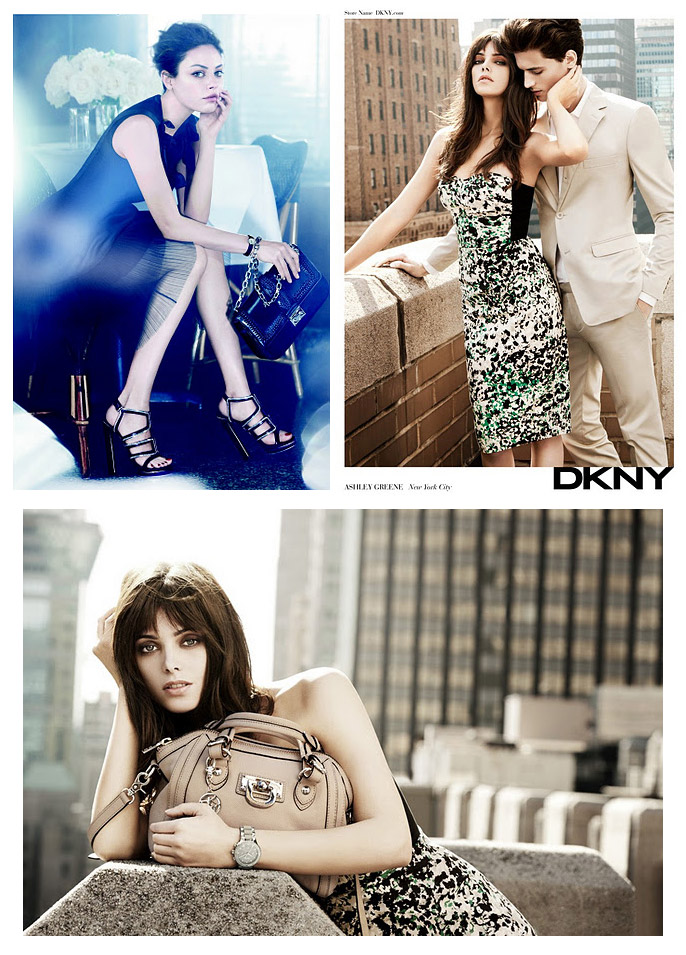 2. Ashley Greene Hearts DKNY
Posing amid the gorgeous Manhattan skyline, a gorgeous Ashley Greene strikes a pose as the face of DKNY (pictured above). Beautiful neutral tones shine across her clothing, accessories and eye make-up for fresh radiance.
– – – – – – – – – – – – – – – – – – – – – –
3. Emma Watson's Lancôme Beauty
Emma Watson's stunning Lancôme Cosmetics Ad has been revealed (pictured below). With her glowing clear complexion, Watson is exquisite in red lipstick and nail polish from the French label's two new collections – 'Rouge in Love' (the lipstick collection) and 'Vernis in Love' (the nail polish collection). The lipsticks will be available in 24 shades and come in a metallic case that can also be used as a mirror.
With Watson as the face of both lines, Lancôme hopes to ignite a love of lipstick amongst a younger generation of women. Youcef Nabi, president of Lancôme International, has said: "The idea is to make this young generation — that has been a gloss fan — come back to using lipsticks."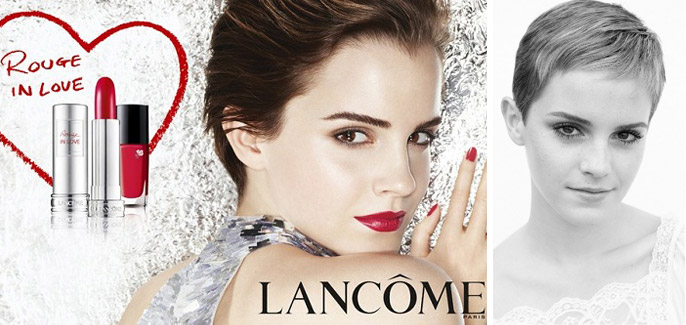 4. Emma Watson's Iconic Crop
In other news, Emma Watson's gorgeous pixie hair style has been named the most influential cut of 2011. The Wall Street Journal mentioned her darling crop in their Fashion Highlights from 2011 and even went so far as to recognise it may have instigated a major shift in hairstyle trends. Hair stylists around the world have been inundated with requests for her style and according to numerous reports, searches for Watson's hair have even outnumbered those for Jennifer Anniston's iconic locks.
5. Paul Smith Celebrates The London Olympics
Paul Smith has designed a collection of seven stamps in celebration of the London 2012 Olympic Games. Inspired by his friend, Olympic cyclist Mark Cavendish, the stamps showcase Smith's signature bright colour palette and distinct graphics. They are available from Paul Smith stores worldwide.
– – – – – – – – – – – – – – – – – – – – – –
Happy Thursday! xx
December Inspirations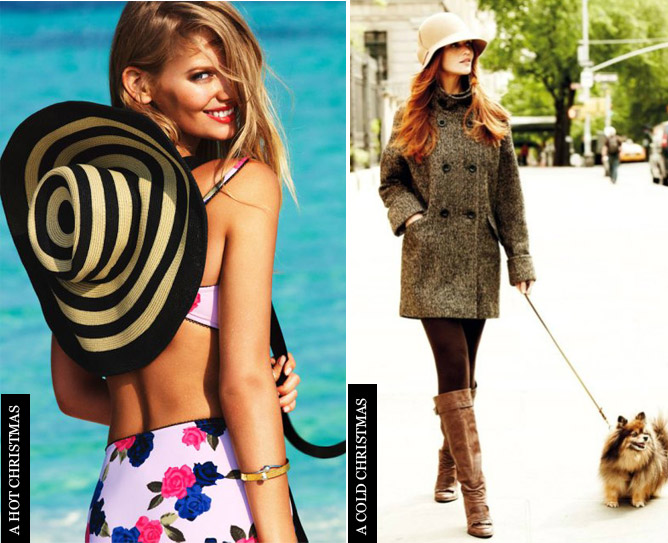 Bonjour Bunnies!
December is my favourite time of year. Whether spent soaking up the sun in Australia or rugged up against the fresh winter chill in London or the States; the magical alluring enchantment of Christmas quite simply sets my head spinning. On my Christmas wishlist this year – irrevocable style; many undeniably chic fashion moments & something perfectly fabulous – maybe just maybe a Mulberry Alexa! Simply divine…
I hope you all have a whimsically, romantic December!
Cara xx

What are your December inspirations? xx
Photos from thealternativebride.blogspot.com / google images