Be inspired by the seductive, smouldering make-up of Brigitte Bardot. The pure siren appeal of those black eyeliner flicks is back…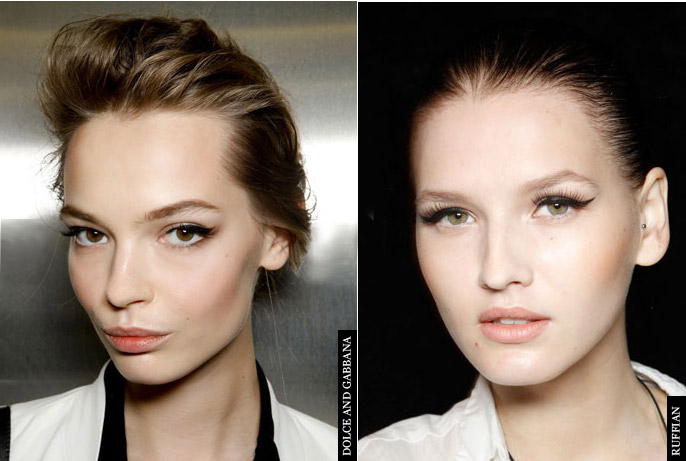 For the Summer / Spring collections designers referenced the French style icon, Brigitte Bardot, and her irresistible eyeliner flicks.
At Dolce and Gabbana and Ruffian, traditional eyeliner flicks were bold and sexy. While playful and inventive variations of the eyeliner flick appeared at Badgley Mischa, Marios Schwab and Matthew Williamson, where colours were lighter (brown & grey) and shapes were more exaggerated.
To create this alluring make-up trend, use black eyeliner that is blended out at the corner of the eye. When you add your mascara, make it heavier around the outer eye. Meanwhile, keep skin light and dewy with minimal product for a clean fresh look. Use a pretty soft pink lip-gloss for overall perfection.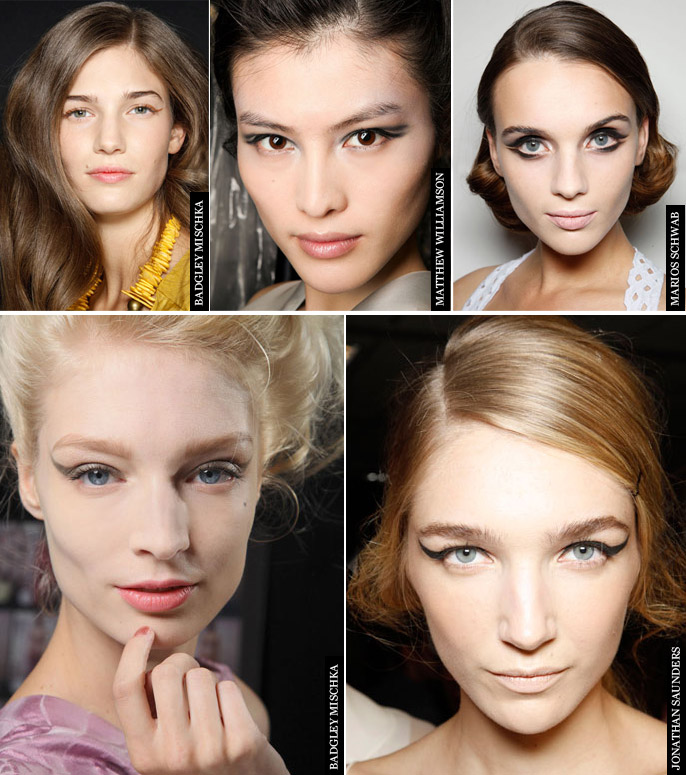 What is your favourite make-up trick right now? xx
Photos from harpersbazaar.com
Easily one of the most popular hair styles of all time, the classic bob received a makeover at the Rodarte Fall 2012 runway presentation. Each model appeared with a sweetly tousled bob on the runway…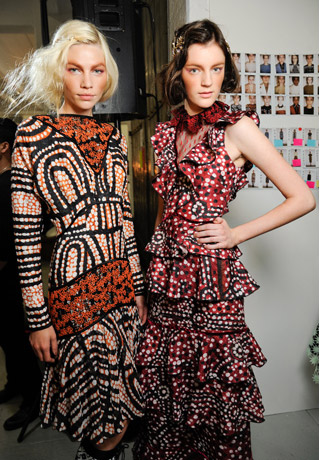 Citing the Australian outback as their inspiration, Rodarte's signature whimsical aesthetic was brought to life in a luxe colour palette of nude, marmalade and burgundy.
Taking a cue from the 1940's, both in silhouette and styling, the model's hair was swept up to just in-line with their chin.
Framing the face in soft waves, the bob is a timeless look that exudes elegance, sophistication and youthful frivolity.
To create the faux bob: the hair was first braided and tucked underneath, before the right side was set in waves using a three barrel or one-inch iron. The bend was then pinned with a hair comb.
Another hair highlight: the beautiful gold falling star accessories. Star brooches were buried in the models' slightly disheveled hair, radiating beautiful feminie loveliness. The heavenly star combs also brought an edge to the collection with the unpolished metal adding subtle strength.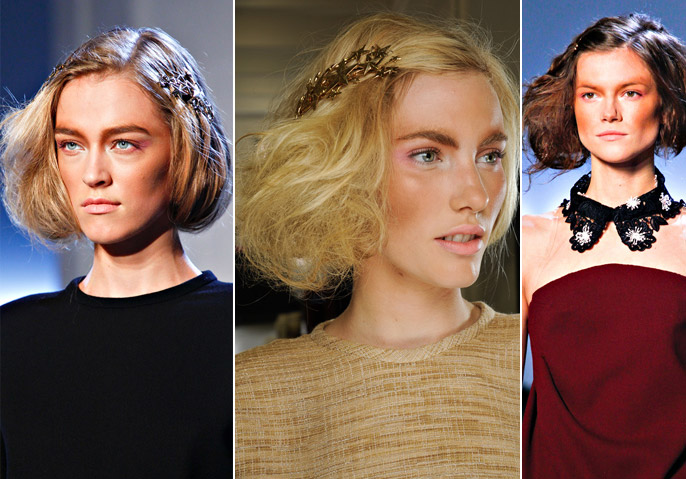 And the Shoes…
Also striking at Rodarte, the debut of their in-house shoe collection. After several seasons of collaborating with key shoe designers, from Nicholas Kirkwood to Christian Louboutin, the Mulleavy sisters' shoe designs hit the runway.
The ladylike round-toe heels, featured two-tone metal; buckles; straps; and even sand! The heels were each subtlety unique and were made of plexiglass or filled with sand (below left) for a distinct take on the 'Australian Outback'.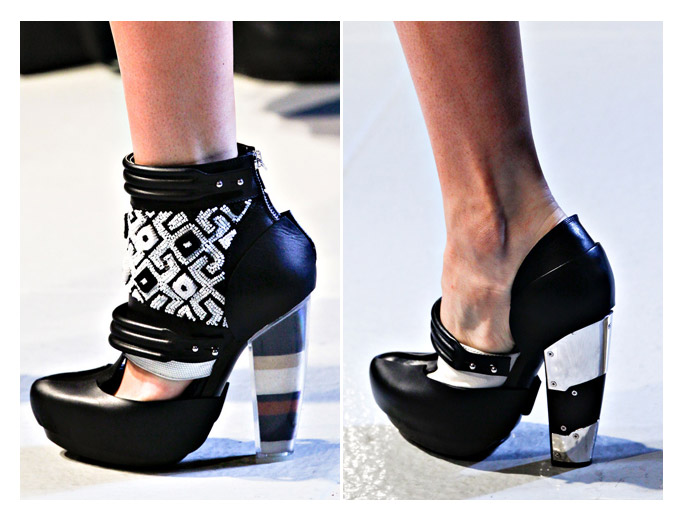 Photos from style.com
Elegant, glamorous & seductively sexy; red is the crème de la crème of nail polish.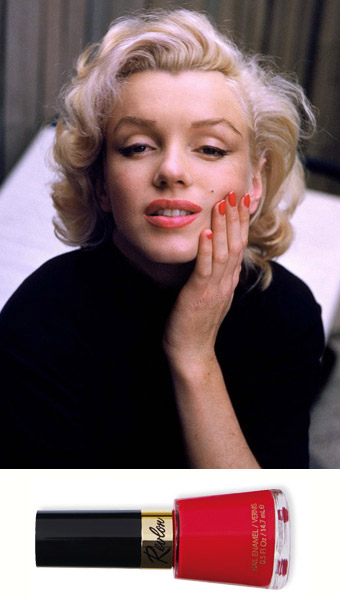 Irresistibly alluring, this classic power colour is a beauty icon. One of the greatest selling cosmetic items of all time, red nail polish is bold, daring and powerful. Associated with dazzling beauties and glamorous leading ladies, such as Marilyn Monroe and Rita Hayworth, red varnish is seductive, dramatic and has the power stop traffic. 
Nail polish as we now know it was first created in the 1920's by the Charles Revson Company (now Revlon). Previously nails were stained with colour; however, working with new technology used for painting cars, nails could be painted with hard-wearing enamel over the top instead. The first Revlon nail polish went on sale in 1932. It initially sold in hair and beauty salons, and was then marketed in department stores and pharmacies.
But it was Hollywood that really gave nail polish its popular appeal. With the arrival of colour movies, audiences could see their favourite actresses wearing alluring red shades. It was the fashion to match your nails to your lips, so luscious red and pink shades were virtually all that was available. Painting your nails was also a relatively inexpensive way to exude some of that 'Hollywood glamour'.
To this day the formula has remained virtually the same – with just a few tweaks and changes to make it last longer and dry quicker. Red is still in fashion and can still give instant 'Old Hollywood Glamour' and striking appeal…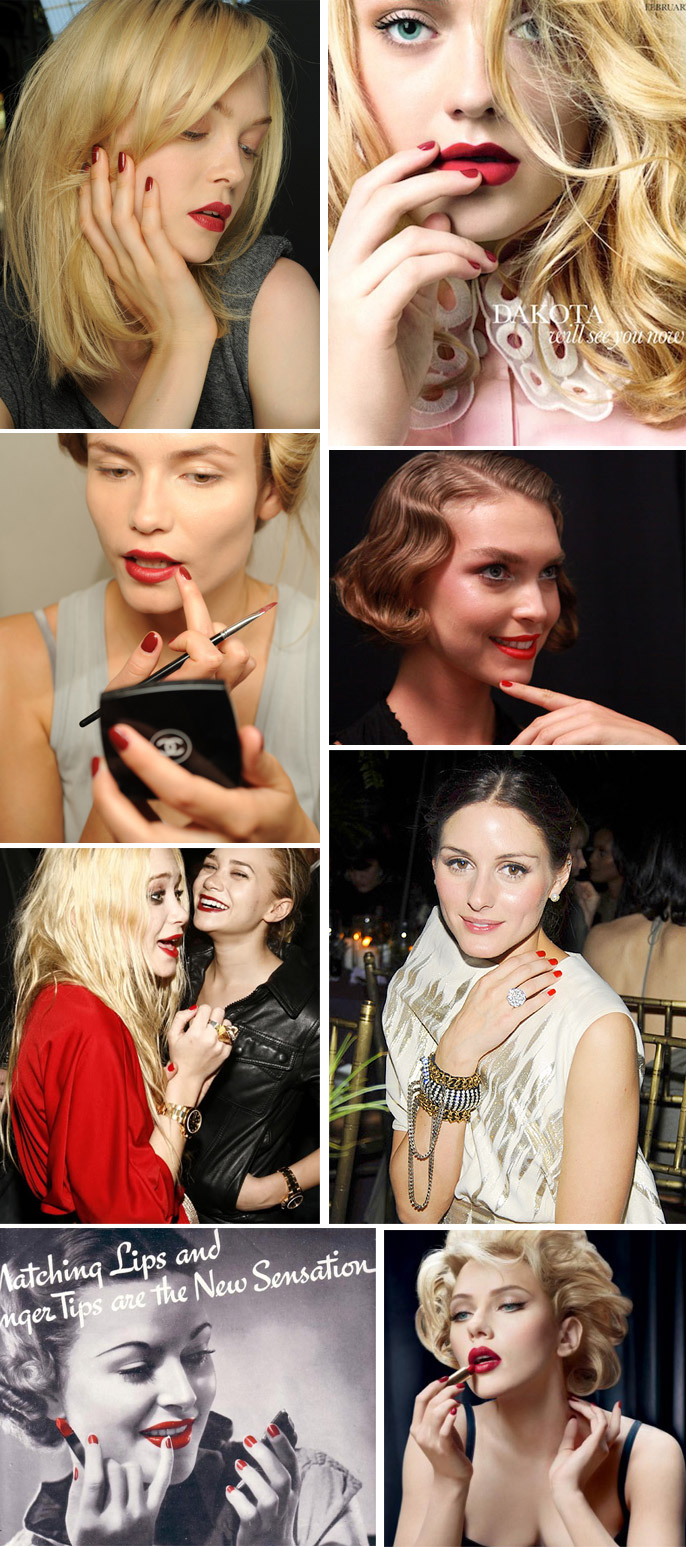 Which is your favourite nail polish shade?
Photos from style.com / google images