The eye make-up palettes from the Fall collections were full of technicolour delights. From vivid orange to hypnotic green, the eyes have it in candy colours that pop perfect for your Easter long weekend.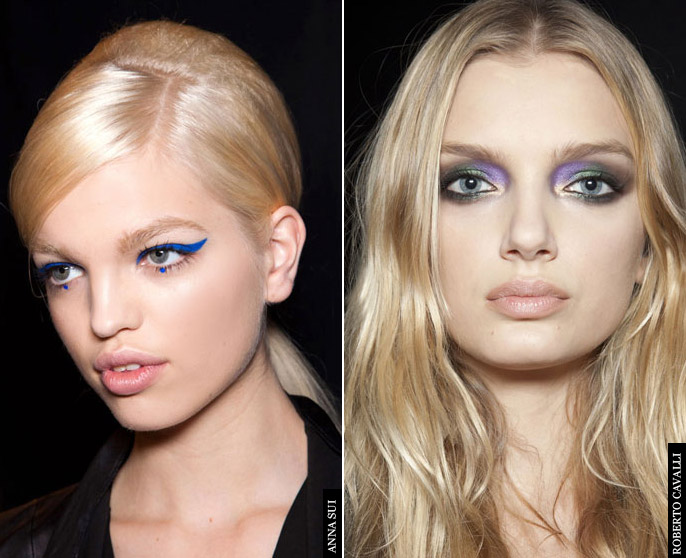 Atmospheric eye make-up has a retro elegance for Fall. Take your cue from rich hues; bold lines; and an explosion of concentrated colour – across the lids, lashes & lips.
Statement making peepers appeared across the runways. At Prada, futuristic eyes had a Mad Max inspiration. Black was painted around the eyes and finished with bursts of orange intensity at the brow. Prabal Gurung's brilliant blue plumes evoked a striking peacock; while at Stella McCartney lashes were layered in beautiful blue mascara.  
At Anna Sui, theatrical cobalt blue eyeliner flicks made a startlingly beautiful impression. To create the look, a thick liquid line was drawn along the models' upper lashes with an upward flick on the end. The inner rim was traced with a white pencil to open the eye, before a coat of mascara added a dramatic 60's feel.
Inspired by candy coloured brights, eye make-up is delicious enough to eat this Easter…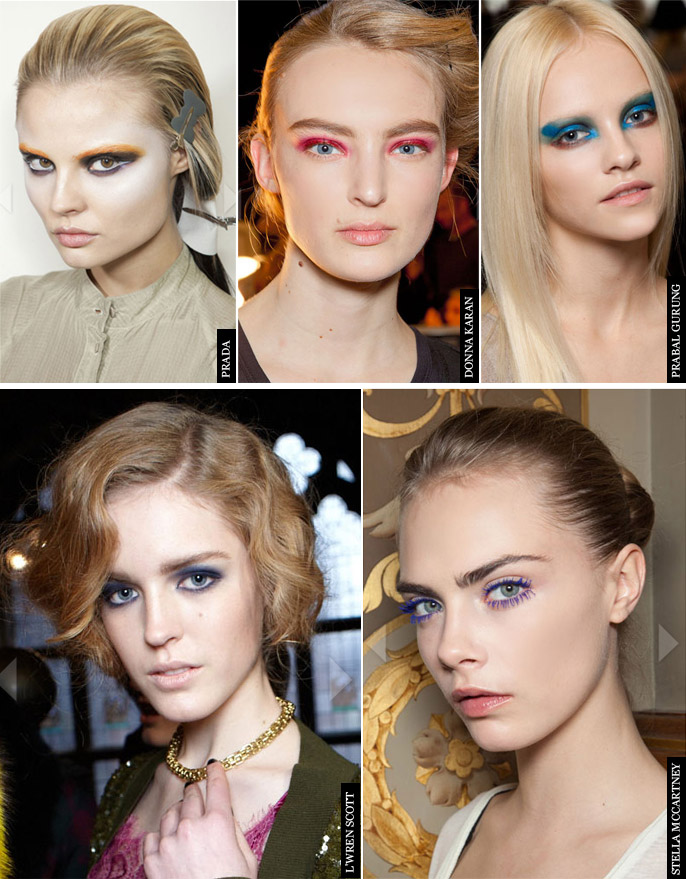 Will you embrace candy coloured eye make-up? xx
Photos from style.com / harpersbazaar.com
Crave a sugar hit? The eyes have it with bursting colours so exquisite you cannot help but become eye candy.

Be bold and brilliant in colours so vivacious your eyes will shimmer like delectable sugary treats. From striking icy blues to luscious pink blooms, embrace a colour palette worthy of Andy Warhol and Studio 54. 
'Candy Face' the new Yves Saint Laurent makeup collection took its inspiration from a range of delicious delights. Of the collection, Lloyd Simmonds, Yves Saint Laurent's International Make-up Artist has said: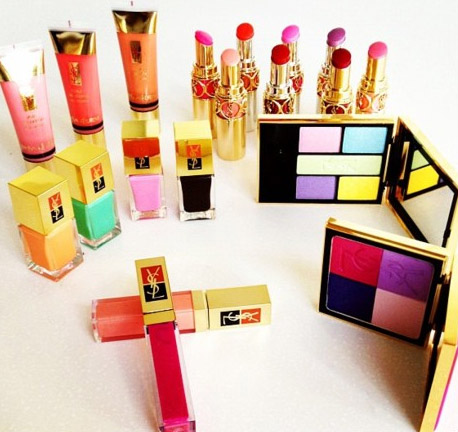 "The gleam of an infinite profusion of dazzling fruit jellies, translucent raspberry and wild strawberry, mandarin orange, melon, mango and persimmon bring a gorgeous flush to the Yves Saint Laurent woman's face.
Her smile is as bright as shining sugared drops and syrups: shocking cherry, tangerine, grape and pomegranate, crystallized rose petals, mint and chocolate."
To create this delicious look, use one or two colours & really build up the colour intensity.
Apply the darker colour to the eyelid and tonally blend it out to soften the effect. To add an additional burst of colour intensity, draw a graphic cat's eye liner in a brilliant complimentary tone.   
When creating a candy coloured eye palette, be sure to keep your blush and lip colour minimal. Strong eyes call for soft pink lip gloss and a dewy fresh complexion.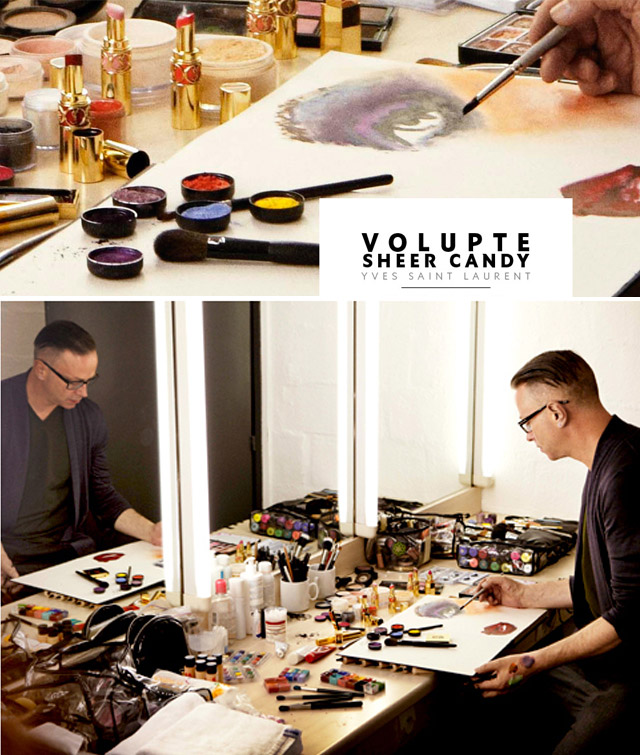 "There are no real rules in choosing colours… It's good to experiment." – Lloyd Simmonds (pictured above)
Will you have a sugar rush? xx
Photos from yslexperience.com / makeup4all.com  / tumblr.com
Coco Chanel believed that women should wear perfume wherever they wanted to be kissed. Perfume is a very personal statement. Your signature scent is an extension of your personality; of your character; and your emotions.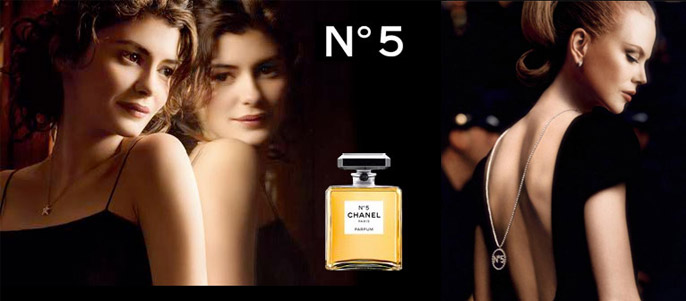 As one of our five senses, smell plays an imperative role in non-verbal communication. Which fragrance you choose may be representing you far before you have spoken or possibly even been seen.
Whether it's floral, oriental, chypre or fruity; perfume is described in three sets of notes. These notes unfold during wear with the immediate impression being the top note; followed by the deeper middle notes; and finally the base notes which develop gradually over time.
Your signature scent should be captivating, alluring and exquisitely beautiful.
It should stay with you through the seasons and across your moods. When finding your signature, be sure to take your time and smell many options. Never settle for a fragrance that doesn't encapsulate your style, taste and desires.
– – – – – – – – – – – – – – – – – – – – – – – – – – – – – –
Two of the world's most iconic perfumes…
Chanel Nº 5
Chanel Nº 5 was the first fragrance launched by Coco Chanel in 1921. Described as the world's most legendary fragrance, one bottle of Chanel Nº 5 is sold every 55 seconds around the world.
Chanel Nº 5 evokes a sense of intimacy, seduction, opulence, desire and warmth; however, the exact scent is almost impossible to express. With top notes of Ylang-Ylang and Neroli; Heart notes of Grasse Jasmine and May Rose; and Base notes of Sandalwood and Vanilla; it's this extraordinary complexity that set Chanel Nº 5 apart from all other fragrances of its time.
Chandler Burr, the New York Times perfume critic, best described Chanel Nº 5 as 'a bank of hot searchlights washing the powdered stars at a movie premiere in Cannes on a dry summer night'.

Yves Saint Laurent Opium
A rich embodiment of magic, mystery, enchantment and exoticism, Opium was an extension of Yves Saint Laurent's intense fascination with the Orient.
With Opium, Yves Saint Laurent intended to arouse the senses and release a woman's hidden emotions & inexplicable passions.
First launched in 1977,  Opium created quite the sensation (partly because of its controversial name). Opium features an exotic blend of lush florals, rich spices, and deep wood notes.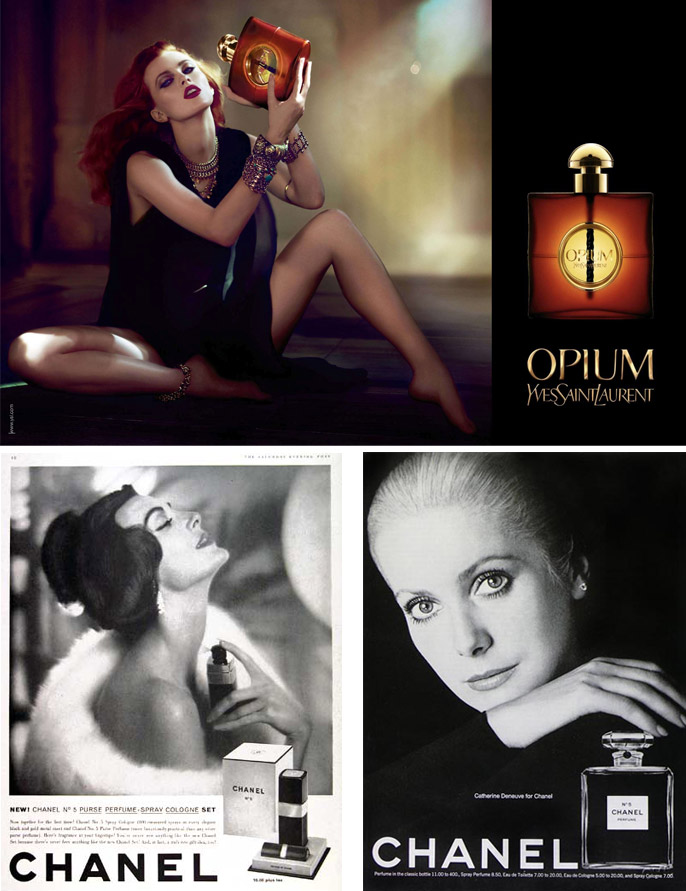 When asked what she wore to bed, Marilyn Monroe simply replied,
"Five drops of Nº 5."
Which is your signature scent? xx
 p.s. you can read more about Chanel Nº 5 by clicking here…
Photos from perfumediary.com / blog.debenhams.com / my.telegraph.co.uk / google images