Your Fabulous Fashion Scoop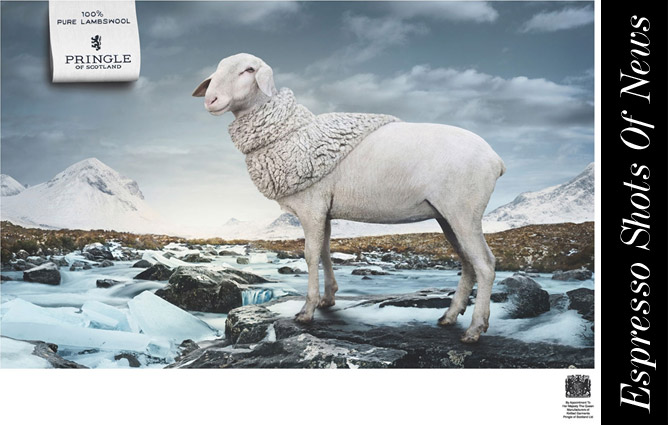 4 Delicious Espresso Shots Of News…
It's 100% Pure Lambswool for Pringle of Scotland
While everyone loves to see today's top models covering the high fashion campaigns, Pringle of Scotland has released a new ad series that may just capture your heart! Reminding us of where their clothing comes from, Pringle of Scotland features an adorable sheep, with the wool having been shorn into a hat, scarf and jumper… too adorable!

Daphne Guinness: Fashion As Art
Daphne Guinness in collaboration with Barneys New York, will turn fashion into installation art. The Heiress, renowned for her love of high fashion, will be showcasing some of her most exquisite couture pieces in a six week changing window display for the iconic department store. From Alexander McQueen to Gareth Pugh; the finale will be Guinness herself getting dressed and readied for the Met Ball in the store window.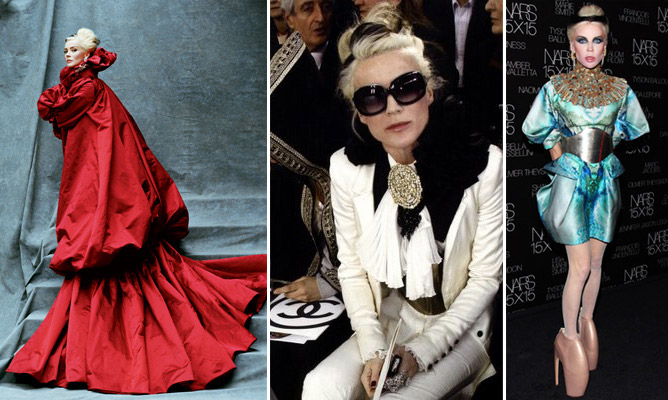 Christophe Decarnin Leaves Balmain
Luxury French fashion house, Balmain, announced Christophe Decarnin has stepped down as Creative Director. It is believed Decarnin's successor will most likely be someone from within the current design team. Decarnin had been absent from Balmain's Autumn / Winter 2011 collection show, amid rumours he was in a mental hospital. From the Balmain official statement:
"Balmain's success in the Decarnin years was based on a relatively simple formula of impeccably tailored jackets, tough pants, T-shirts and sexy beaded dresses — all for staggering sums — and Mr Decarnin may have felt stuck in recent months about his direction. Designers are indeed under a lot of pressure, some of it self-imposed, to create relevant collections. Shy and introverted, with a label that had its admirers and critics, Mr Decarnin may have been more vulnerable than others to that pressure."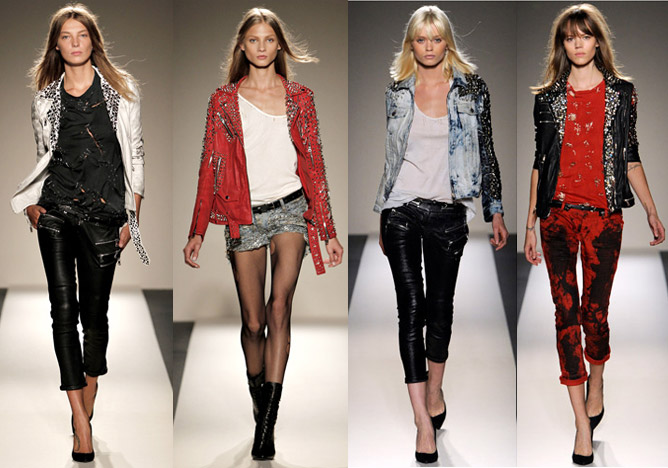 Happy Birthday Dame Vivienne Westwood
As a belated celebration for Dame Vivienne Westwood's 70th birthday (last Friday April 8th), below are a selection of looks from her signature label's Autumn / Winter 2011 collection. Entitled 'World Wide Woman', the collection celebrates the woman as a guardian of culture, values and the planet. From gold glittery shoes to dark punk-warrior makeup; the collection offered something for every woman's style…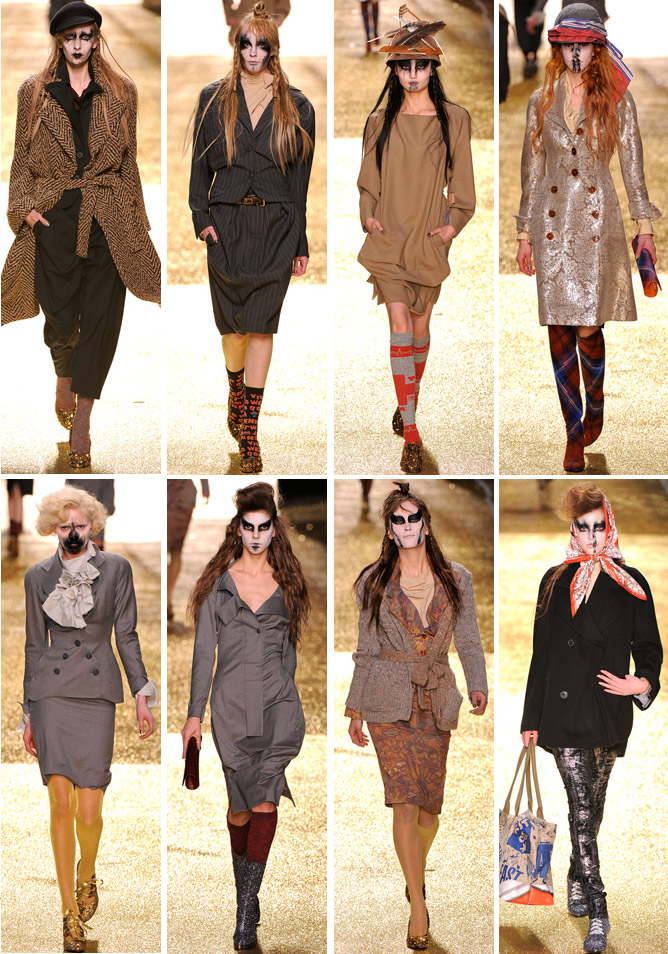 Happy Monday! Hope you all have a fabulously fashionable week! xx
Photos from fashionising.com / fashion.telegraph.co.uk / style.com
Your Daily Fashion Scoop
One Brilliant Balmain Gold Dress & 6 Magazine Covers… 
it is today's Espresso Shot of News…
Just a few months ago, Miu Miu's signature Fall dress with floral detailing, landed 3 Magazine covers. It created quite a stir, even being featured on both Elle UK and Vogue UK in the same month. Well it has happened again! This spectacular gold Balmain dress, from the Autumn / Winter 2010 collection, has made 6 magazine covers! No mean feat!
Worn down the runway by the gorgeous Anja Rubik, this Balmain dress is valued at £21,000. It has been worn by:
1 >> Natalia Vodianova for Harper's Bazaar UK, Dec 10 issue
2 >> Abbey Lee Kershaw for Vogue Germany, Aug 10 issue
3 >> Anna Dello Russo for 10 Winter 2011
4 >> Cindy Crawford for Vogue India, Oct 10 issue
5 >> Claudia Schiffer for Zeit Magazine, the 40th Anniversary Issue
6 >> Toni Garrn for Vogue Spain, November 10 issue
Natalia Vodianova also chose to wear the full length version to the Woman of the Year awards hosted by Harper's Bazaar UK.
Rumour also has it…
Anne Hathaway will wear this same dress for her cover of Elle UK's December issue! Watch this space…
Balmain = Love!
It's sparkly, metallic and has a deep plunging neckline – could there be a more perfect party frock for the coming Christmas season?  Love it! xx
Jessica Alba's Evolving Style
This year Jessica Alba has been dressing to impress. With an evolving style that includes a taste for the major fashion houses – from Chanel to Dior, Balmain, Valentino and Dolce and Gabbana – Alba is set to fast become a style icon.
So… this week we celebrate the emerging fashion style of Jessica Alba!
Making a name for herself in the fashion world, Alba is regularly topping the best dressed lists. With many of her looks taken straight from the catwalk, Alba's effortless carefree glamour makes for the perfect accompaniment to the striking pieces. Choosing show stopping dresses to flatter Alba's incredible body, I think Jessica Alba's stylist may be in need of a raise…
Alba's relaxed weekend look, red-carpet glamour and carefree elegance – always has her looking ultra chic and making quite the style statement.
My Favourite Jessica Alba look:


Dolce and Gabbana, Fall 2010 Collection

Tailoring, sex appeal, lace and lingerie are what Dolce and Gabbana are known for. Always creating immaculately tailored pieces that fit and flatter a woman's curves – they know women and how to dress them. Elegant yet undeniably sexy, the Dolce and Gabbana dress (pictured top) was one of my favourite looks from the Fall 2010 collection. The seductive floral print with lots of sheer layers is refined, chic and sexy. Love the long sheer sleeves and unfinished hemline. Bellissimo!

What do you think of Jessica Alba's style? Who are your style favourites? xx