Atelier Versace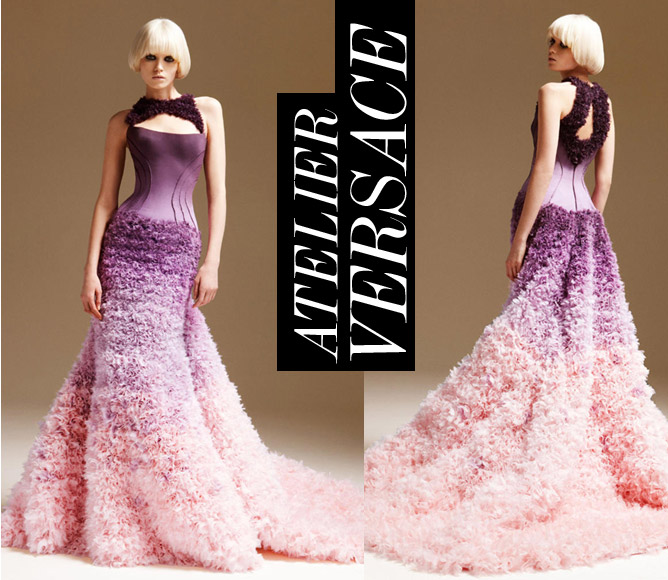 Atelier Versace's new Spring / Summer 2011 look book, staring Abbey Lee Kershaw, is staggeringly beautiful.
With to-die-for gowns, Atelier Versace is the epitome of elegance and glamour. From striking white, the prettiest shades of graduating lilac to deep royal blue – the gowns are beautifully draped, silk chiffon with crystal embroidery in overtly feminine silhouettes. Love Abbey Lee Kershaw's striking hair and the styling in this campaign!  
If I happened to be up for an Oscar or Golden Globe this year, my gown wish list would have to include the extraordinary gown above or the pink toned fishtail gown below left. Beauty, Elegance and Glamour…. LOVE, LOVE, LOVE!

What gowns are you lusting after right now? xx
Photos from fashiongonerogue.com
Your Daily Fashion Scoop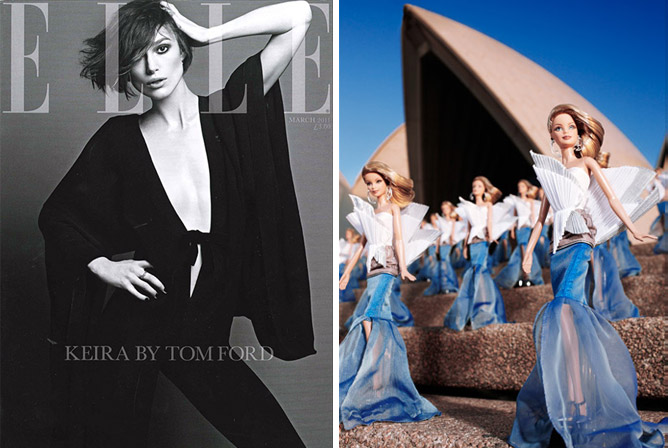 6 Espresso Shots Of News
Celebrate Sunday with some delicious scoops of Fashion News…

Tom Ford Stylist For Elle
For the March issue of Elle UK, Tom Ford is taking on the role of stylist. The first glance of Ford's work… the cover which features Keira Knightley and was photographed by Terry Tsiolis (pictured above left)…
Prada to float on the Hong Kong stock exchange
Prada's family owned company is set to float on the Hong Kong Stock Exchange. In what is set to mean big changes for the luxury brand, Prada will become a public company after 98years. Prada is also made up of labels: Miu Miu, Church's and Car Shoe. While this is the fourth time Prada has attempted such a move; depending on how many shares Miuccia Prada and her husband Patrizio Bertelli (company chief executive) chose to sell, they could boost their personal fortunes significantly…
Speaking of Prada…. The New 'Minimal Baroque' Sunglasses Campaign
Not just your ordinary campaign, models share the limelight with both dogs and eagles (pictured right).  Pushing the boundary between fashion and art; three artists – Ivo Bisignano, Marcela Gutiérrez and Andrea Tarella – have been commissioned to draw illustrations for the limited-edition 'Minimal Baroque' collection…
Sydney Opera House Barbie
To celebrate Australia Day last Wednesday, Mattel created the Sydney Opera House Barbie doll. Mattel enlisted the help of Australian Fashion Designer, Alex Perry, who created a miniature couture gown and accessories for the Barbie which was inspired by the iconic Australian Landmark. This is the fourth Barbie in the Landmark Series, which also includes; Big Ben, the Eiffel Tower and the Statue of Liberty…
Abbey Lee Kershaw for Portmans
Top Model Abbey Lee Kershaw is the new face of Australian retailer Portmans. Currently ranked No. 5 on Models.com, Kershaw is adored by Karl Lagerfeld, and has also appeared in campaigns for Chanel, Fendi, Gucci and D&G. Kershaw's Portmans campaign was shot in Sydney and one of the resulting images is pictured right. Portmans has previously cast other Australian models – Miranda Kerr, Jessica Hart and Elyse Taylor – before they went on to become international sensations…
Chic This Week… Diane Kruger
Diane Kruger had a super stylish week attending the Couture fashion shows. Kruger wore a Chanel Spring Couture dress (pictured below left) just 48 hours after it appeared on the catwalk! As one of Chanel's ambassadors, Kruger wore the exquisite powder-pink, structured dress adorned with diamanté buttons, to a charity dinner in Paris. Kruger also looked amazing this week in Gucci (below centre) and another Chanel look (below right)…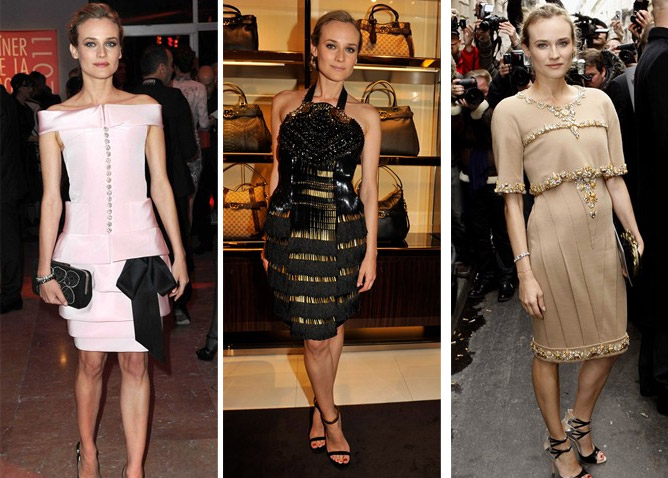 Abbey Lee Kershaw For Tom Ford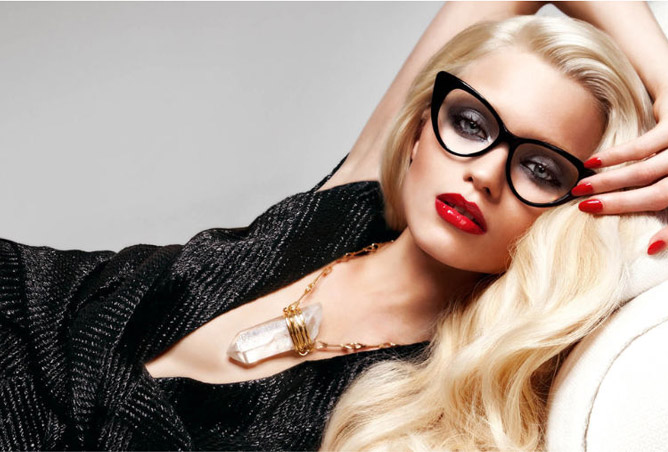 Tom Ford's Eyewear Campaign Spring 2011
A Smouldering Abbey Lee Kershaw Models
Bringing out her sultry pout, Abbey Lee Kershaw looks every bit the sexy 70's glamazon for Tom Ford's Spring 2011 Eyewear collection. Kershaw's vivid red lips and nails with her long platinum blonde hair, add a seductive, sophistication to the shoot.
Tom Ford's chic frames scream 'look at my gorgeous face & my impeccable taste'!
So Glamorous! So Gorgeous!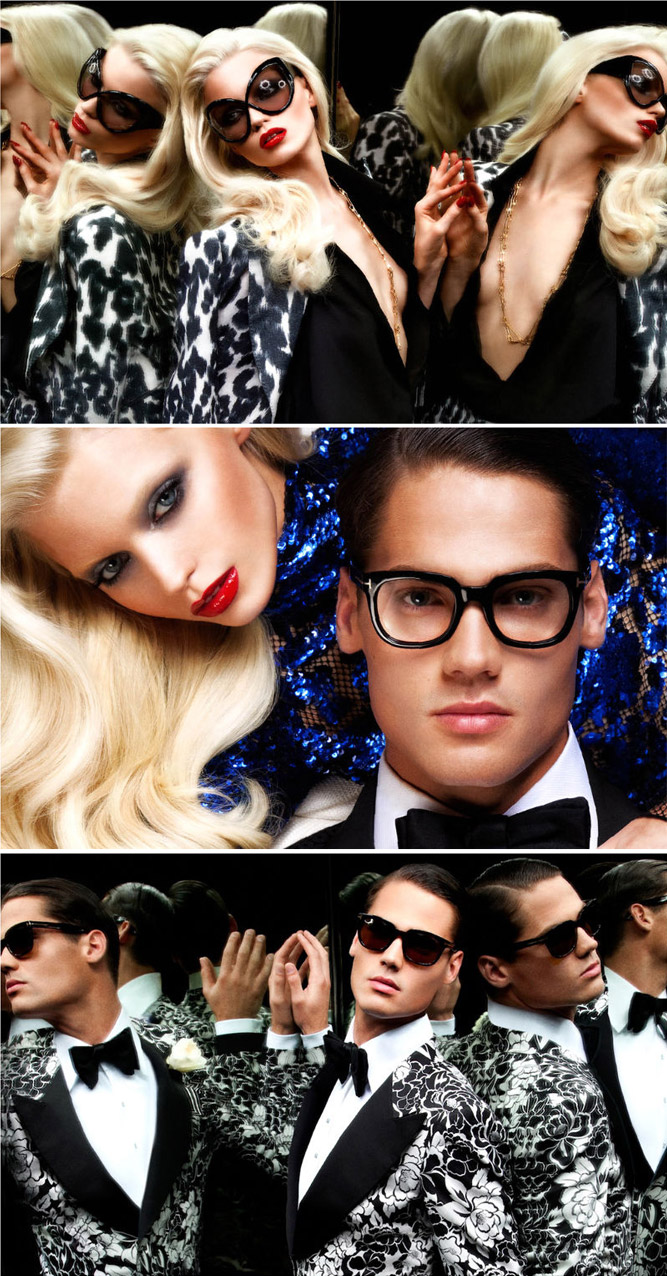 Are you loving or loathing Tom Ford's Spring / Summer 2011 collection?
All Photos from fashiongonerogue.com