Paint the town silver in metallic-tipped heels that exude glamorous, modern, feminine style…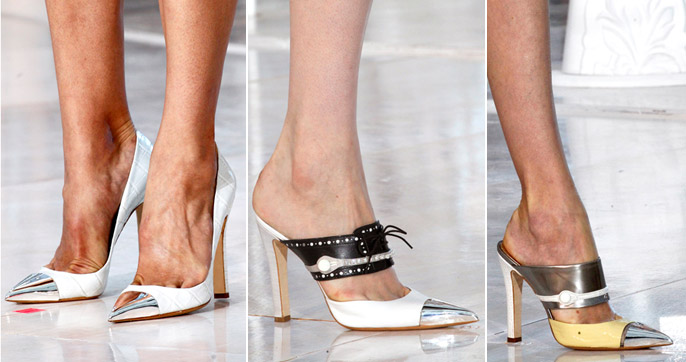 First seen gliding down the Louis Vuitton Spring / Summer 2012 runway, metallic-tipped heels have become the toe-tapping toast of the season.
Seen on the tootsies of countless stylish lovelies – from Gwyneth Paltrow to Natalia Vodianova (pictured below), Poppy Delevingne (below) and Kristen Stewart (below) – pointed-toe pumps with metallic-tips can add the perfect spring to your step.
While Coco Chanel created the first pair of toe-capped shoes in 1957, the heels that appeared on the Louis Vuitton runway were distinctly fresh. As though they were dipped in shining silver, Marc Jacobs created a ladylike, polished yet edgy accessory. These precious heels were the perfect exclamation point to Jacob's sweet confectionery inspired collection. In classic footwear styles – from Mary-Jane's to Pumps – they are a charming take on the timeless heel.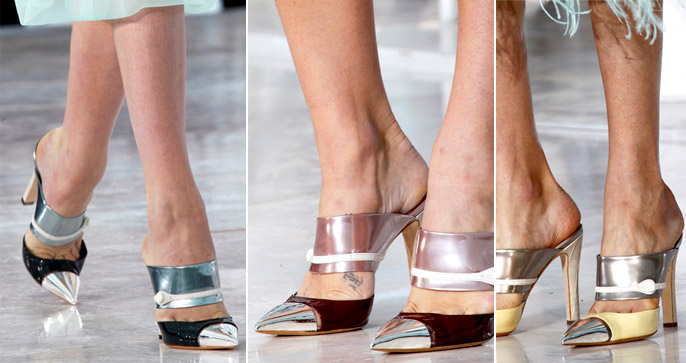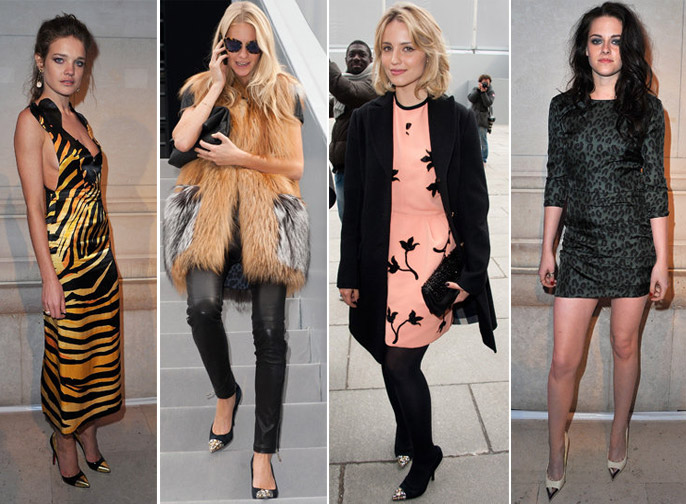 Will you go 'footloose' for toe-capped heels? xx
Photos from style.com / fabsugar.com.au
Sarah Jessica Parker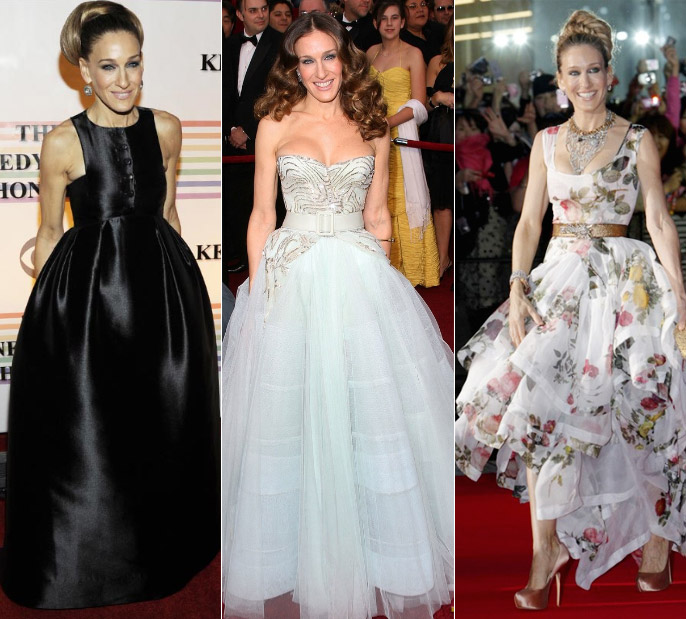 Impeccably polished; effortlessly elegant; truly mesmerising style…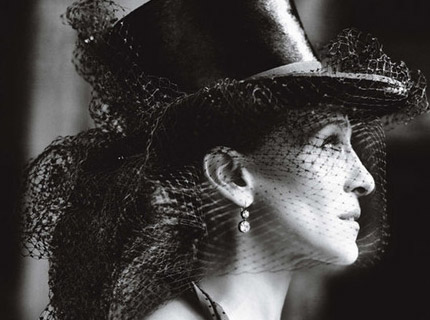 Having played one of the best dressed characters in television history, Sarah Jessica Parker lit up the screen as the impeccably stylish Carrie Bradshaw. Quirky, whimsical and often-times show stopping– Carrie Bradshaw's love of Manolo Blahniks, Jimmy Choos and a complete assortment of designer labels, captured the hearts of women around the world.
As with the stylish characters she has played, Sarah Jessica Parker isn't afraid of a fashion moment. From Alexander McQueen to Chanel, Dior to Vivienne Westwood, Halston Heritage, Oscar de la Renta and so many more – Parker herself is a lover of exquisite fashion.
Ever the risk taker, her electric choices on-and-off the red carpet have positioned her as a modern day style icon.
Sarah Jessica Parker on the red carpet…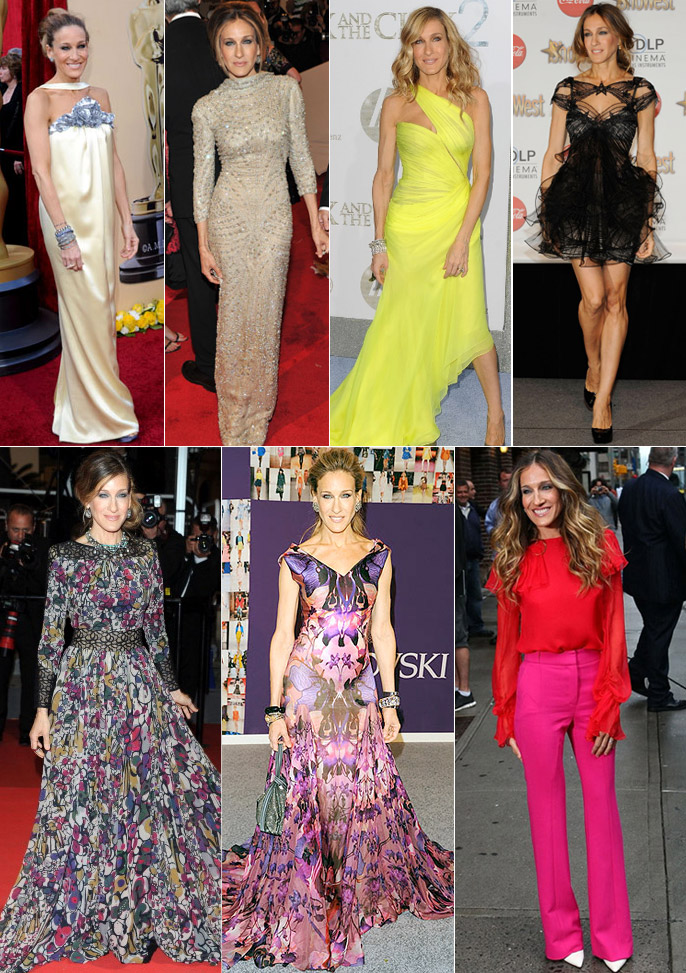 As the delightfully, whimsical Carrie Bradshaw…

Do you adore Carrie Bradshaw & the ever-stylish Sarah Jessica Parker? xx
Photos from hbo.com / huffingtonpost.com / google images
4 Espresso Shots of Fashion News This Thursday…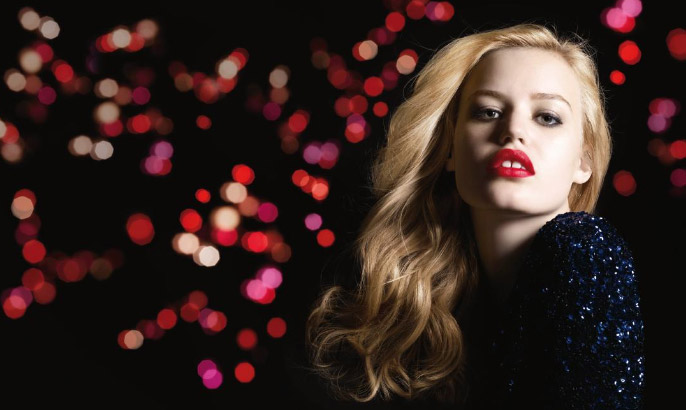 Mulberry Set To Celebrate
Britain's Jubilee
One of Britain's most iconic luxury brand's Mulberry, will launch a capsule collection in celebration of the Jubilee on May 31st.
Three of Mulberry's IT bags – the Bayswater (pictured right), Lily and Pouch – will each receive an understated Union Jack metal plaque to mark the occasion. The lining will also receive a makeover and feature Mulberry's signature tree motif, a heart and mini Union Jack stamps.
– – – – – – – – – – – – – – – –
Louis Vuitton and Yayoi Kusama's Collaboration
Louis Vuitton has collaborated with Japanese artist, Yayoi Kusama, to create a collection launching on July 10th (pictured right).
The collection will focus on Kusama's bold signature spots, which will appear across bags, skirts, tops and leggings.
Of Kusama's work, Marc Jacob's has said: "Her energy is just endless. Through the painstaking sort of obsession in each of her canvasses and installations that she's created, you see this world that never ends."
Louis Vuitton is well-known for its artist collaborations – starting with graffiti artist Steven Sprouse in 2001 and then Japanese print artist, Takashi Murakami, in 2002.
– – – – – – – – – – – – – – – –
Madonna's New Material Girl –
Georgia May Jagger
Madonna and daughter Lourdes have announced Georgia May Jagger (pictured top) will be the new face of their brand, 'Material Girl'.
Of working with Madonna, Jagger has said:"I've always admired Madonna's style and I'm thrilled to be working with her and Lola. I dressed up like her for a school dance once!". The campaign is set to be released this Summer.
– – – – – – – – – – – – – – – –
The UGG Bridal Booties
Ugg Australia has launched a collection of bedazzled slippers for brides, entitled 'I Do!' (pictured right).
Ugg has said these wedding shoes provide "luxury bridal comfort as brides and their bridal parties pamper themselves before and after the wedding". Known by many as the 'ugliest of all shoes', Jezebel.com went as far to label to the 'I Do!' slipper "the single biggest threat to traditional marriage that currently exists"…. Now that is a statement!
– – – – – – – – – – – – – – – –
Happy Thursday! xx
Photos from vogue.co.uk / rimmellondon.com / uggaustralia.com / fashionista.com