Classical, feminine & with a hint of unmistakable cool – braids are weaving their way into the spotlight.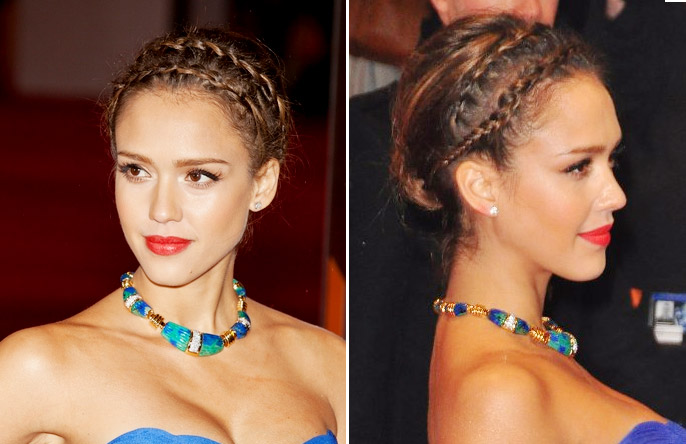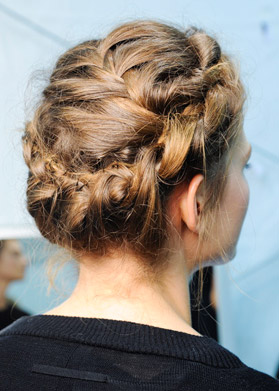 Evoking a 70's bohemian chic, up-dos embellished with braids are bewitchingly beautiful.
Seen on the heads of stylish women around the world – from Jessica Alba to Marion Cotillard, Elle Fanning to Molly Sims – the braided up-do is the perfect way to frame your pretty face.    
During the Spring / Summer 2012 collections, the humble braid received a refreshingly graceful makeover. At Valentino, braids swooped around the head in playful elegance. Full of enchanting twists and turns, Valentino's exquisite locks perfectly complemented the whimsically feminine collection.
As one of the prettiest looks from the runway, Valentino's wrap-around French braid has a lovely soft, romantic nostalgia to it.  
Braids On The Runway At Valentino…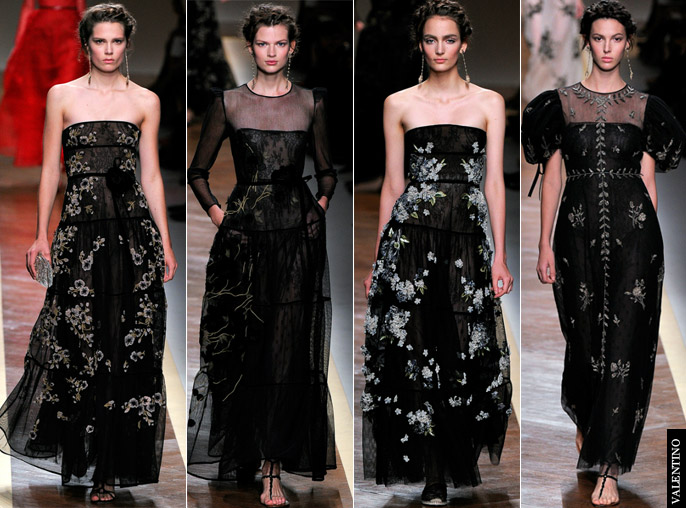 Stylish Braided Inspiration…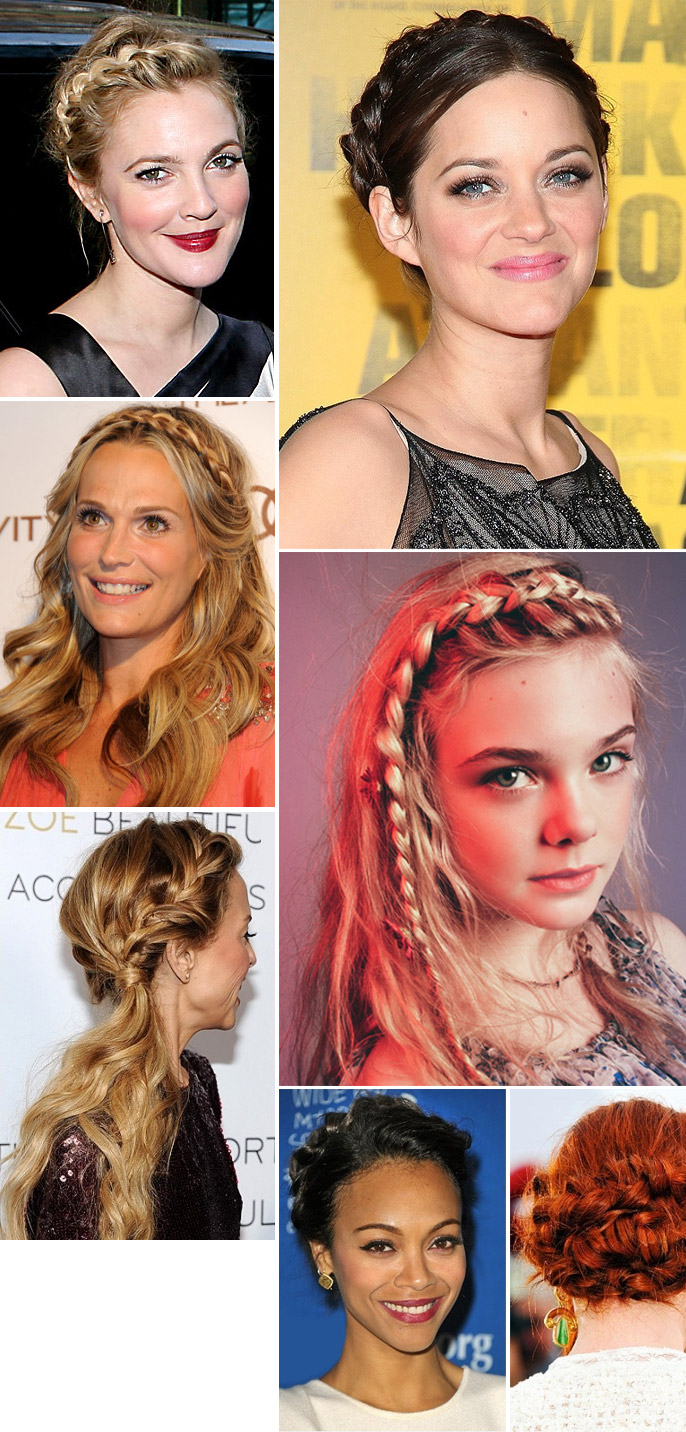 For beautiful braids: When creating your braid, don't make the plaits too perfect– instead evoke an effortlessly undone vibe!
Will you try a braided bun? xx
Photos from style.com / celebsalon.sheknows.com / stylebistro.com / ivillage.ca / google images
Warning: Dangerous Curves Ahead…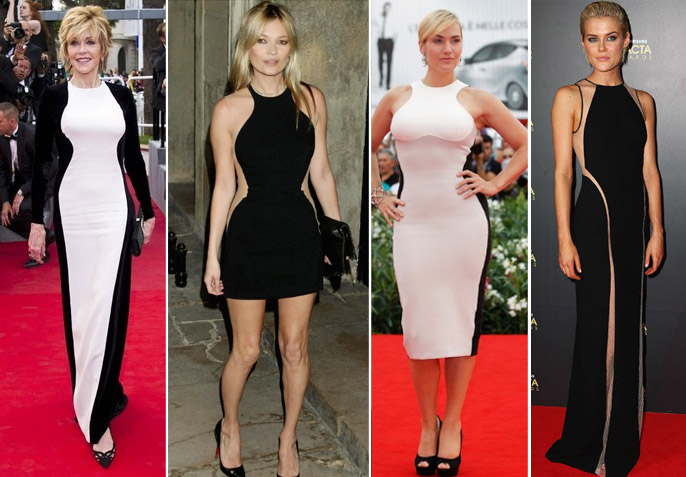 Bold, chic and breathtakingly dramatic, these monochromatic silhouettes have been putting the va-va-voom back into elegant red carpet dressing.
Drawing the eye inwards – block tones of black, white or nude can create a marvellously shapely illusion.
Appearing slender yet curvaceous; the bold use of lines alters the way the eye perceives shapes. Side cut-outs accentuate the waist while the body appears to be lengthened and taller in stature. The dark shade on the outside further slims the body while creating the perfect hourglass shape.  It's an optical illusion that is truly timeless, elegant and unmistakably sexy.
Previously gaining popularity during the Spring / Summer 2009 collections, Alexander McQueen and Herve Leger were first to use graphical elements to highlight the wasp waist.
Now appearing on the runway at Stella McCartney and worn at countless premieres by stylish celebrities – the monochromatic look exudes effortless sophistication. From Kate Moss to Jane Fonda, Rachael Taylor to Rosie Huntington-Whitely – every body type can benefit from some strategically placed lines.  
Will you indulge in this flattering, potentially
'life-changing' silhouette? xx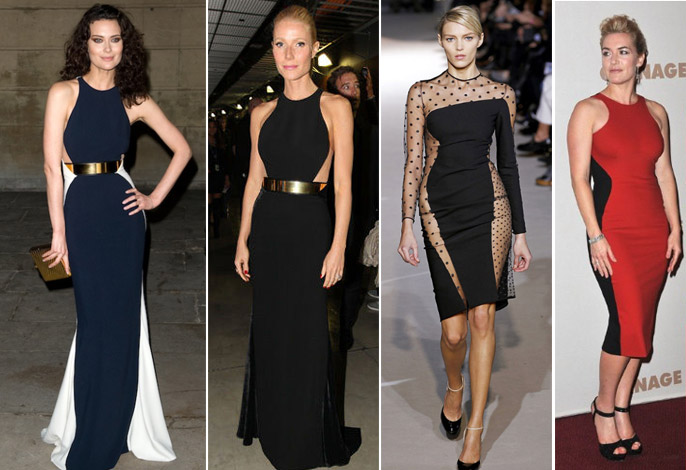 Photos from style.com / fashion.telegraph.co.uk / fash-eccentric.com / au.lifestyle.yahoo.com
/ google images
Inspired By The Stylish Starlet – Lana del Rey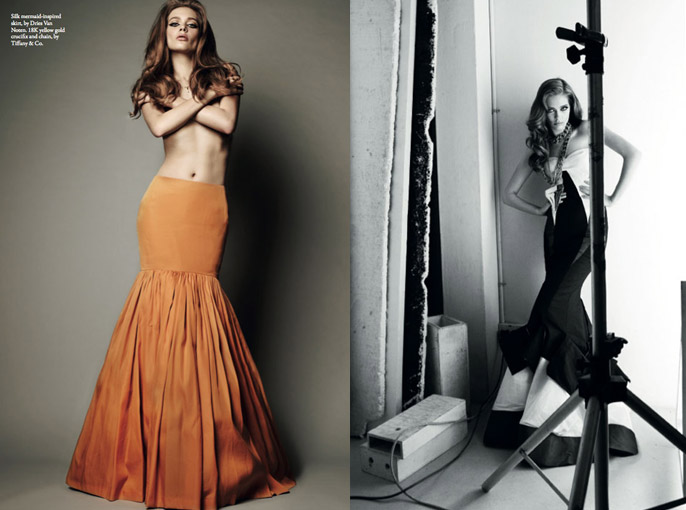 With a Mulberry bag named after her; several magazine covers to her name; & having walked the prestigious Met Gala Red Carpet; Lana del Rey's unique retro style has already had quite the impact on the world of fashion.
For the May issue of Style Singapore, the magazine pays tribute to Lana del Rey's bold, alluring Old-Hollywood style. (Look closely and you will see it is not actually del Rey but a perfectly styled model!)
As the muse for the editorial, del Rey's vintage-inspired style is emulated by a model and retro pieces (the singer herself might wear!) from the Spring / Summer collections.
Combining showgirl glitz, sweet feminine dresses and heavy costume jewellery; del Rey has described her own style as "Gangsta Nancy Sinatra". 
For this editorial, the model wears pieces by Marc Jacobs, Dries van Noten, Alexander McQueen, Marni and more… 

Are you a fan of Lana del Rey's Style?
Photos from fashiongonerogue.com