Get Lustful Legs with Knee Highs
There is something very sexy about a flash of thigh on an otherwise covered body. Over the knee socks are school girl preppy chic meets sexy siren and a must have for the coming season. Autumn may feel a little cooler but your pins will be looking fierce.
From the Catwalk:
Prada
Sophisticated, daring and a little kooky, the Prada knee highs perfectly complimented the gorgeous catwalk looks. As an ode to the female form with 1950's shapes and feminine glamour, knee high socks added a new dimension to this show.
The luxe textures at Prada made a bold statement. Don't be afraid to experiment with pattern and colour. In black, grey and neutrals with dashes of eye popping colour; Miuccia Prada took knee highs to lady-like perfection.
Read full article
Chanel Nº 5
"Madame Gabrielle Chanel is above all an artist in living. Her dresses, her perfumes, are created with a faultless instinct for drama. Her perfume Nº 5 is like the soft music that underlies the playing of a love scene. It kindles the imagination; indelibly fixes the scene in the memories of the players." Chanel Nº 5 advertisement, 1937 Harpers Bazaar
Coco Chanel changed the world of fashion; revolutionising the way women dressed and the luxury of comfort in clothing. So when Chanel set her sights on fragrance and decided that it too played an integral role in a woman's style; a fragrance icon was soon to be born.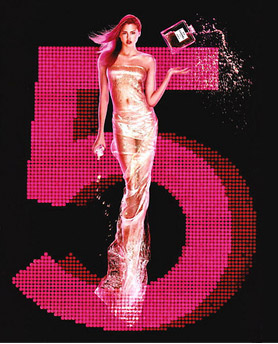 And as they say the rest is history… Chanel Nº 5 was the first fragrance to be launched by Chanel in 1921 and it has been coveted ever since. Having been described as the world's most legendary fragrance, it is not surprising that one bottom is sold every 55 seconds worldwide.
Nº 5 – revolutionary in scent, name & presentation…
The power of the scent Chanel Nº 5 tells the story of intimacy, seduction, opulence, desire and warmth. Yet the smell itself is almost impossible to describe. The extraordinary complexity of Chanel Nº 5 set it apart from all other fragrances of its time. The reason being is that Nº 5 was an abstract scent. Released when most women wore a single-note of floral (either rose, violet or gardenia); Chanel wanted to create a 'un parfum de femme, à l'odeur de femme' (the scent/smell of a woman).
Chanel commissioned Ernest Beaux and they set out to create a synthetic composition that was unlike anything else. Chandler Burr, the New York Times perfume critic, describes Nº 5 'like a bank of hot searchlights washing the powdered stars at a movie premiere in Cannes on a dry summer night'.
The composition of Chanel Nº 5: – Top note – Ylang-Ylang and Neroli – Heart note – Grasse Jasmine and May Rose – Base note – Sandalwood and Vanilla
It's all in a name The pure simplicity and elegance of the fragrance's name made a strong statement. Why Nº 5?  The exact reason is part of its mystery and intoxicating allure. It may be because it was the 5th sample that was purposed to her or that 5 was also her intimate number in numerology (to bring her luck).
The bottle With the minimalism of the laboratory vile itself, Chanel believed the contents would always be more important than the container. Chanel designed the bottle to be no-nonsense in her legendary black and whitening writing…perfection.
Icon Status In 1953, when Marilyn Monroe was asked what she wore at night and famously replied, "Five drops of Nº 5.", there was no stopping its success. Monroe became the first personality to be associated with the fragrance. Andy Warhol again brought Nº 5 to the spotlight, using the bottle as the subject of 9 screen prints in 1964.
Pure Seduction Chanel believed that women should wear perfume wherever they wanted to be kissed.
Nº 5 today Many classic scents have been tweaked for modern women; however, Nº 5 smells the exact same now as it did when it launched in 1921. The mysterious sensation that you experience when you smell Nº 5 is still unlike anything else.
After all, isn't Chanel Nº 5's enduring appeal all the more part of its allure? Chanel is quoted as saying, "A woman who doesn't wear perfume has no future." 
What is your coveted perfume scent?The fragrance you simply cannot resist.. x
From the Catwalk to the High Street
High Street Super Chain Zara has released its August 2010 Look book with clear references to the designer collections.
Taking understandable inspiration from high end design houses Prada, Marc Jacobs, Chloé and Celine; Zara's August collection clearly shows the process of designer catwalk collection through to its high street reproduction.
This is obviously nothing new and most high street designers replicate the trends shown at fashion shows every season. As soon as there is a new trend you will be able to take it home from a high street store for a fraction of the designer price.
The downside being fabrics and threads are not of the high-end quality and generally will not last as long. Certain materials also leave themselves more open to quality differentiation, such as leather and wools / knits. Quality leather should be as smooth and soft as butter. Quality wools and knit fabrics will be softer, stronger and most likely not as itchy on your skin. After a few washes the cheaper fabric may start to fade and lose its shape. There will also be lots and lots of people out there wearing the exact same look as you.
So if you are deciding whether to buy the real thing with the Chloé leather skirt or the Zara version, think about your investment. Your Zara skirt may very well last this one season; however, your Chloé leather skirt will most likely last your lifetime and be something you can pass onto your granddaughter.
Read full article