Prada's exquisite curve-accentuating, bedazzled bathing suits have become the shimmering icons of Spring / Summer dressing.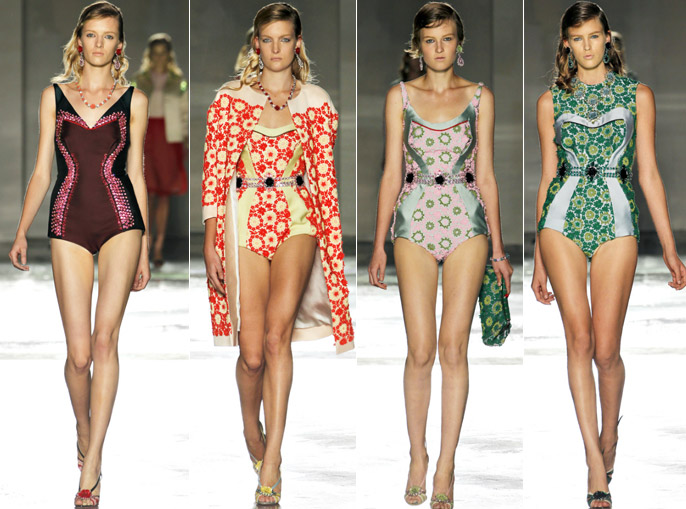 These colourful, embellished bathing suits have captured the hearts of Magazine Editors and Stylists around the globe. Racking up countless Magazine covers and editorials, these vintage-inspired swim suits are the toast of the season.
Appearing on the catwalk of the Prada Spring / Summer 2012 collection; Miuccia Prada took inspiration from 60's Americana; fast cars; and a celebration of feminine sweetness. Deep v-necklines and strategically placed lines of colourful crystals drew eyes inwards - accentuating the waist and emphasising feminine curves.
Created with graduating colours (beige, pink, red and black); crocheted flowers; or diamante crystals; these bathing suits have such beauty, texture, and craftsmanship one could be mistaken for hanging them on a wall rather than wearing them by the pool. Perfect then that the Prada one-piece is the cover subject of the season…

Do you covet the Prada one-piece? xx
Photos from style.com / fashion.telegraph.co.uk / vogue.it / google images
Zooey Deschanel
Known for her electric, vintage inspired wardrobe; Zooey Deschanel is fast becoming a modern-day style icon.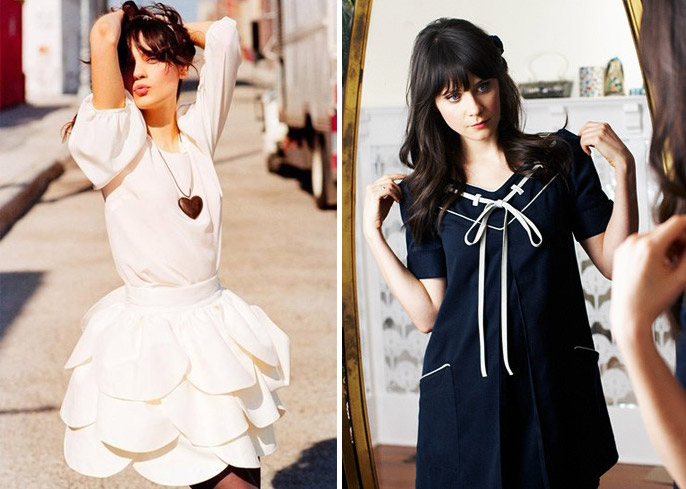 Feminine, sweet and unmistakably cool, Zooey Deschanel has a positively charming style.
A delicate, daring risk taker, Deschanel chooses vintage-inspired flattering silhouettes for day and night.  She is often in dresses and flirty skirts which are clinched in at the waist. She favours Mary-Jane heels and black opaque and coloured tights. With a love of bows and ribbons – her looks are often finished with a sweet belt or a headband in her hair. Floral accents, lace and hats also accentuate her unique style.
As a face of Rimmel, Deschanel always has flawless hair and make-up. With a nod to 60's sexy mod styling; sultry black eyeliner or a striking red pout are her beauty essentials. Beautiful bangs are also a signature component in her darling style.
Her love of fashion also extends to shopping, Deschanel has said:"I go shopping every week, literally. There's something about getting a new dress or shirt that makes you feel that extra 20 percent better."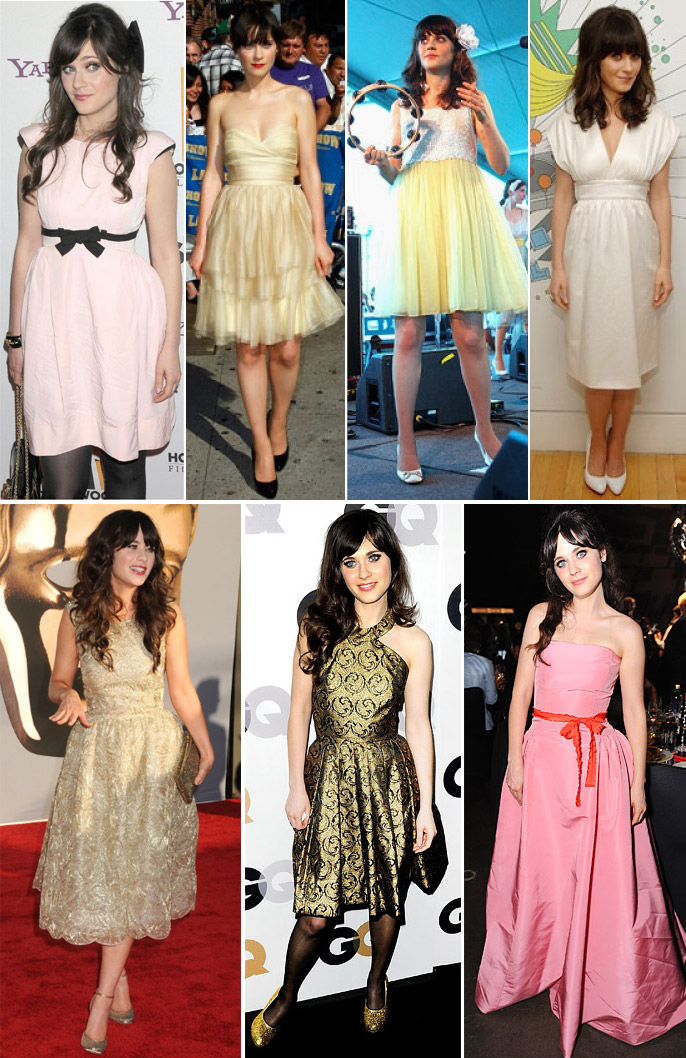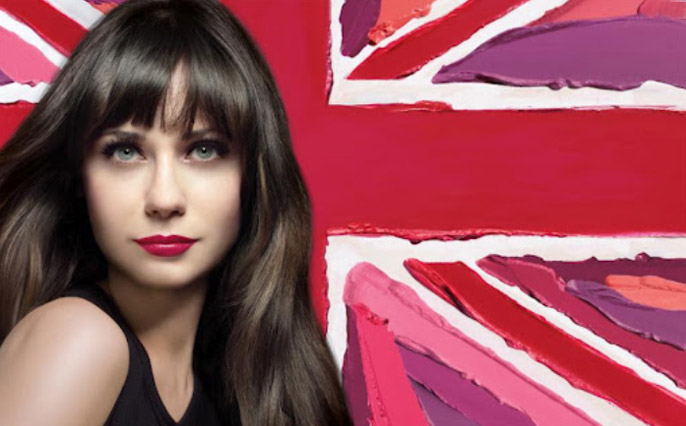 Do you covet Zooey Deschanel's style? xx
A fresh fashion optimism swept the Spring / Summer runways with shimmering sequins brightening up any gloomy day.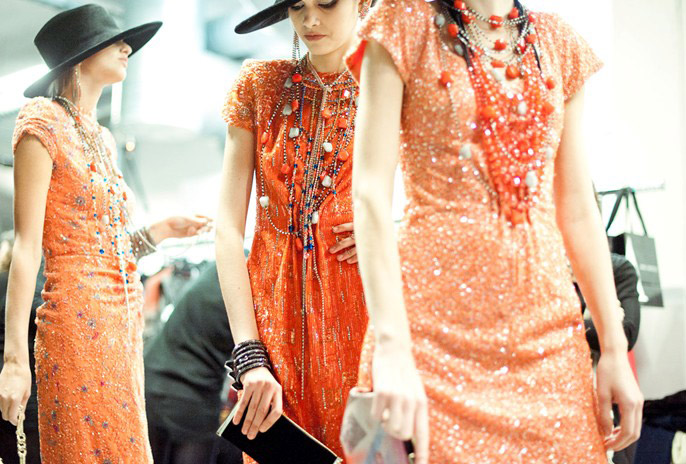 Sequins and beads add luscious texture and movement to beautiful bejewelled gowns. But don't save these twinkling stars just for evening. During the shows girls were venturing out in shining sequins from head to toe, accompanied by countless bangles and trinkets. When it comes to sparkle this Summer think: the more the merrier.
Fashion should be fun, beautiful and inspiring. This pure bejewelled optimism is set to enliven every wardrobe with pretty sparkle.
At Elie Saab, languid silhouettes were embellished with rippling sequins for exquisite results. At Dolce and Gabbana the collection came to a close with the duo's signature lace cocktail dresses, but this season they were encrusted to the hilt in colourful crystals. Pretty patterns and a rainbow of colours, created mesmerising show stopping gowns of twinkling beauty. While at Marc Jacobs a pretty bejewelled coat had unmistakable charm and a sweet glamorous appeal.
Will you shimmer and shine in sequins this Summer? xx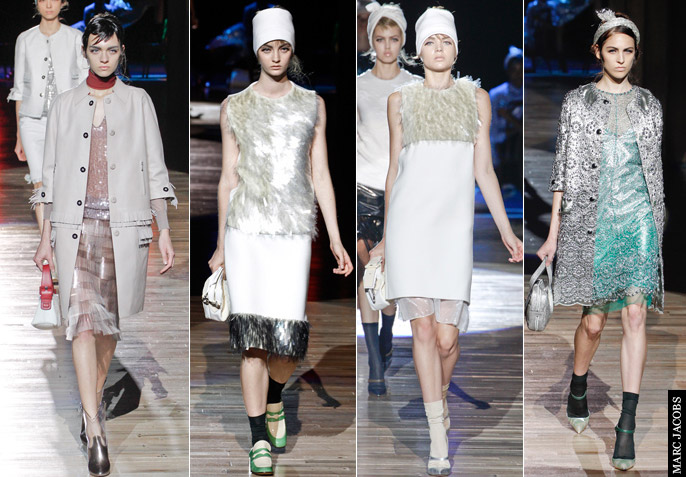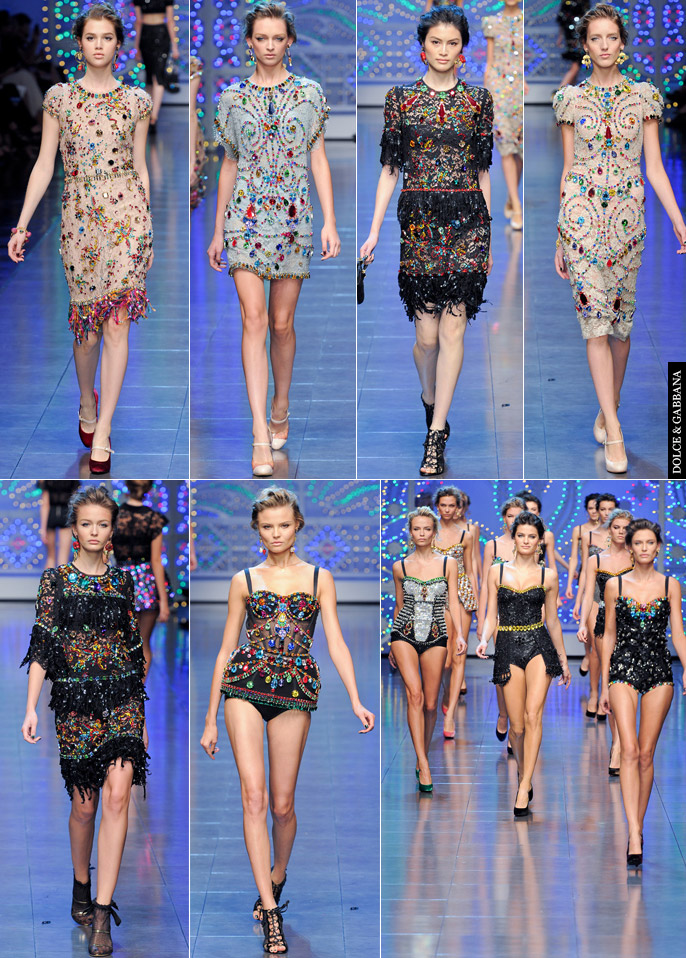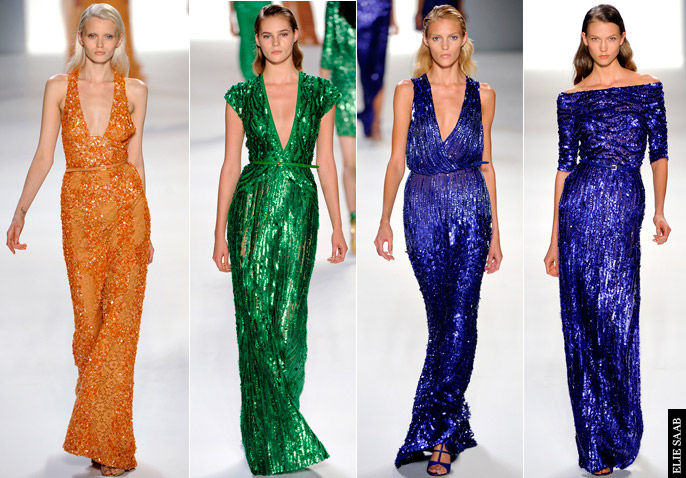 Photos from style.com