Your Daily Fashion Scoop
One Brilliant Balmain Gold Dress & 6 Magazine Covers… 
it is today's Espresso Shot of News…
Just a few months ago, Miu Miu's signature Fall dress with floral detailing, landed 3 Magazine covers. It created quite a stir, even being featured on both Elle UK and Vogue UK in the same month. Well it has happened again! This spectacular gold Balmain dress, from the Autumn / Winter 2010 collection, has made 6 magazine covers! No mean feat!
Worn down the runway by the gorgeous Anja Rubik, this Balmain dress is valued at £21,000. It has been worn by:
1 >> Natalia Vodianova for Harper's Bazaar UK, Dec 10 issue
2 >> Abbey Lee Kershaw for Vogue Germany, Aug 10 issue
3 >> Anna Dello Russo for 10 Winter 2011
4 >> Cindy Crawford for Vogue India, Oct 10 issue
5 >> Claudia Schiffer for Zeit Magazine, the 40th Anniversary Issue
6 >> Toni Garrn for Vogue Spain, November 10 issue
Natalia Vodianova also chose to wear the full length version to the Woman of the Year awards hosted by Harper's Bazaar UK.
Rumour also has it…
Anne Hathaway will wear this same dress for her cover of Elle UK's December issue! Watch this space…
Balmain = Love!
It's sparkly, metallic and has a deep plunging neckline – could there be a more perfect party frock for the coming Christmas season?  Love it! xx
Competition, Espresso News, Fashion
Share the love…
To celebrate and say thank you to all of the people who have supported Uptown Twirl, I am excited to announce the first official Uptown Twirl competition!
One Uptown Twirl reader will receive this divine leopard print clutch from Reiss! I just purchased it yesterday and I LOVE it! You can see more details by clicking here to visit the Reiss website. 
How To Enter:
Please complete one of the three criteria below to enter the Uptown Twirl Leopard Clutch competition: 
BLOGROLL -
Please add Uptown Twirl to your BlogRoll.

FACEBOOK –
Please suggest the Uptown Twirl Facebook page to your friends (anything from a couple of girlfriends who you feel would like Uptown Twirl to your entire address book – we would be truly grateful).

FEATURE UPTOWN TWIRL -
Please mention Uptown Twirl (including the web address) in one of your blog posts.
Then…
Once you have completed criteria either 1,2 or 3; please visit the Uptown Twirl CONTACT page and complete the enquiry form. In the 'Comments/Enquiry' field, be sure to enter your blog details and what criteria you have chosen to complete. In the 'phone number' field, please enter: 0001 for the competition code. I have completed a sample form below for you to see.  If you decide to fulfil more than one criteria, please let us know. 
The competition will be drawn in an Uptown Twirl Video on December 1st 2010 and the purse will then be posted to the winner. 
Uptown Twirl is all about sharing the love and we appreciate everyone who has visited the website; liked us on Facebook; followed us on Twitter; and posted their comments and feedback. 
Good Luck! xxx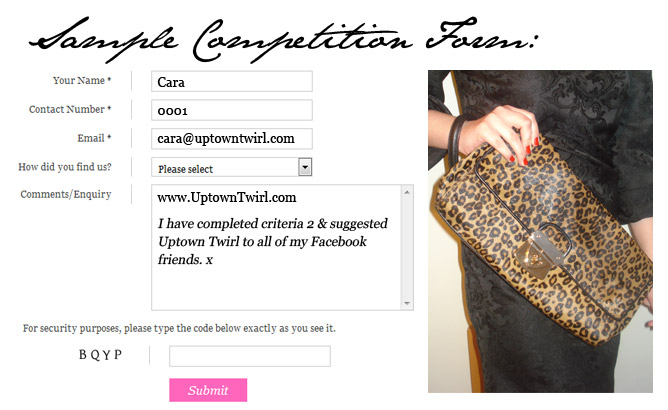 Your Daily Fashion Scoop
Lanvin for H&M – A Grande shot of Espresso News
The much anticipated Lanvin for H&M collection is nearly here! Only 21 sleeps to go! Images of the complete collection have just been released and some of the pieces are simply gorgeous! Lace; ruffles; draping… it is Lanvin heaven.
Being a completely obsessed dress and shoe girl, I have featured the complete Lanvin for H&M collection of shoes and dresses below… And I cannot wait!  
To view the complete Lanvin for H&M collection, please click here to visit the Vogue website.
What do you think of the collection? Will you lining up on November 23rd to get your hands on Lanvin for H&M?